Discussion Starter
·
#1
·
I ain't planning on growing up
, so I've gotta keep doing boy's stuff to stop me from getting old!!!
Having replaced the front brake discs and pads, serviced the bike, MOT passed without any probs:thumbup: and new tax disc, I was ready to roll!!
I loaded the bike early on Sunday 29 June, thanks very much to my trouble
for spending the whole of Saturday making some very useful pannier bags:thumbleft: and pulled out of my place at 08H30
I was heading for Hutton Rudby in the Tees Valley but didn't fancy just blasting up the highways
, so from Braintree I headed for Ipswich and then headed for the coast
. I really took my time, aiming for the small roads and enjoying ambling through the little villages and towns along the way. Unfortunately, because it's so flat up there, you don't always get a good view of the sea, but I did make a point of getting to check it was still there!!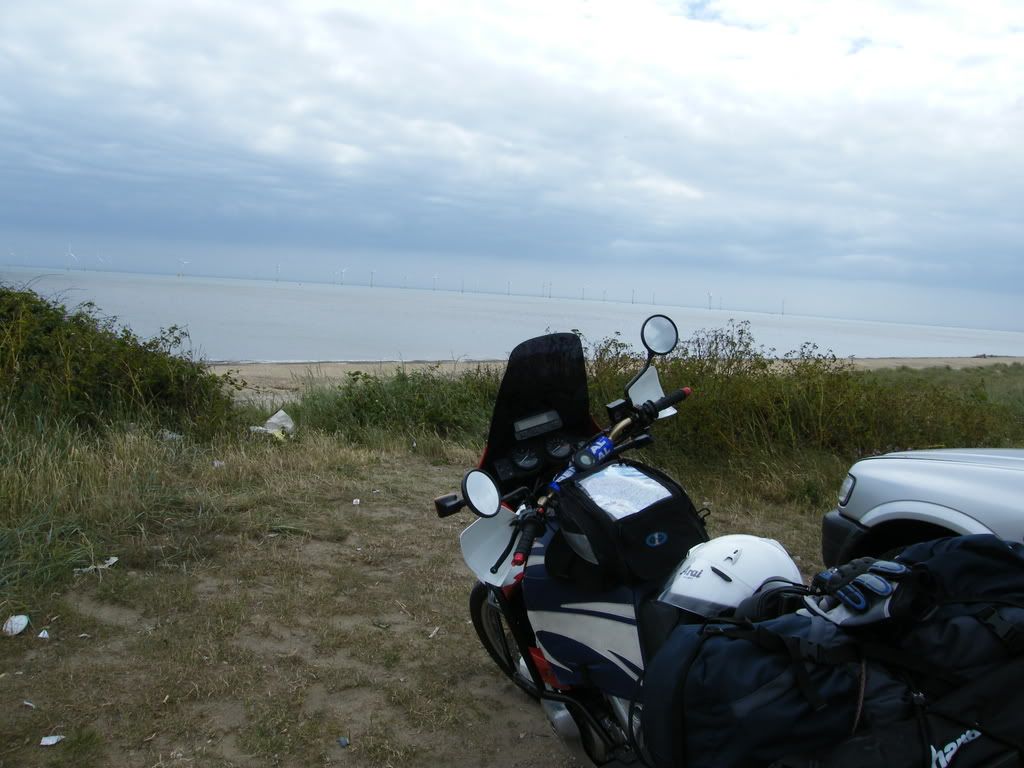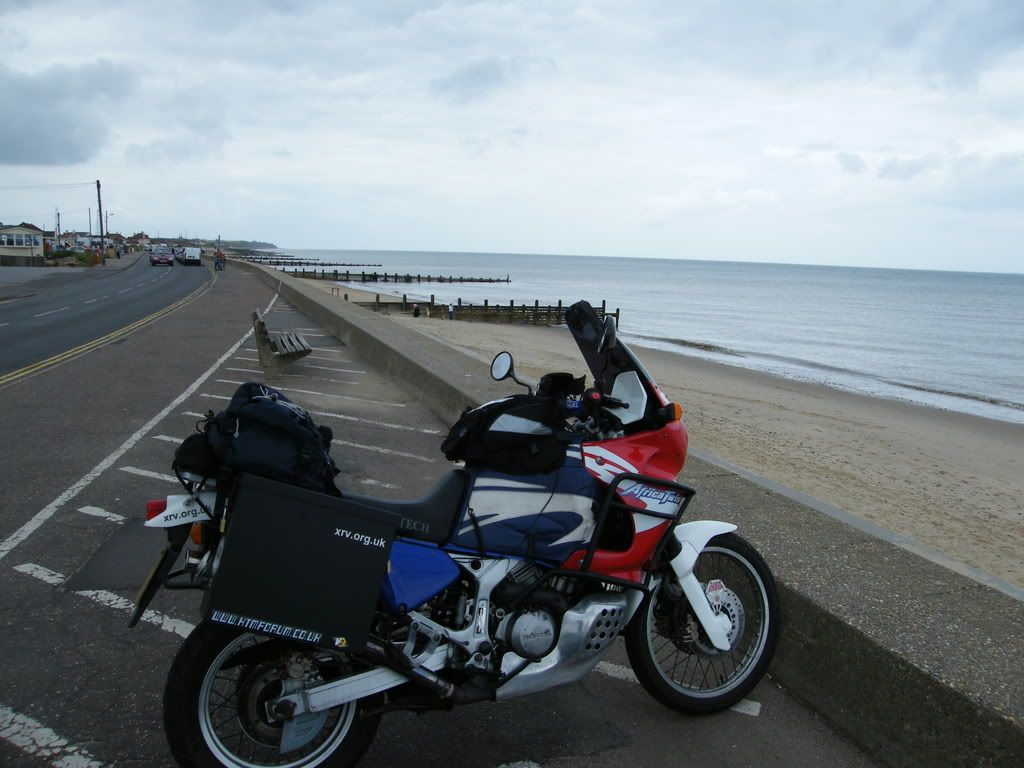 Now, rather typically
, I didn't make a note of where I stopped, so these photo's are along the Norfolk Coast.......... somewhere!!!
If you look at a map, I pretty much stayed as close to the coast as I could from Aldeburgh, all the way up and round to Kings Lynn.
When I got to Kings Lynn, I was feeling rather peckish, so I stopped for some fuel and a sandwich. Got out the maps to check my progress and
OH SHI*
It was almost half three in the afternoon, and I still had a bloody long way to ride!!! I decided to scrap my idea of following the coast all along the Yorkshire Moors, as it would've taken too long. I headed for Boston and then followed the A16 towards Grimsby, aiming for the Humber Bridge.
If memory serves, this is north-west of Holbeach, looking across towards The Wash, pretty flat around here!!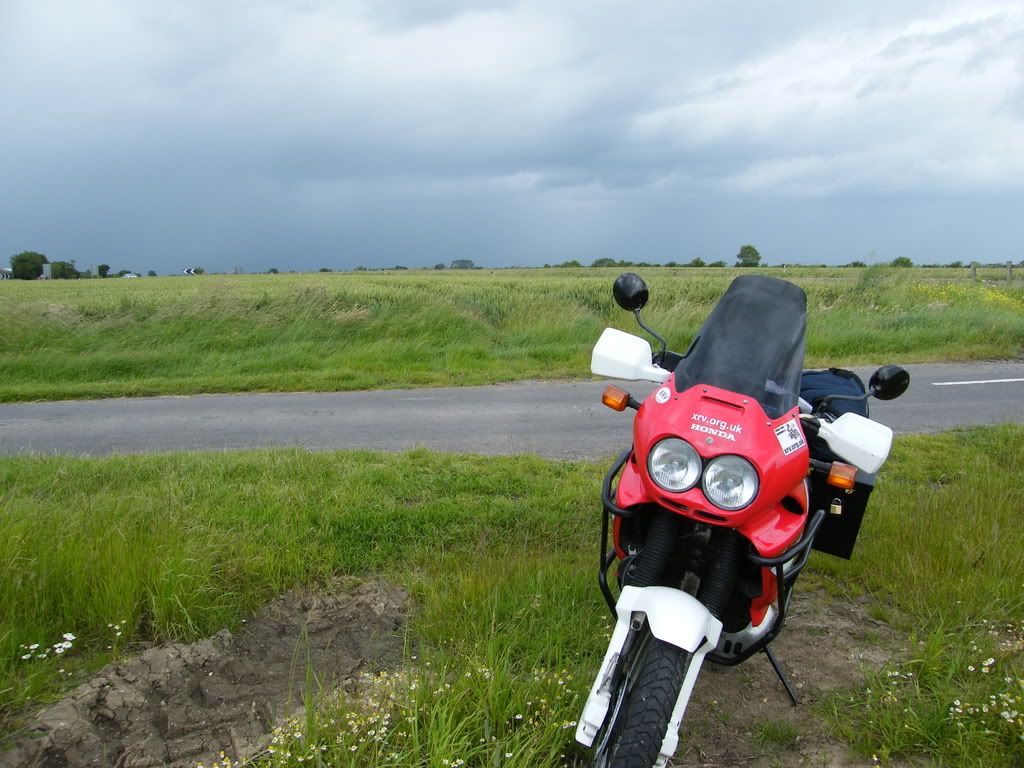 This was a bit further North, the clouds seemed to be gathering for a bit of a shower, so I dutifully pulled over and made sure that my camera was going to stay dry etc
Schoolboy mistake
- didn't check that my trousers were OVER my boots, NO,NO - missed that rather minor detail, anyway, didn't look like there was going to be much rain
Bloody Hell
, the wind picked up to gale force and the rain was so heavy, that the roads were more like rivers.............. and my boot filled up with water
Wasn't too bad when the water warmed up a bit!! That's the trouble with waterproof boots, they don't let water in - OR OUT
Anyway, after battling the elements, I managed to find and cross the Humber Bridge. That really is one impressive structure!!!
I took this pic from the Northern bank.
So, from the Humber, I headed up for York, then Thirsk and eventually arrived in Hutton Rudby at 20H30 - just as my very good friend Andy was lighting the BBQ - good man
Everyone was rather amused at the quantity of water I poured out of my left boot
Now, I do realize that this is essentially a biker forum, but after spending 12 hours on my trusty steed, I was happy to do non-bike related activities!!
Andy arranged with a friend of his to go for a ride on his steam-roller, how cool is that
It took about one and a half hours to get the steam up....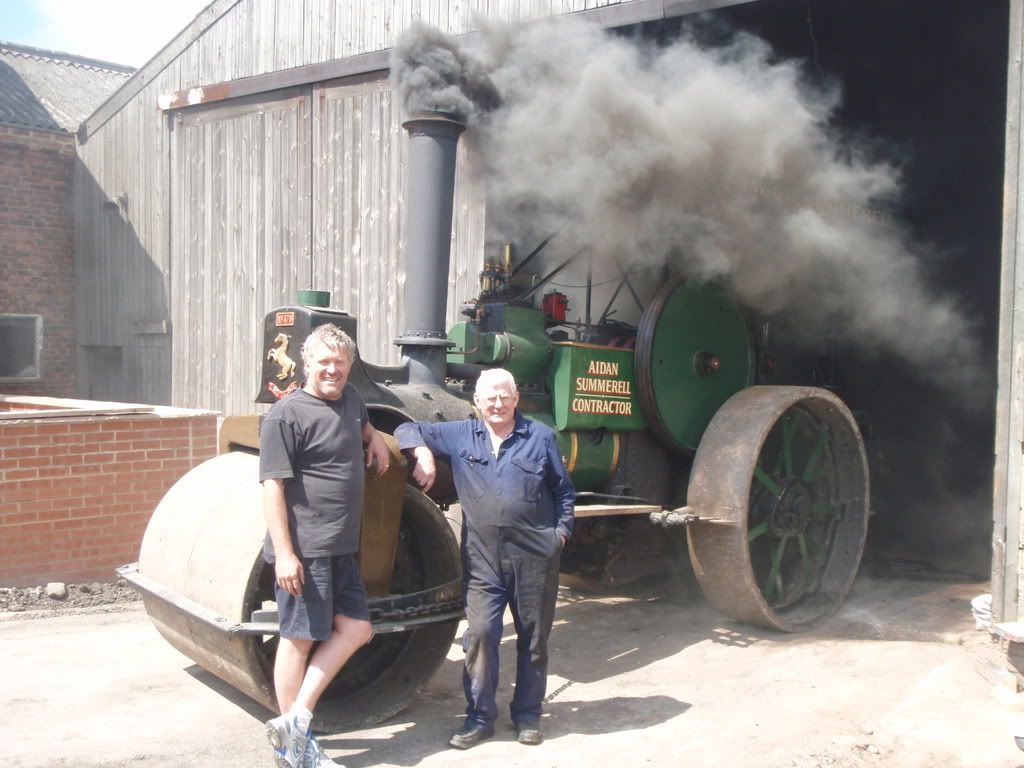 and we headed down the country lanes to a pub where we sampled some of the local delights, climbed back up on to the steam-roller and headed home
I did some fly-fishing on the Cod Beck reservoir on the Yorkshire Moors, where I actually caught a brown trout
, that I threw back to be caught again one day
We went sea fishing off Whitby and had a really fantastic time. We first caught a few Whiting, then quite a few Pollock - we actually started throwing them back, as we had more than enough for tea:thumbup: AND THEN...................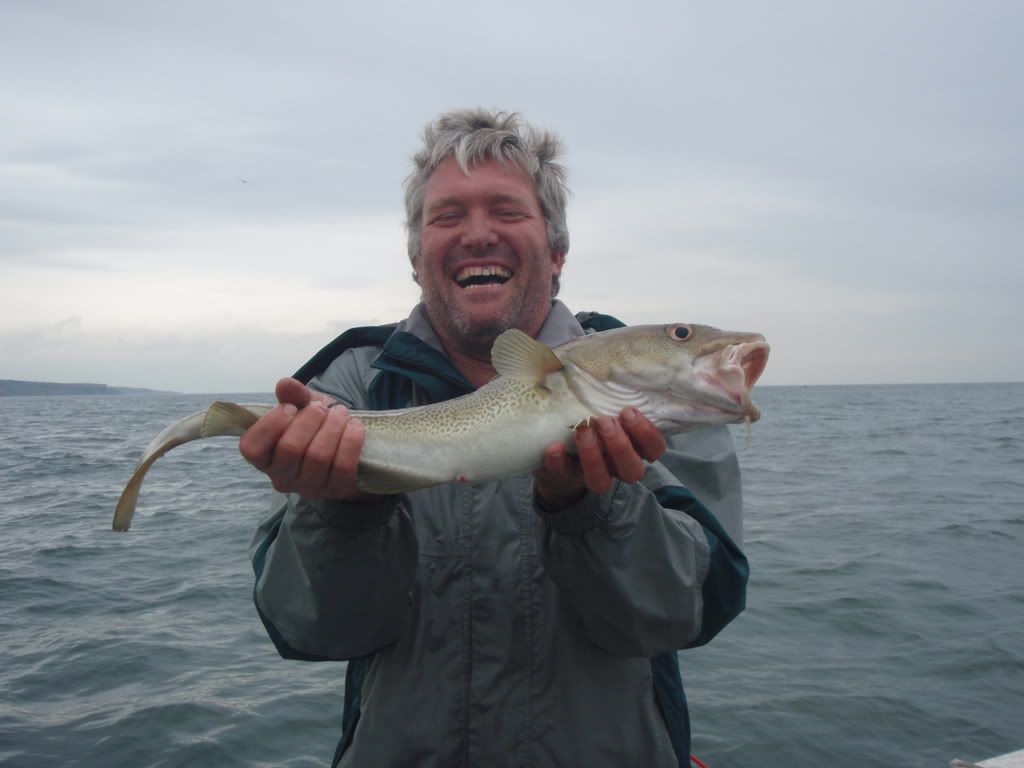 that's the biggest fish I've ever caught, a VERY nice Cod
'Twas also the biggest fish we caught that day!!!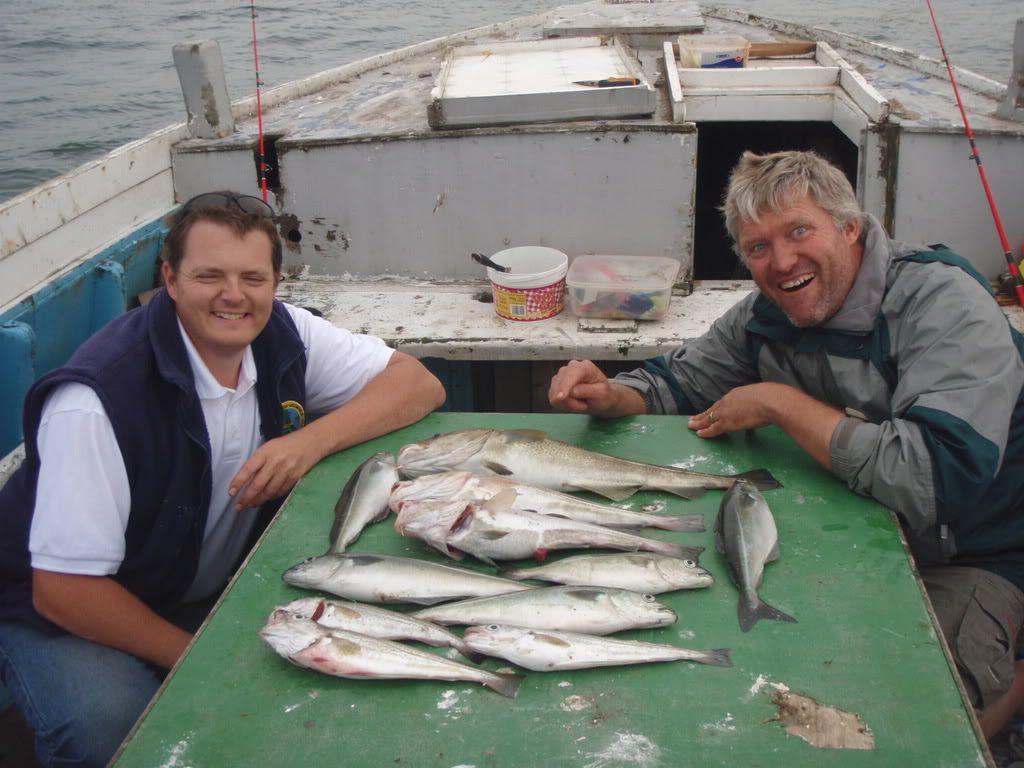 We had a veritable fish-fest for tea that night!!!!
A good friend of Andy's, who has recently retired is doing the Coast to Coast walk, so we joined him for a days torture
, sorry, I mean lovely walk through the Lake District:thumbup: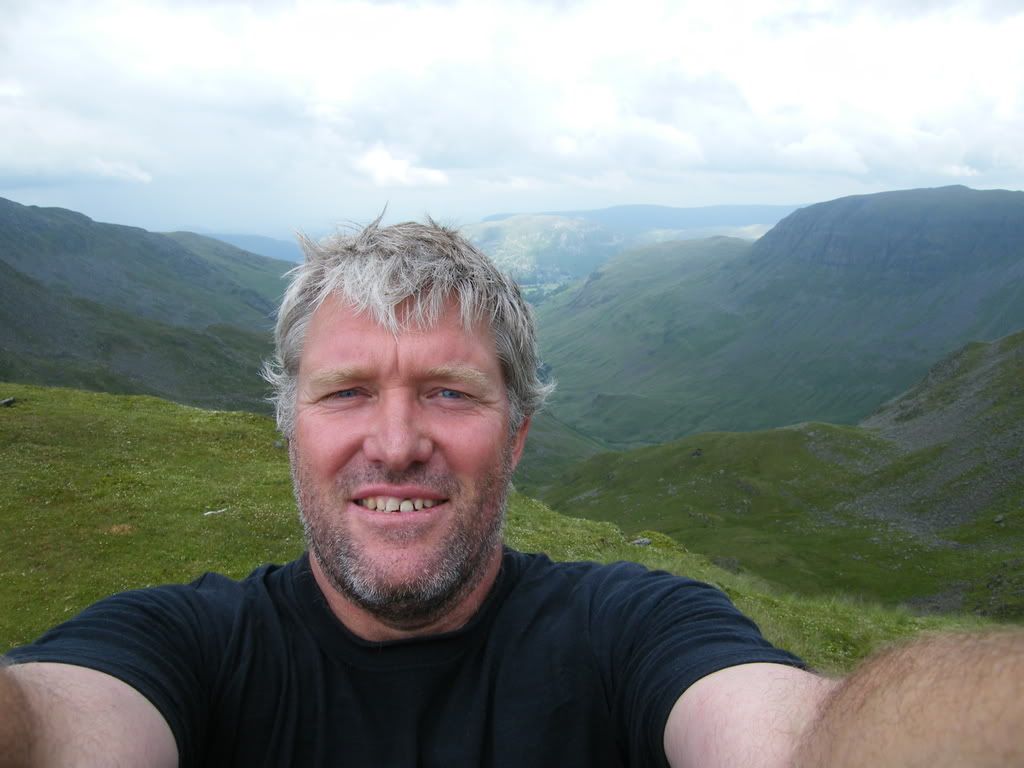 Hidden behind my rather large swede, is Grasmere, where we set off from, up to Helvellyn, at over 3000ft above sea level, the third highest peak in England
, then a very, very, jelly-legs syndrome
long way down to Patterdale. We spent the night at a great B&B and had an excellent night at the local pub
We decided to head off when the staff started vacuuming and polishing the brass - hey, anyone can recognize subtlety
So, after a really awesome time with Andy, it was off to spend a few days with my mate Dave in East Morton, near Keighley.
I left Hutton Rudby on Friday 04 July, up over the North York Moors, down to Northallerton, up to Ricmond and up on to the Yorkshire Dales.
I really love the Moors, here are a couple of pics to show why.........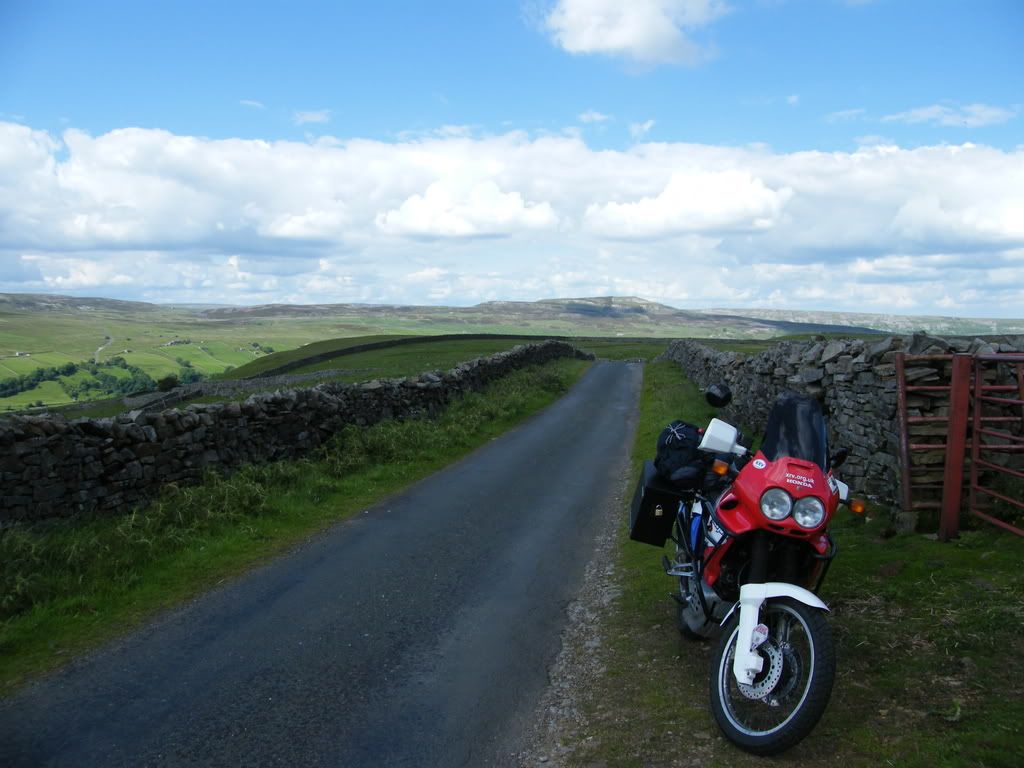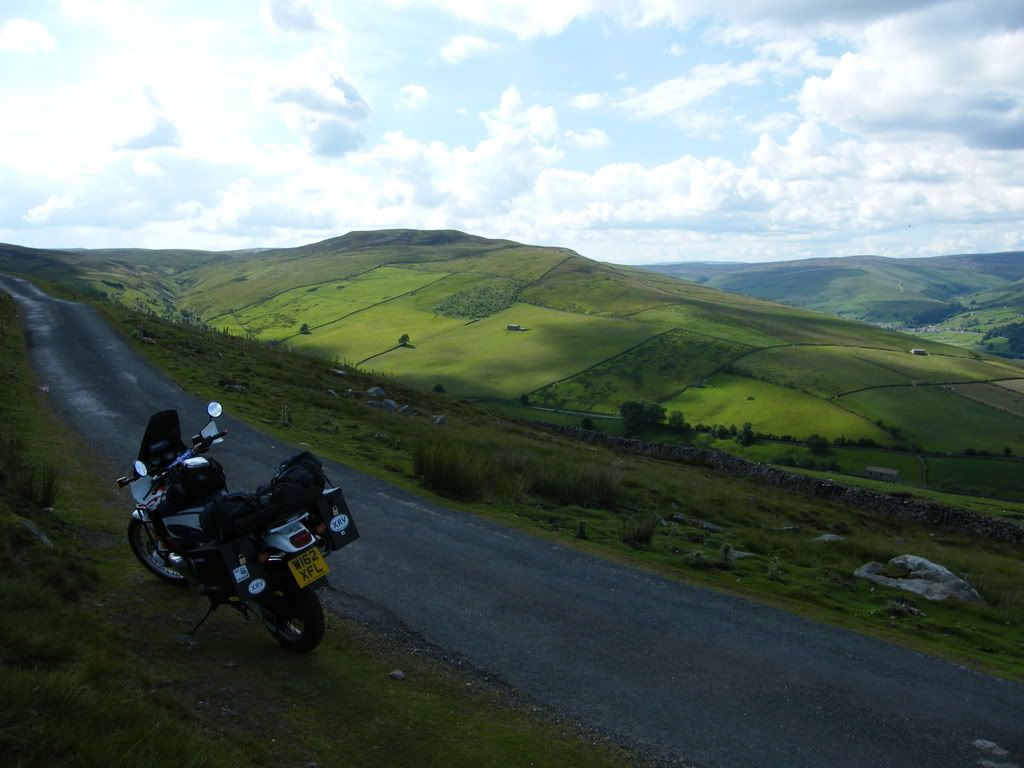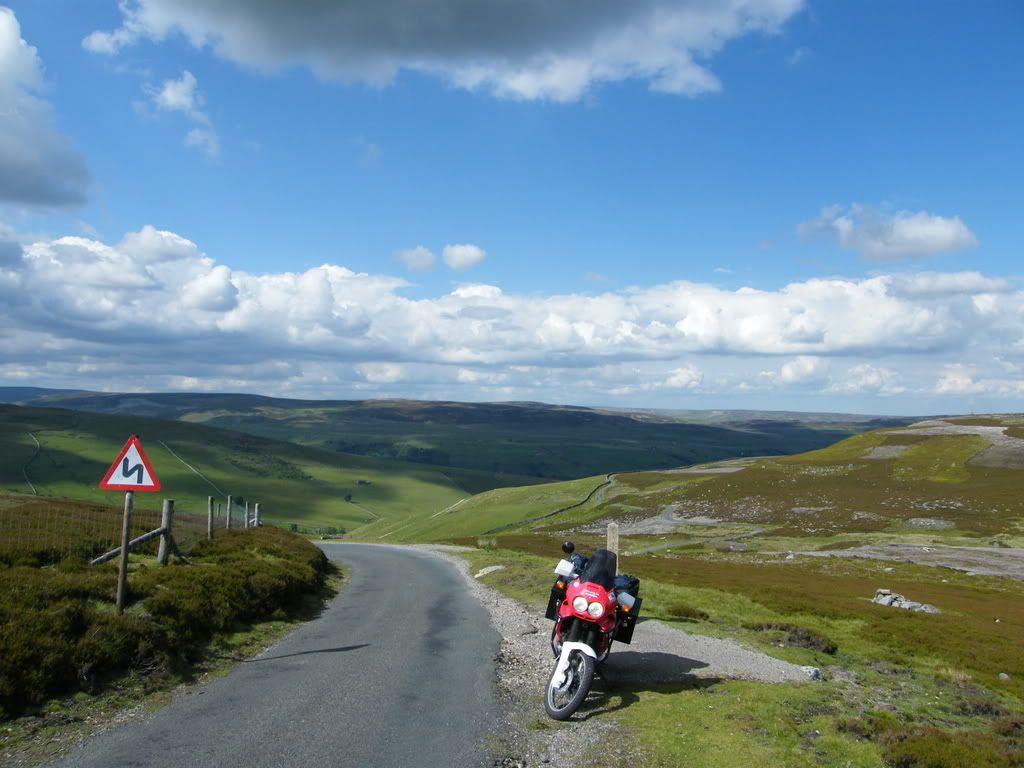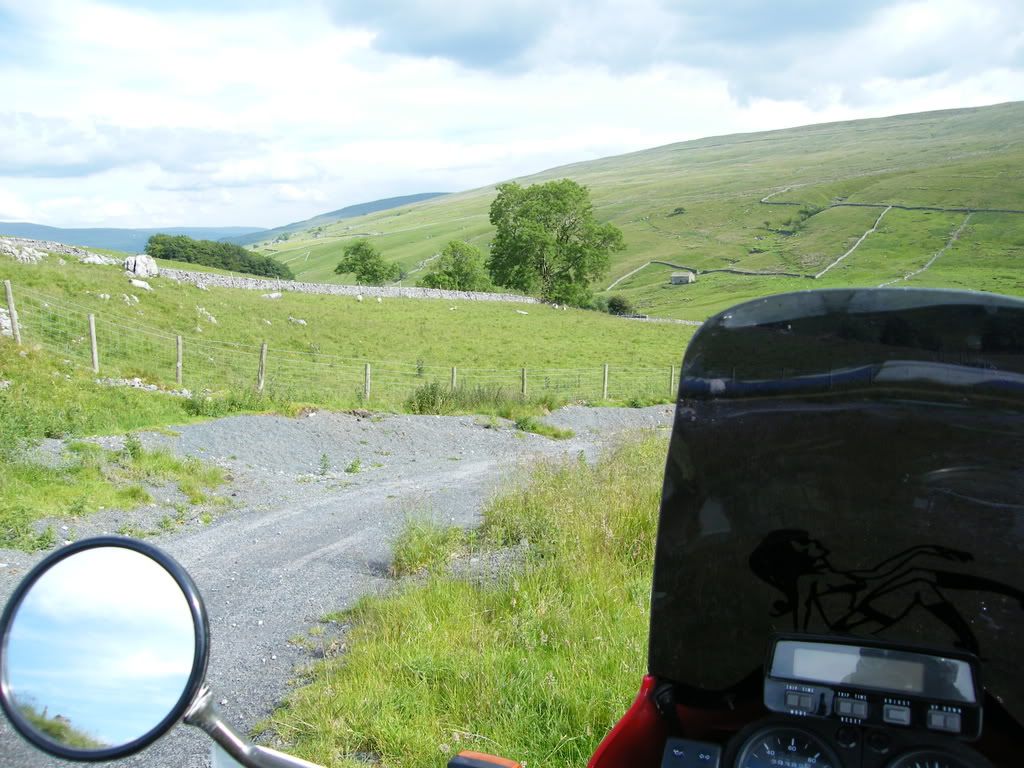 Once again, I didn't make notes of where I took the pics
(will do next time!!). From Richmond I headed for Fremington, Gunnerside, Askrigg, Cray, Kettlewell, Grassington then down to Skipton, Keighley and East Morton.
A Really awesome five or six hours on the road
Saturday was the BIG ONE............. Waddington Airshow, with the promise of seeing the Vulcan fly................... and fly she certainly did
and as if that wasn't fantastic enough, she flew in formation with a Lancaster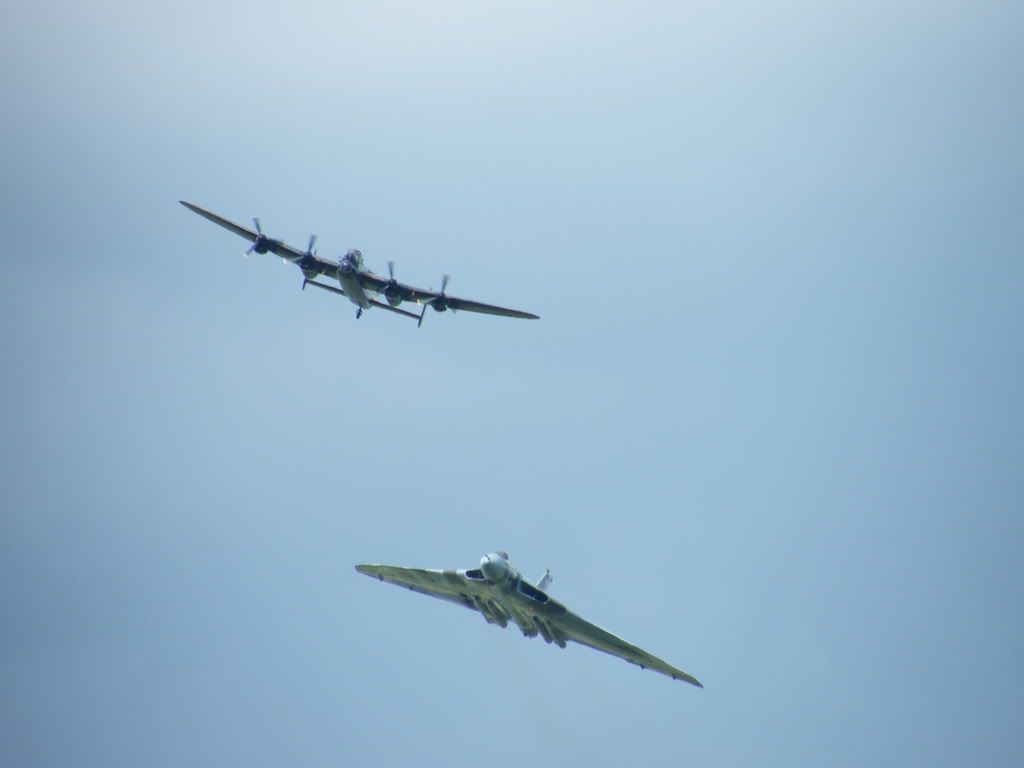 Now that was absolutely incredible:thumbup::thumbup::thumbup::thumbup::thumbup: Apparently the crowd exceeded the 70000 mark, and I was there:blob7::blob8::toothy10:
It was pretty awesome to see a Spitfire in formation with a Typhoon
and, of course the Memorial Flight is always fantastic to see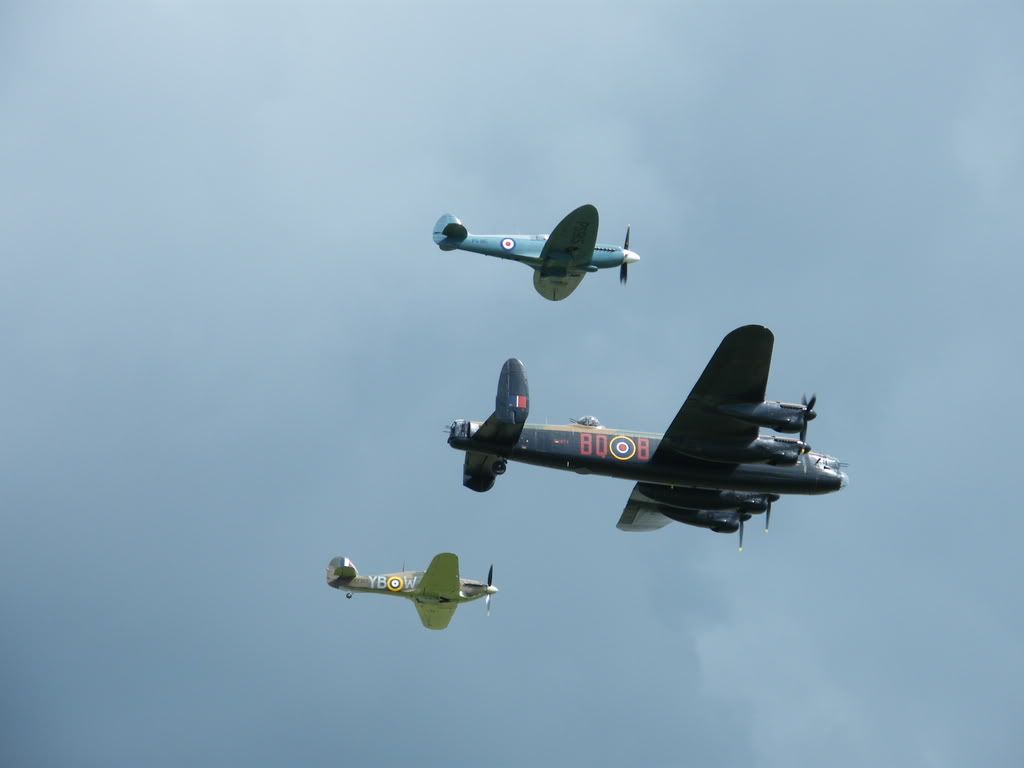 We spent over 13 hours at Waddington and it was worth every minute:thumbup:
Phew, this is my longest post, ever, almost finished
- I just hope I don't stuff it up!!!
Anyway, went to Manchester airport to take pics of aircraft (anyone detect a theme here
) popped in to Elvington............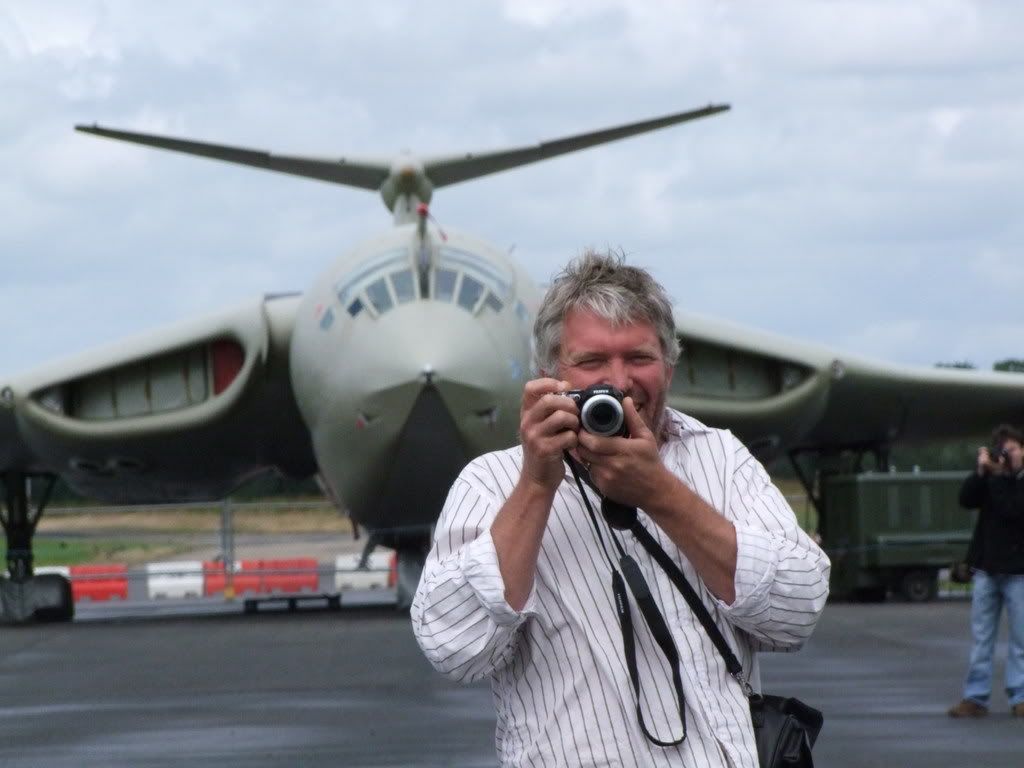 funny that - MORE aircraft
Right, now instead of coming home down the highways, I headed for Huddersfield, and up to Holme Mass in the peak District:thumb: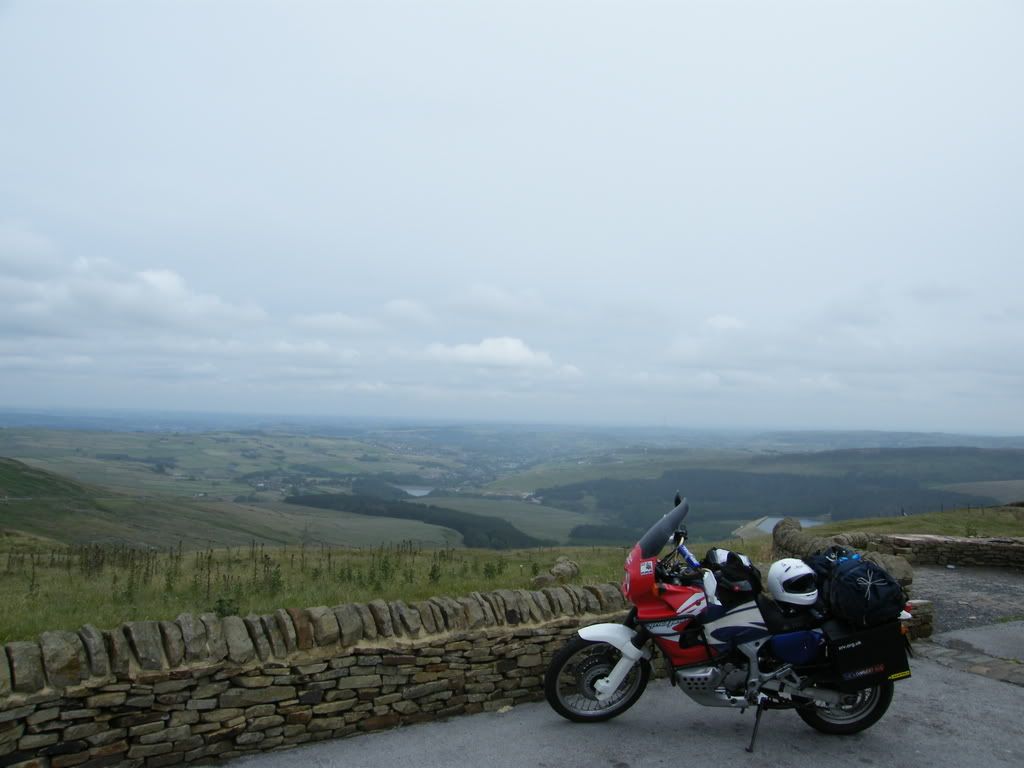 Not very clear, but that's looking back from Holme Mass across towards Leeds, and the Dales. You may be pleased to know that that was the last pic, as it started raining and only got heavier - anyone remember the weather on Wednesday 9 July
, the forecasters got it right
and I got VERY WET
, but still had a great time
My route through the Peak District,my first time:thumbup:, another really wonderful area, was roughly from Holmfirth to Glossop, Bamford to Bakewell across to Monyash and down to Ashbourne. There are some really fantastic roads through here, if you ain't been here yet, you must give it a try!!!
From Ashbourne, I headed for Uttoxeter, then along the A50 for the M1. The traffic was absolute murder, the M1 North was closed, so there were miles and miles of stationary traffic - not much fun when it's raining really hard, you're tired AND the panniers stick out quite far (that's another story
)
Anyway, eventually got to the M1, then onto the A14, all the way to Bury st Edmunds, down through Sudbury and eventually HOME
The bike behaved herself impeccably, although I was quite happy to leave her in the garage for almost a week after I got home
I traveled just over 800 miles on my bike and quite a few hundred miles in cars, not forgetting the steam roller or fishing boat!!!!!
The best mpg I got from my bike was 55, although I did manage to get that down to about 44, whacking down the M1 and A14.
All in all, a FANTASTIC break, 11 days of non-stop boy's stuff felt like two months holiday
, but it also felt good wanting to get back to my girls
I'm never gonna grow up, staying young is too much fun