Howdy lads and ladies
I've picked up an 85 XL 250 which as far as I can make out is an XLX250R and seems to have been a model for Brazil, Oz, NZ and Japan but not sure. I'm struggling to find info on it and parts are very confusing. I did find one thread somewhere that suggested these were an end of life XL 250 with some XR 250/350 parts but no idea how true that is. I've been looking at wemoto, david silver, cmsnl and can't see any xlx on any of them so any pointers on what model would be most approriate.
She fires on first or second kick and pulls well. Needs new fork seals and I'd say its on the original brake shoes but I've adjusted them and they are OK for the moment. She's leaking oil from the right hand side crankcase, gasket needs to be replaced. The plan is to ride her a bit till the weather turns to rubbish in Oct / Nov and then I will tackle the big jobs.
So any pointers or suggestions welcome, I'm beginning to think she's a keeper so I may look at doing a full restore down the road. Any ideas how I'd go about finding the history of where it was originally sold.
Few pics for ref warts and all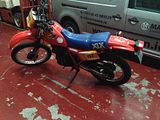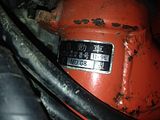 And what I guess is the sales advert