Discussion Starter
·
#1
·
Ok, back again from across the water,much less eventful this year though!
Bike packed and ready
Mileage on setting off. 23/08/2008. 48147 miles.
Got the bike all packed up ready for the ferry,took a pic of the bike,and a pic of the speedo,to make a record of the mileage.Headed of towards Rosyth,and joined the Q of bikes waiting to go on the ferry.I soon found I was the only UK biker,and all the others knew each other,so it was a pretty lonley crossing,read a paper,had a wee sleep and sat bored all the way to Belgium still trying to decide where to head...I new I wanted to go to Nowe,Poland,and also Visselhovede in Germany to see family,but inbetween...I still wasn't sure!
I headed out of the port and headed on the dual carrigeway to Brussels,and all the way down through Luxembourg.weather was fairly decent and traffic was light as it was Sunday,over into Germany and sat at 100+ for a good few hours,filling up every 220 miles. Petrol is as pricey over there as it is here,although everywhere I went,Diesel was a fair bit cheaper.I passed through Saarbrucken,Saarlouis,and just kept going....somewhere,at about 3am I'd decided I'd had enough,and after stopping a few times in the Autobahn parking I found one which was empty,and had a grassy area,so I pitched my tent to the warm glow of a 55w Phillips all-weather bulb made myself a cup of coffee on my wee gas stove,a smoke and settled down to a sleep to the thunderous roar of 44 tonne lorries passing close by.
Woke about half 9 in the morning,and found the parking place to be full! No one seemed to mind me at all,so I had more coffee,a smoke and packed up.
First night.
Hit the Autobahn again after looking at the map.Decided to head for Nowe,as I'd been going for ages and still seemed to be a long way away,so headed up towards Leipzig,and the border crossing into Poland at Frankfurt an oder.I was interested to see the former DDR,and wasn't really shocked.the bit of Leipzig I saw was a dump,all broken down buildings and graffiti..I didn't stop,apart from for a cup of crap coffee.Into Frankfurt a O and I started to get the shakes,and a bit of trepidation,I was finally going to see Poland,birthplace of my father and a place I had heard do much about...and as you may know,a place that was out of reach last year...
It was a really strange experience...crossing over a bridge,and the language,currency,road regs,speed limits,everything changed. I rode around Slubice for a bit then headed East,gazing in wonderment at everything,especially the fields full of cars for sale.Mercs,BM's Audi's...hundreds of them! within 10 or 20 miles the roads turned to crap.seriously bad.Whislt the roads just out of the town were fantastic,obviously brand new,suddenly turned into potholed,patchy tarmac.,then even worse into cobbles,and old tar with 4 inch deep grooves just the width of truck tyres. It was just like riding a Scalextrix bike!
I rode and rode,down which were pretty minor roads,and it was dark now so my speed fell to between 40-50. Any more would have been suicidal,with the mad truckers,deer peering out from the woods,and the terrible terrible roads.The petrol stations were amazing though,all brand new,and glowing in the dark,like alien spacecraft in the old wild west. It must have been around 2.50 am when I nearly died. I suddenly jumped in my seat,realising I was on the wrong side of the road,and weaving wildly. I'd nodded off. Only me baws banging into the tank woke me,when my grip had loosened on the throttle...some of you may know the engine braking on a Boxer is vicious,and I'm thankful for that! I'm just glad I didn't have the throttle lock on!
I rolled into a petrol station after giving myself a hefty slap on the helmet,and say there was a decent looking Motel round the back.My brain was in no fit state to reason with itself,so I rode round,and the electric front gate opened.I stopped,kinda lost...and though,I need to sleep,so rolled up to reception.It was after 3 AM!. A bit of pointing and hand-signals,and I had key number 5.The young lady at the desk drew me a map.I understood the pointing better.
In light on,keks off...zzz that was it. In the morning I found this.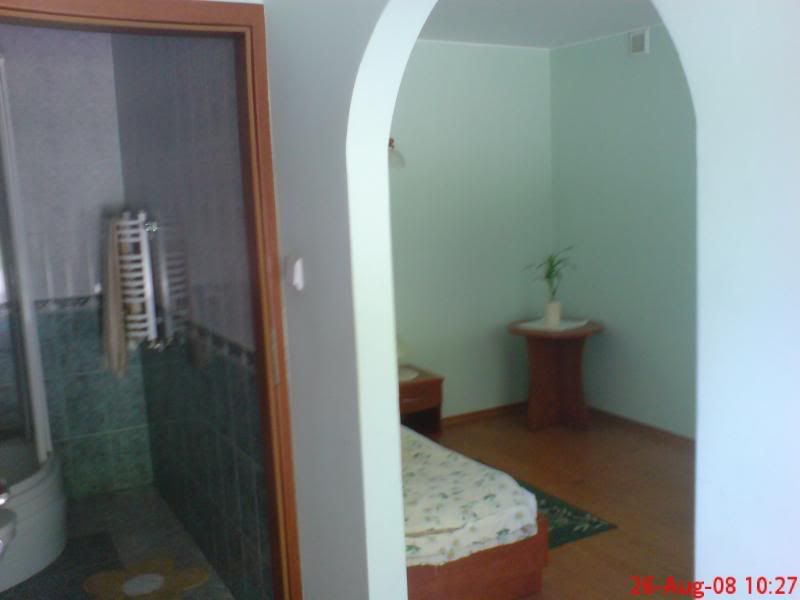 Clinically clean,roasting shower,comfy bed,and BBC news 24. all for 80 zlotys. which is about 20 quid. well worth it!
Back on the bike,showered and fresh,and made it to Nowe no problem and found the town notice board,checked the address I had and headed to my cousins,who I never knew exsisted untl a few weeks ago!
I was instantly treated lie one of the family,and had a great few days,and learned all about the history and stuff. Went out for a few beers with the English teacher from the local school,who is a friend of the family,and rolled in the door,pished on Tyskie! Next day it was an all expenses paid trip on the train to Gdansk and Gdynia,wonderful cities,and far brighter and cheerier than you'd imagine.
After a few people turned up to meet me,and loads of photos taken,probably more of the bike than me, I was off again,headed for Szcezin,another border crossing,further North. Usual crap roads,and nearly an off on a Zebra crossing,I dunno what they use,but I think its teflon coated diamond,with a KY jelly laqquer...and that was in the dry! I never knew you could hold an old oilhead in a speedway slide for so long!
Over into Germany and it felt like Mr Show had filled my shocks with baby oil,and had my seat repadded in the Slumberdown factory.It was after 10 now,so I twisted the throttle lock and settled into a 120MPH cruise,well tucked in for a good hour on the empty Autobahn. I rode through the centre of Berlin,which is awesome,and tried to take a few arty pics, some worked,some didn't.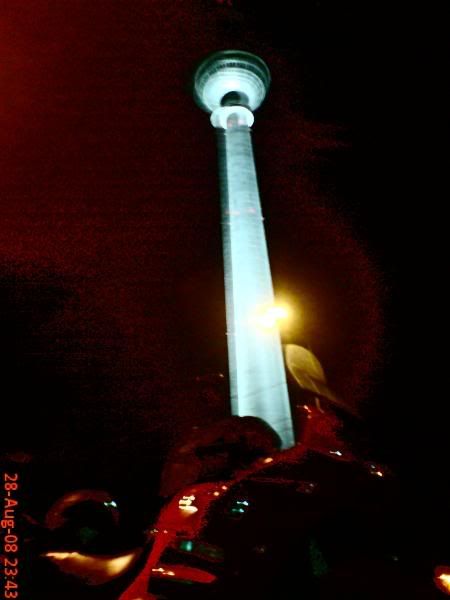 I was going to look for the BMW Mottorad factory,but decided to head West,out of the city.I was sitting stopped at a red light when suddenly this booming voice came from behind. "RUCKLICHT!!!!" I was so taken aback that I hauled the bike on to the pavement and racked my brains...AHA, taillight! That big German taxi driver had maybe saved my life! I popped in my spare bulb and carried on,with scenario's running through my head about being squished by a flying 911.
The rest of the ride was uneventful,just boring Autobahn,with a few flat out runs just to keep it mildly interesting. I hit 145 on the speedo at one point. Not bad for a 15 year old Gummikau (rubber cow)
Stopping for a quick smoke.
Made it to my Aunts at about 8 am,and spent a few days relaxing,before heading off to Amsterdam again for a couple of days.I made the mistake of coming in from the North,down over the Zuider Zee. Nothing to see, and very,very windy. I was knackered,so got to the 'dam,put my tent up and chilled out wih a few beers.Next day I walked into the city and ambled around,in the pouring rain. Not much to tell really!
The campsite was sodden,and is very sandy,so in the morning I dumped my tent in the skip,and headed for the ferry.An easy run down meant I had a few hours to spare,so I had a run to Knokke-Heist. What an amazing place! Its like a piece of the Riviera,complete with all the expensive shops,on a dingy bit of coastline in Belgium.Weird.
Did find a wicked model shop though, good job it was closed!
Back on the ferry,and a fairly rough crossing and home this morning.
Total mileage in the garage at home,50602 miles.
Total 2455 all in, 10 days away, and a complete 4 days off the bike so 2455 miles in 6 days. I expect to feel my arse again a week on Monday.My hearing may never recover- not because of the bike, t'was that bloody jazz band in the campsite in Amsterdam!
here's a wee vid from my mobile too
YouTube - 1993 BMW R1100RS on the Autobahn