Ok all, a tentitive toe in the water!
Up for sale is my 2001 "Y" xl650v Transalp, which I purchased through a forum member. I have owned this bike for over 5 years & has never failed me.
The previous owner prepped the bike for a trip which ended on the first day, the bike suffered cosmetic damage only (fairing, clocks headlight etc).
I purchased the bike "naked" after the previous owner put it back on the road & used it for commuting for a while.
Good bits;
Low mileage (15,000mls)
Full service history from new, stamped book up until my purchase & a detailed record made since.
Original Handbook, service book, Tool kit (inc plug spanner)
2 working Hiss keys
SW Motech crash bars
Graves Aluminium Sumpguard
DR Bike heated grips
12 charging socket
Either std or low seat available.
Every MOT from it's 1st one in 2004 (+ the original broken clocks to prove previous mileage (8087mls ))
Avon Gripster Tyres, Front as new, Rear less than 1/2 worn
Fully waxoiled (looks horrible) - good, solid rims & virtually no corrosion on the engine, frame & suspension components
Runs & rides perfectly, starts on the button, no rattles*, no smoke, uses no oil.
Clutch & gearbox are perfect too.
Tidy, original red paintwork on the front mudguard/tank & side panels (sure, there are a few marks but overall good)
Since my purchase, service items carried out are;
Regular o+f changes (done on time basis due to low annual mileage)
Coolant changed (for Ford, long life stuff)
Valve clearances checked
Air filter replaced
New plugs (NGK Iridium)
PAIR removed - saves clutter
125 main jets fitted (run better, better on fuel)
Cat/subchamber removed (less weight, runs better)
All steering, wheel & suspension/swingarm bearings stripped, inspected, cleaned & re greased
Racetec Gold valve emulators fitted to the front forks & oil change
Brake calipers stripped, cleaned & rebuilt with fresh fluid, braided hoses on the front
Genuine Honda pads all round
DID gold X ring chain & Honda front sprocket (shaft is perfect).
Modified the wiring harness (properly done) to remove the abundance of wiring & block connectors
BS/E marked Motad Venom & custom link pipe/hanging strap with removable baffle
I also have available FOC a high "enduro" style front mudguard & a home made minimalist enduro style tail piece with LED light aswell as the original (broken) clocks.
I'm sure you'll agree, quite a comprehensive list, the bike is ready to roll & has no issues.
Full MOT, Tax until end of Feb '13
Not so good bits;

The Acewell speedo/fuel gauge packed in during it's recent lay up (my brothers garage) & has been replaced with a Sigma cycle speedo (I guestimated the odo mileage which will be accurate to within 2/300 miles)
The twin headlight Simpson Detour fairing, one of the lenses (plastic/polycarbonate) has started to discolour/melt (mud dries, & insulates them which makes them overheat....)
The bike passed the last MOT with this speedo & the last several MOT's with the headlight like this but you may want to change/improve the items.
* There is a slight tappy sound on a cold start up as some of these engines do, it's alway's done it - not got better, not got worse in my time with the bike. It quietens after about 20-30 seconds or so then runs quiet & sweet.
The bike is a bit grubby in the corners but is a great reliable, fully sorted trail/commuter/scratcher & is an absolute
HOOT
to ride
Looking for £1350
Located in Leigh, Lancs
As the bike's looks have changed, the below may not be true to how the bike currently stands!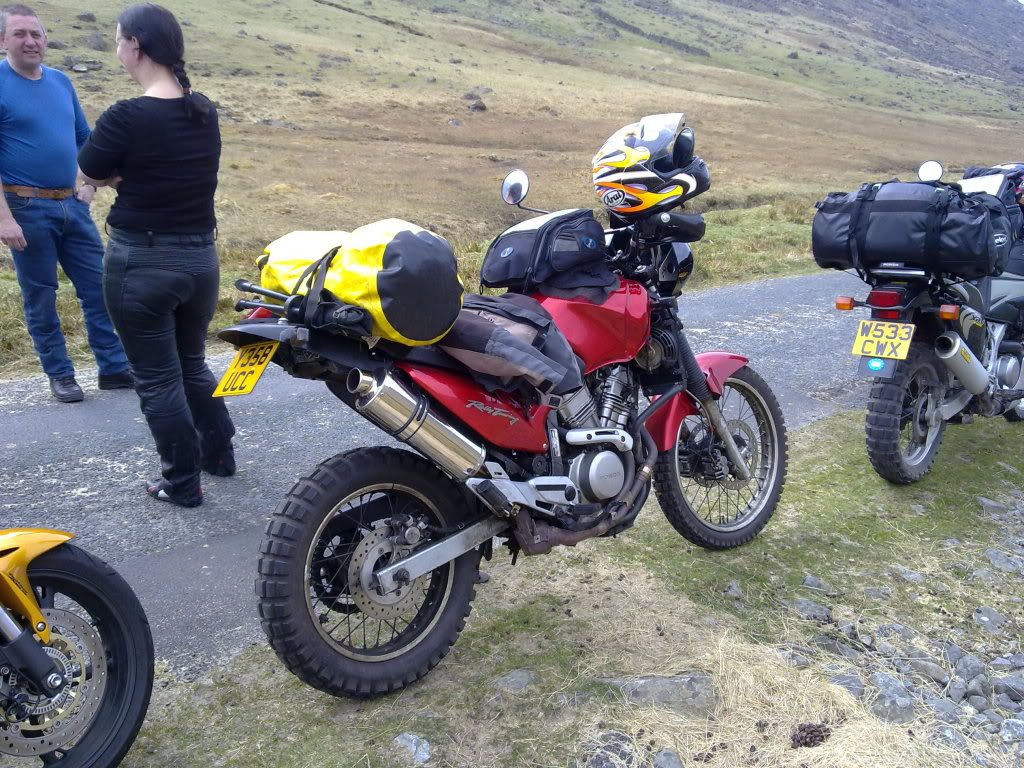 Thanks for looking, Phil