I woke up one day last week and simply didn`t want my Buell Ulysses anymore.
Now that may come as a shock to some of you......but there you go.
As simple as that....didn`t want it.
I hadn`t used it as much as I`d anticipated...I ride about 15,000 miles a year but on the Uly only did 4,500 miles in 16 months of ownership and 1,300 of them were in a five day mini jaunt to France last month.
There were many reasons combining to create this situation.
I no longer care about how fast I can go....spending most of my time at or very close to speed limits.....the Uly was chomping at the bit below 70mph and wanted to rip.
Furthermore I`m really enjoying slowly exploring narrow twisty country lanes and backroads ,as well as the Welsh mountain passes and mining roads.
I`ve been leaving the Uly in the garage while spending the day out on one of the Urals most of the summer.
I didn`t need the Uly for its long distance capability and comfort...I`ve got my lovely old naked Plain Jane GL1100 for those trips.
I hardly ever ride with a pillion nowadays....again,if needed the Wing can deal with that.
I don`t need carrying capacity for rallies....I use my either of my Ural combos when I go to rallies so I can take a big tent rather than a small tent,along with mounds of creature comforts and plenty of food and drink.
Winter road suitability (all that salt and crud...) wasn`t a factor because I commute on my 650 Ural and have a rattish Suzuki GS850 for Winter soloing.
Crazy madass road fun is provided by my tuned up street legal PitBike with all the wheelies and stoppies you can handle.
Another thing was that I really...really...don`t like or want the excessive and owner unfriendly level of computerisation present on many modern bikes.
The Uly is fairly basic compared to some Jap stuff but it still turned out to be partly software reliant.
I spend enough time in work dealing with machines which, given their use and application ,should be simple but are festooned with data network highways and microprocessors and give all the headscratching illogical faults associated with electro-gizmoid overcomplication.
I don`t want any of that tosh on my motorbikes,thank you.
So I woke up not wanting the Uly and now it`s gone.
Despite my denials to some folk,there was a little bit of introspection during and following my mini health 'scare' recently too.
Life`s too short...you`re a long time dead...enjoy it while you can,etc etc.
So yesterday I treated myself to a bike that I was smitten by when it first was released a few years ago.
I haven`t bought a brand new one because the infernal fuel injection has appeared this year but it`s near as dammit new,being on a 57 plate and has only done 1,350 miles.
Nice and simple carbs...twin shocks...everything accessible.
Got the single seat/rack combo as well as the dual seat so I can swap over as needed.
Oh yeah.......what is it?
It`s a babe........that`s what it is.
Triumph 900 Scrambler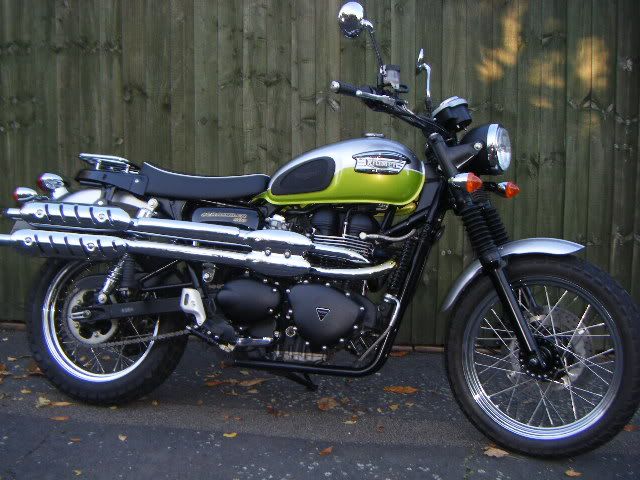 I`m loving it !