Discussion Starter
·
#1
·
What a weekend that was. Weather that most riders can only dream about. Roads that still require me to pinch myself when I ride them, to make sure I'm not hallucinating. And the company of like minded individuals to boot!
The weekend started, as weekends do, on Friday morning, with the boxes locked onto the bike, a full tank of fuel and a destination some 200 meandering miles away.
Picked up a few vagabonds en-route - Kmac at his place in Elgin and The Mountie and Duggsy at the end of Kmac's road.
Kmac
Mountie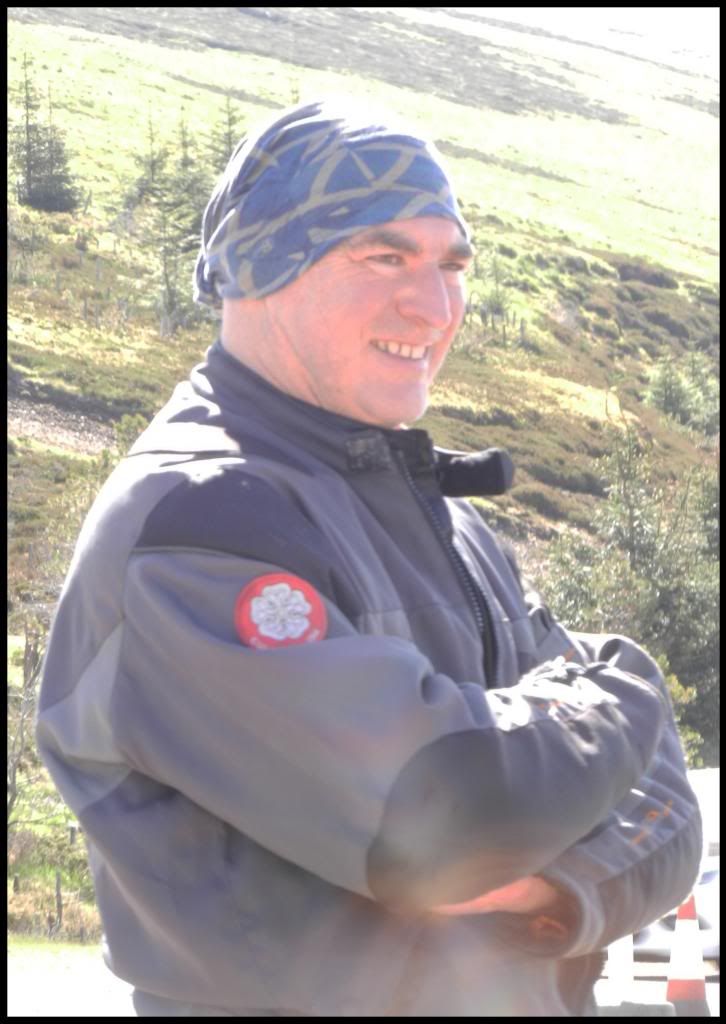 Duggsy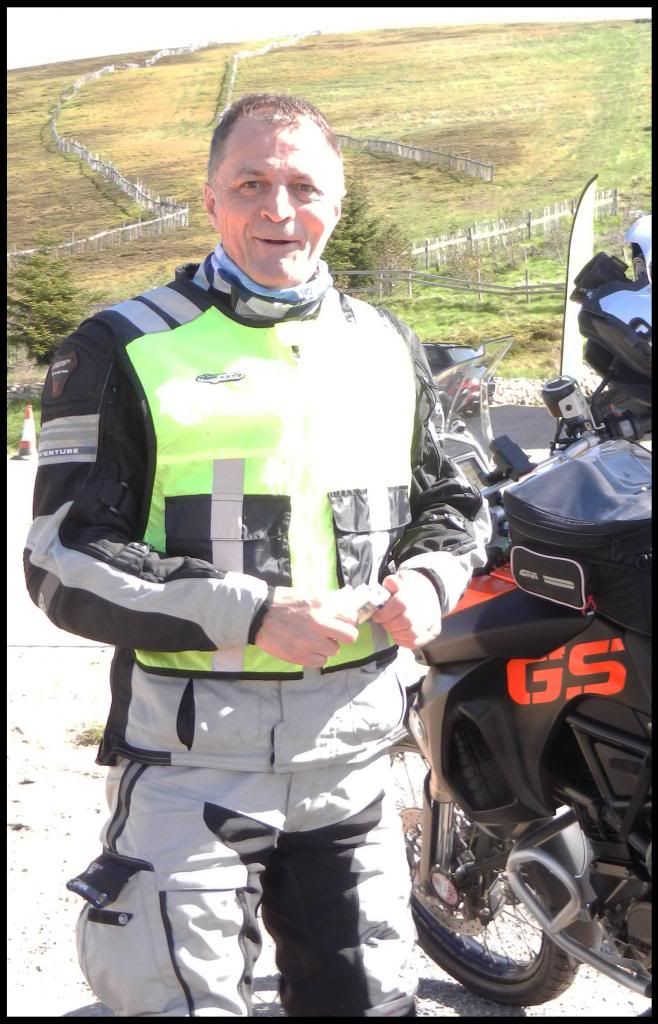 Eldest son was still getting his sh1t together when I rolled past his door, so his instructions were to meet us up at the Lecht ski centre.
With the weather still blessing us with its brightest bright sunny morning, we rode a gentle ride southwards, waiting as mentioned at the Lecht until eldest son rode up the hill.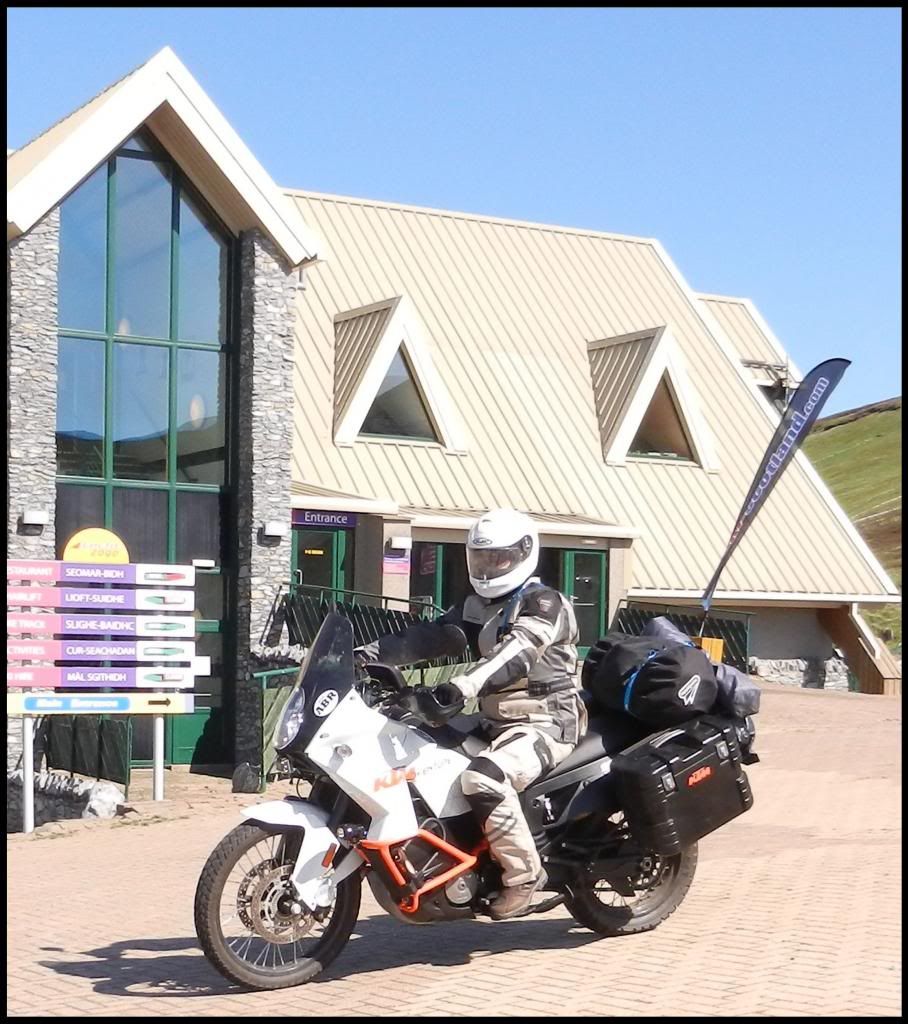 With the briefest of pauses, we continued south over the hills and down onto Deeside, making full use of the very sparsley trafficked roads all the way to Braemar, where Raymo and youngest son were basking in the heat wave, awaiting our arrival.
Raymo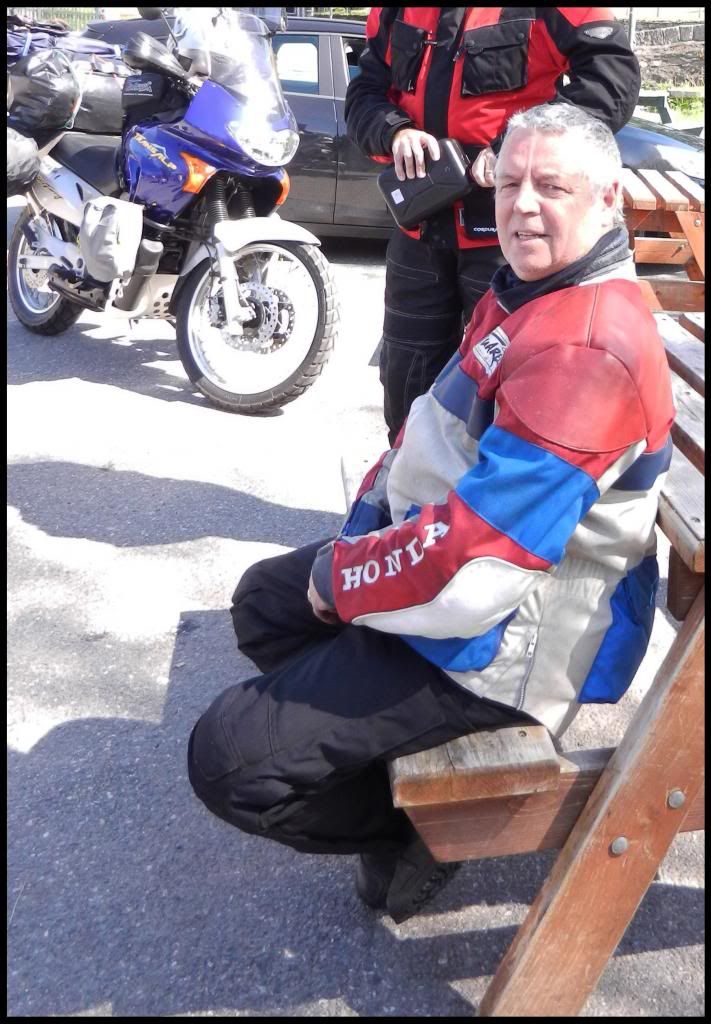 Adam & Neil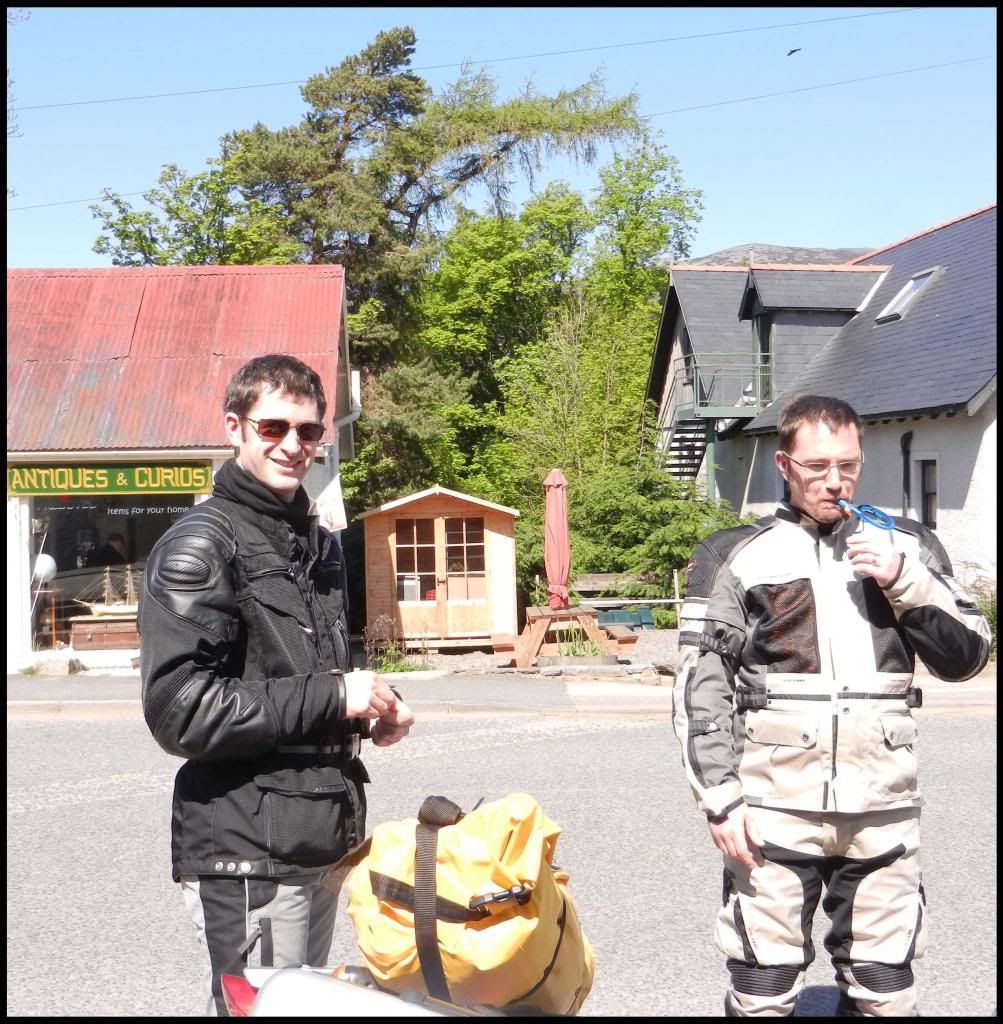 Another brief interlude was occasioned, whilst hands were shaken and introductions were made.
South we rode down Glenshee, still meeting very light opposition from 4 wheeled road users. We took a right for Kirkmicheal and Pitlochry and endured even more twisty, up & downy roads that had every rider in the group swinging from side to side as we made good progress.
Fuel stop at Ballinluig for those machines that needed it, whilst the Mountie bade us farewell as he headed for an all day breakfast in the truck stop café. An entertaining ride followed along the side of Loch Tay, with the number of 4 wheelers increasing as the day wore on, which just made the ride even more entertaining.
Next stop was The Green Welly near Tyndrum. A few of the riders made use of the eating facilities, which I gather are leaning towards a fat, gluten and cholesterol free menu. – NO CHIPS!
Quite like this picture – old and newer Africa Twins lined up next to a bike named after the race that brought the Africa twin into being.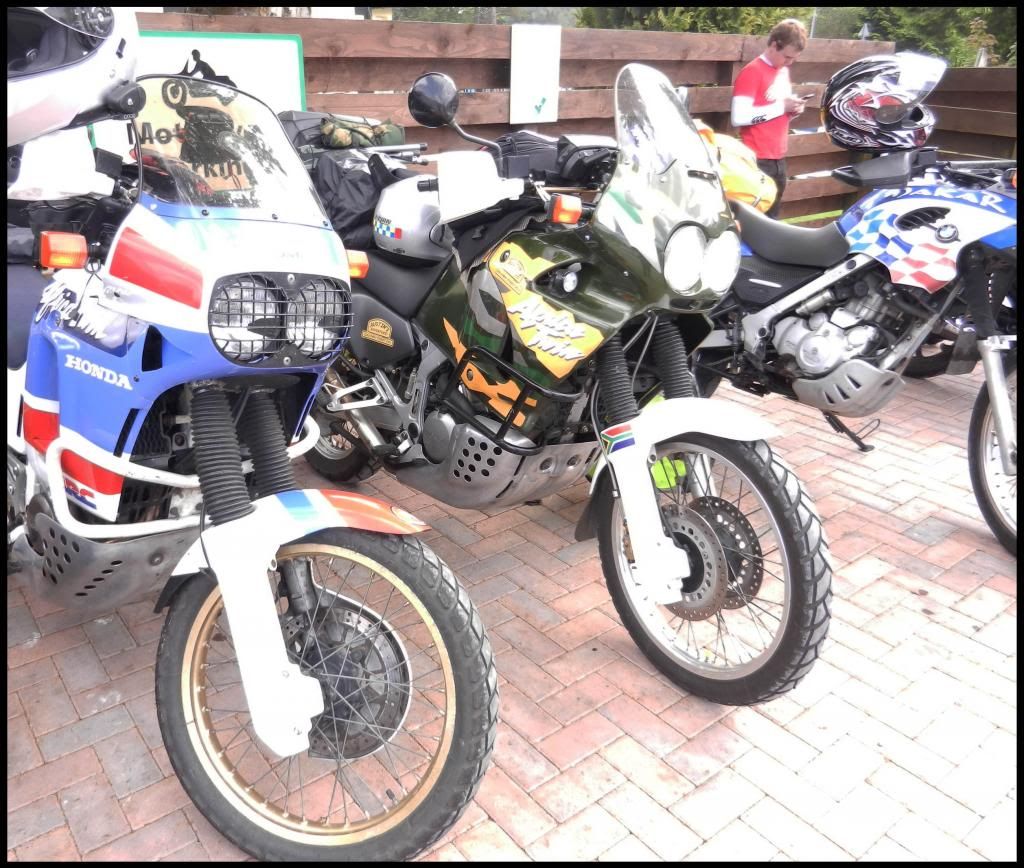 After stilling the grumbling tummy gremlins, we rode serenely west towards Glen Coe, with Kmac requesting that we pause at a big lump of rock that at some stage I his life he has scrambled up.
Having carried out the requested photo stop, Glen Coe for fuel was the next stop, followed soon after by the queue for the Corran ferry.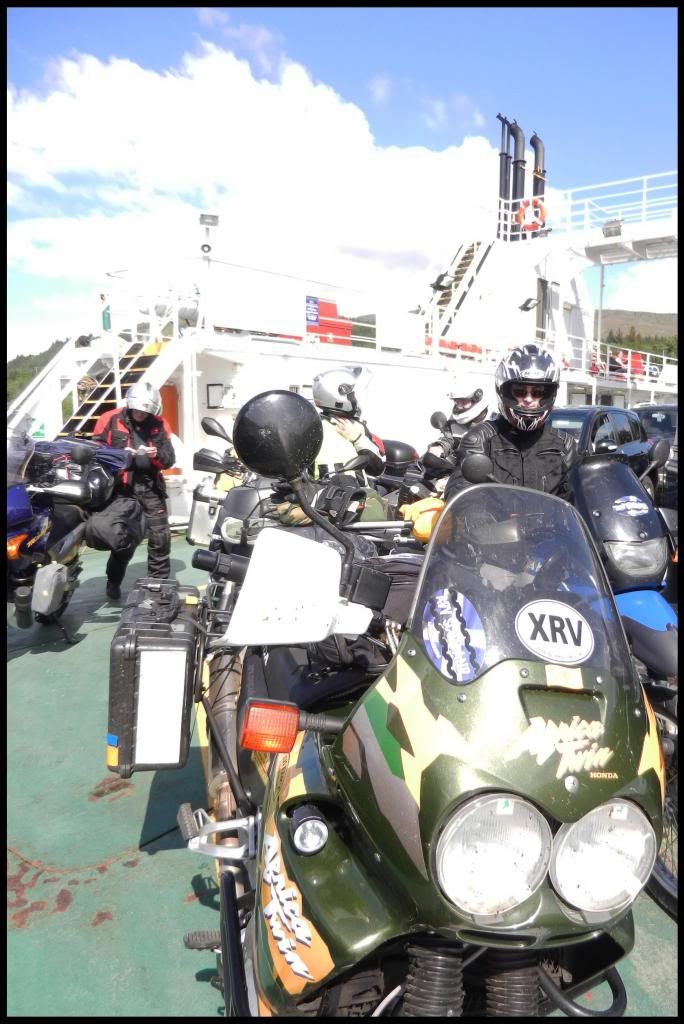 A little twisty ride later and we reached our destination – Sunart camp site at Strontian – to be greeted by LWR and a small gathering of more like minded bike riders . . . .
Welcome to the 1[SUP]st[/SUP] ADV Scotland Rally.
After tents were erected and supplies purchased, during which many more 2 wheeled enthusiasts arrived, socialising was the order of the afternoon. Great to meet some faces that have just been names on the forum until that afternoon, and some faces that should remain nameless.
The evening continued into the darkening hours, as entertainment filled the gaps between talking bikes & ballicks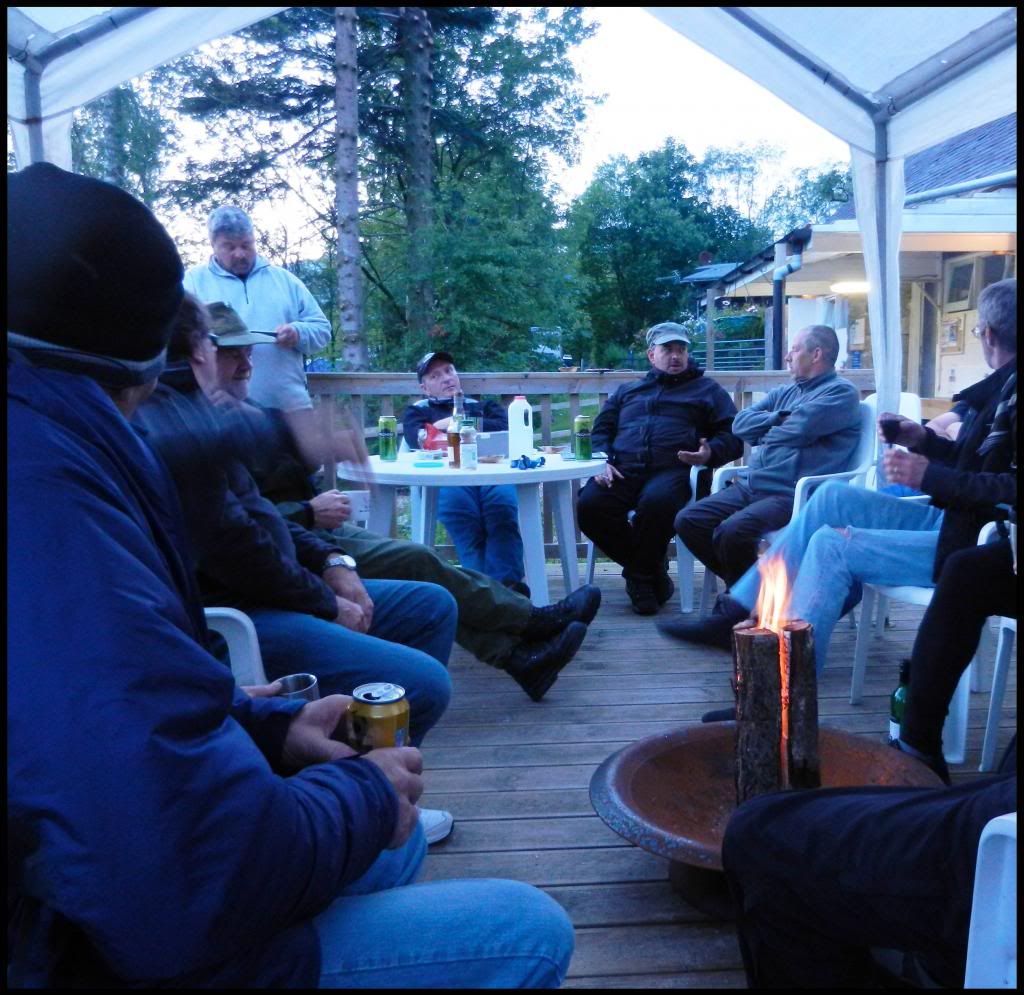 And so onto Saturday . . . . .
The day always starts early for me, so here we see the camp site shrouded in early morning mist, whilst all the other campers continue to create ZZZZZZ's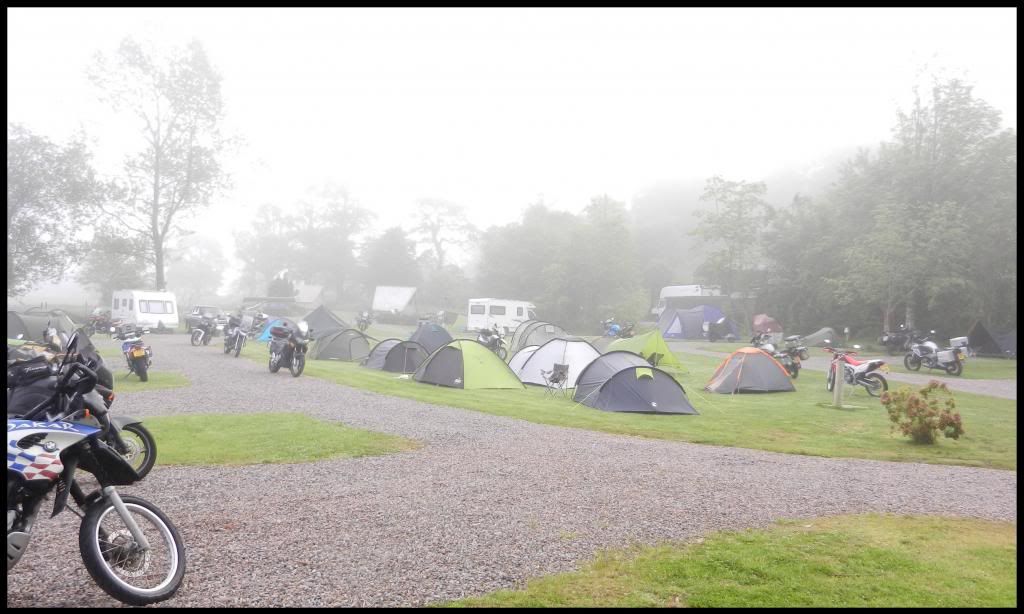 The mist still didn't stop the tiny buzzy little blighters from trying to get into every crack & crevice!
Once the sun burnt off the mist and most sleepy heads had dragged their deriers out into the daylight, Tim briefed all interested in the do's & don'ts whilst following him or LWR along the dusty trail that he's gained permission for us to ride.
That out of the way, we set off into the nearby hills to let our collective eyeballs soak up some of the most amazing sights Scotland has to offer. Here are a few of the snaps I took as we trundled our merry way into the greenness that is Scotland at this time of year.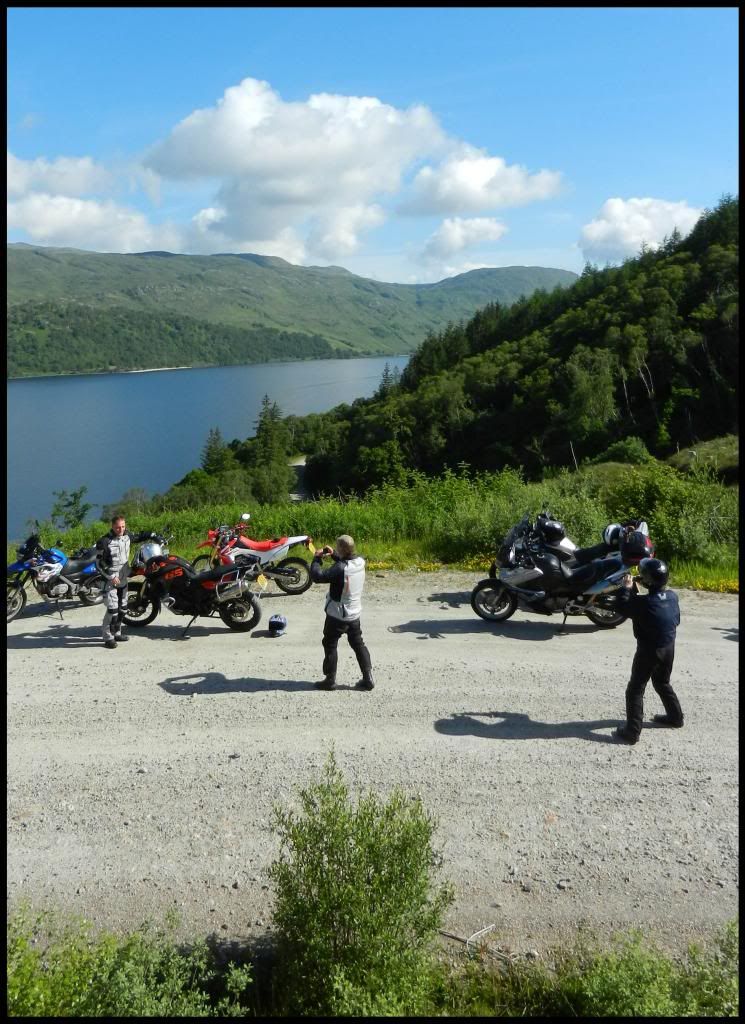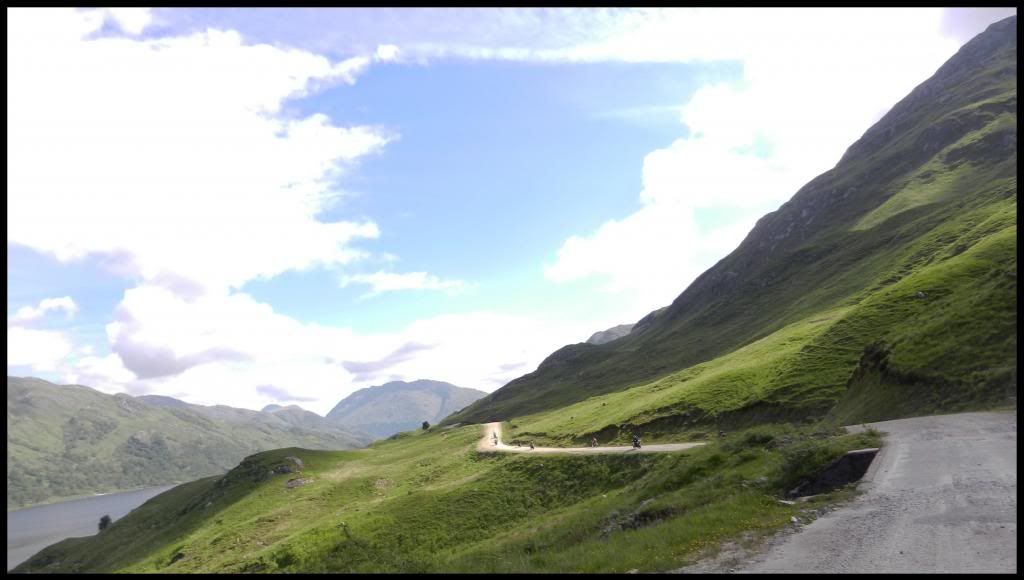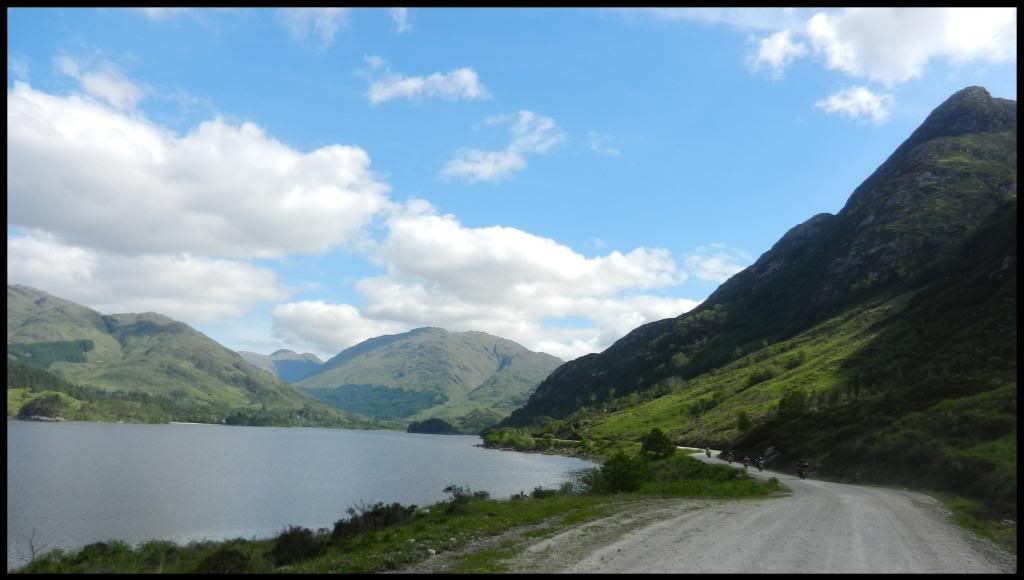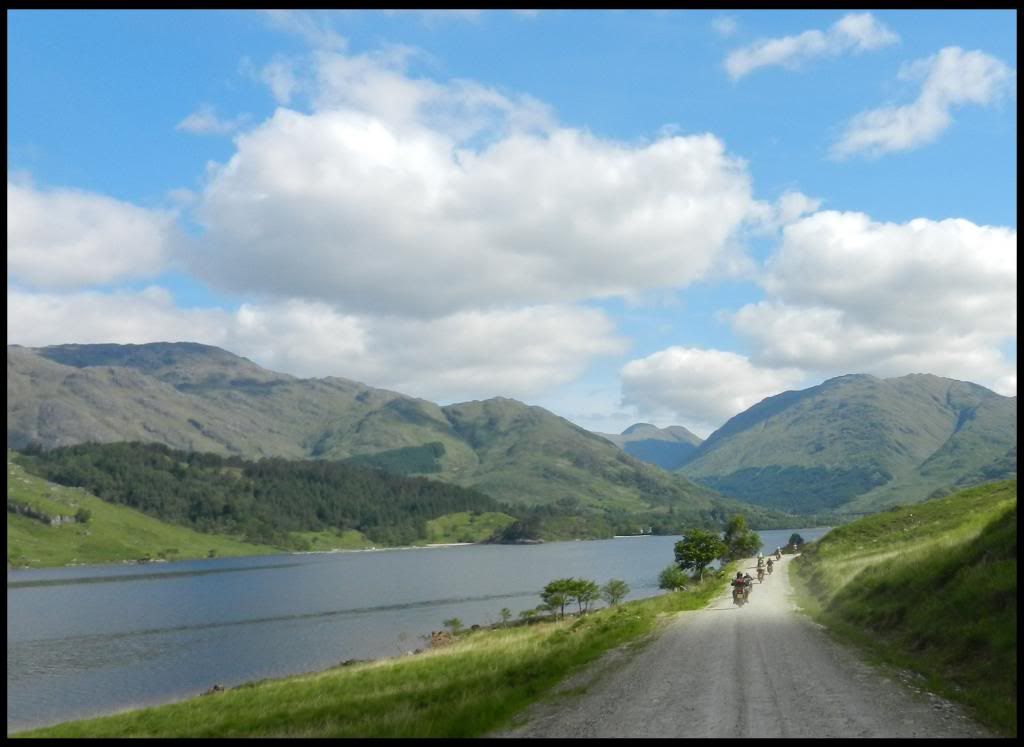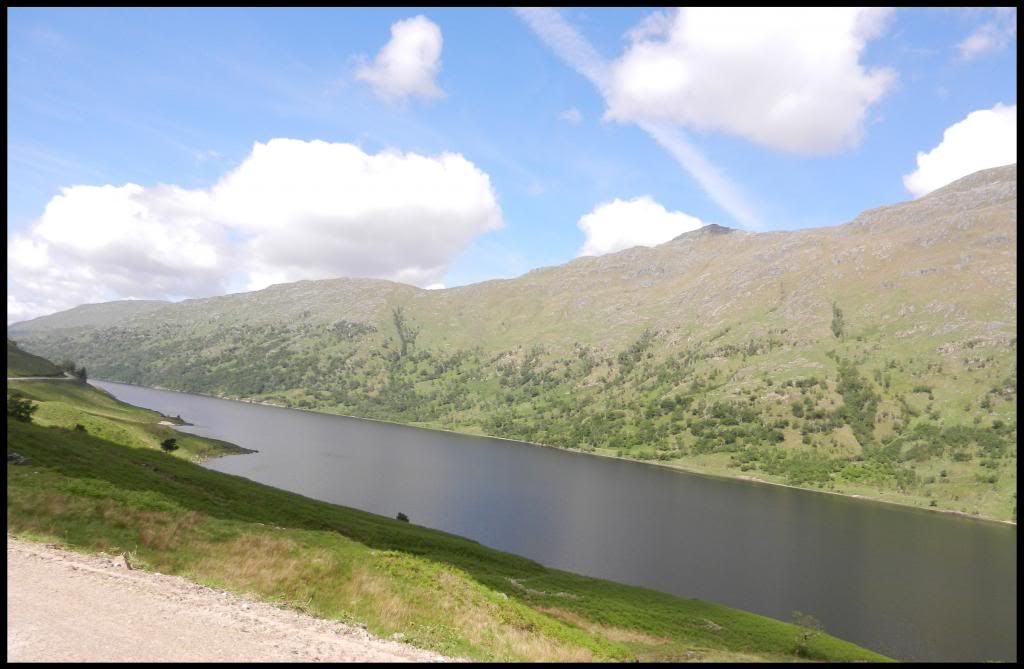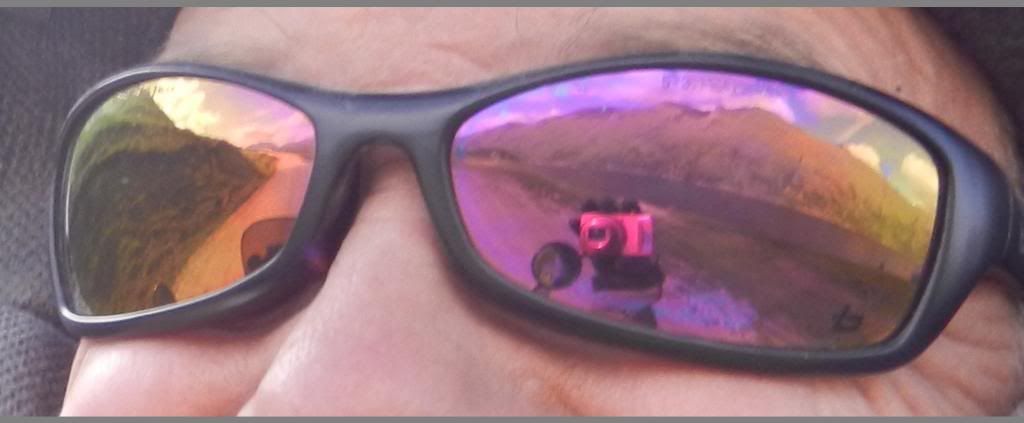 Once the dirty bit of the morning was complete, our little group split – one lot taking in even more green bits of the peninsular, and Tim leading the rest of us swiftly back to the campsite, along a loch hugging single track road that offered even more stunning views (not captured, cos we was "making progress"!)
Grabbed some grub whilst waiting for the 2[SUP]nd[/SUP] group to return, only to find out later that they'd taken yet another scenic de-tour. So instead of waiting, the Thomas Trio made tracks for some more hills and views.
And so endeth Saturday
Sunday saw the same cloud of midges waiting for us as we emerged from our canvas caves. Much movement was made, as it was said that some rain was going to put in an appearance and dampen an otherwise rain free weekend.
Once packed, the last 20 minutes in the afore mentioned rain, the Thomas Trio headed for the ferry and a more direct route home than the one we'd taken to get to Strontian. Once fuelled up at Fort Bill, we headed for Spean Bridge and some nosh at the Old Mill café – youngest son was moaning about a "rumbling tummy" whilst we were crossing on the ferry, so I thought I'd best feed them or their mother would be telling me off.
From Spean Bridge we popped up to the Commando Memorial . . .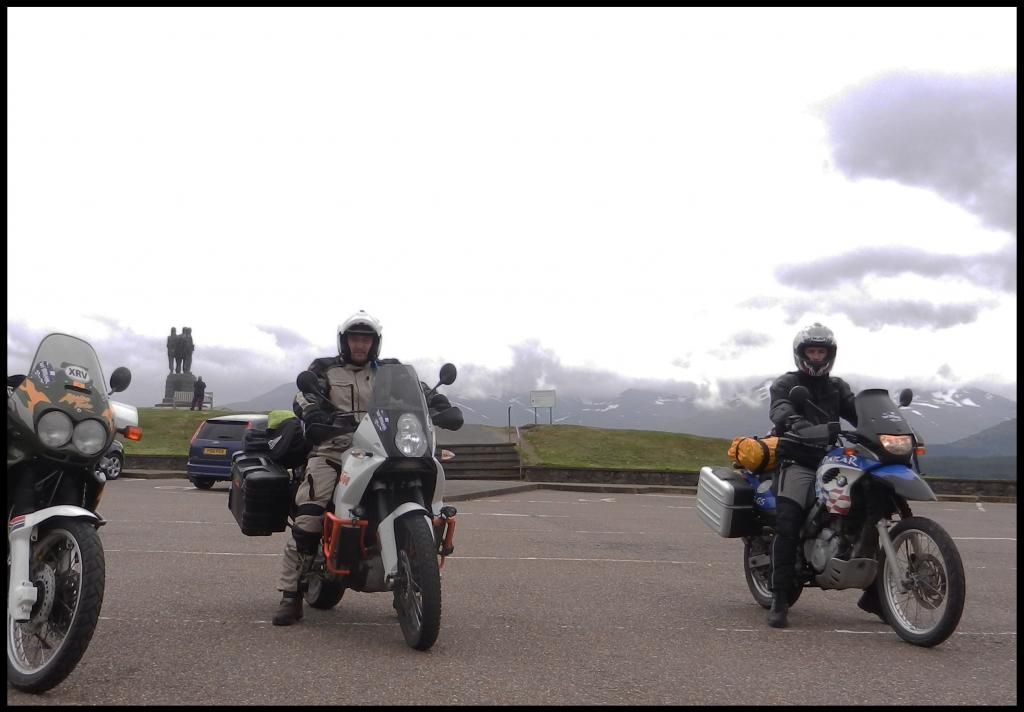 . . . . and then took a very, very twisty road to Laggan, Newtonmore and Aviemore. The roads were a bit damp at this stage, but it wasn't raining and the sun looked set to emerge from behind the fleeting clouds. From there we took the main drag back to the north-east coast, now in glorious sunshine.
Top weekend – the first time my lad's have joined me on a jaunt on the bike for more than a day out.
All in all a weekend to remember and as soon as possible, repeat.
Steve T