Discussion Starter
·
#1
·
left home at 07:30 saturday. overcast & +/- 13°c.
Rode over to a mate's to meet the others & after a quick coffee off we went. As the southern Jura & High Jura are what could be described as my old stamping ground, I had been volonteered to ride point. The ride down the N6 as far as chalon sur saone has been covered numerous times before in previous reports & was only changed this time by a stop south of Avallon to pick up the last member of the gang. Due to past experience, we'd brought a tyre pressure guage with us cos this guy's a nobber. Sure enough, 1/2 a bar too much in each tyre...
his is the suzuki 1800 blue & white thing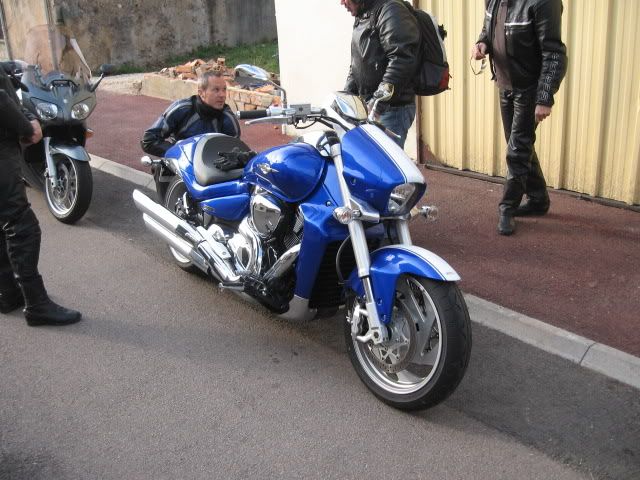 whilst everybody waits...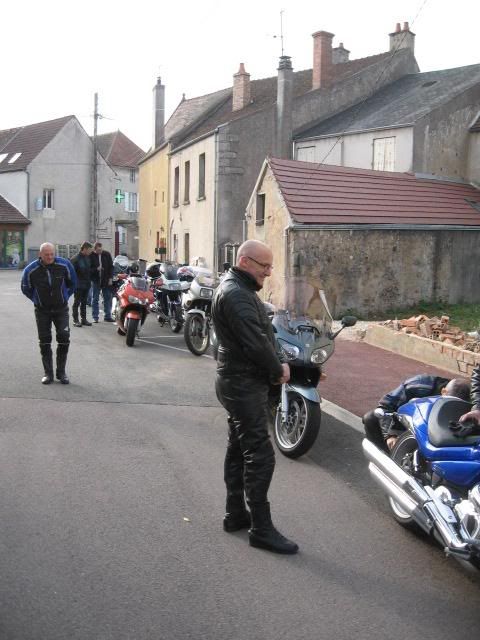 We eventually set off again with Jacky on his blue & white POS in his favorite place...the leaders blind spot...
. it's a job to deal with him behind you cos if ever you overtake anything you have to make sure there's room for him as well cos he'll follow, even if there's something coming the other way,riding & thinking for 2 isn't easy & got on the nerves of more than just me over the week end. (On the other hand you have to feel for the guy, untill he passed his bike test 3 years ago & hooked up with us, he'd never been outside of Burgundy so he's easily lost & his enthusiasm when he discovered the sea, mountains, gorges etc is heartwarming & his gratitude endlessly embarrassing.)
Next stop was Chalon sur Saone, coffee break & I decided to make a wee detour via the "scenic" route to our next stop at Louhans where I'd organised lunch at a mate's restaurant & where Madame Moon's parents were meeting us for coffee (being as the live opposite the restaurant...)
The "scenic route" was a complete disaster, after about 5k we got stuck behind a convoy of pikey vans towing double axle caravans & then we were all diverted around Epervans onto a chalk stone / gravel track
cos they'd dug up the road through the village. I thought this was quite fun but the others still don't believe that I didn't know about the diversion
.
We stopped for lunch as planned at Louhans where my mate Alex fed us charcuterie followed by "tête de Vaux" & other disgusting local spécialités.
after lunch we headed up the N78 to Lons le Saunier which is really where the fun begins. My one complaint is that riding in a group I can't just stop all the time for piccies so there aren't many.
From Lons up through Conliége & as far as Clairvaux les Lacs I was on home ground & though it's been a few years since I went that way I lived in the immediat area for 6 years & could probably ride that route blindfold...or nearly
Knowing the route so well enabled me to really push the tralp & once they'd got around jacky on his hgv the boys behind could have fun too, though I had to release them later...
We waited for Jacky at the crossroads & of course took the piss mercilessly out of his pose machine
the D118 is a superbe road with breathtaking views & lots of twisties which I rode at a more stately pace, partly to enjoy the scenery & partly so's at least some of the route was a pleasure for Jacky, which he duly thanked me for just before we attacked the climb back up to Lelex & Mijoux. At this point I released the hounds (2 x fjr 1300, 2 x Fazer 1000, 1 x bandit 1200 & 1 x fireblade ) telling them to wait for us (xlv600, suzuki 1800 thing & aged fj1200) at Mijoux. By this time I was suffering from pain in my back & left knee so 10 minutes later, at the café at the top of the "col de la Faucille" I decided to sit out the ride down & back, I've done it many times in the past & can't keep up with the nutters anyway & i'd rather sit & drink coffee in the last of the sun whilst the others go & push their personnel limits...
So Jacky & I sat & smoked & chewed the fat whilst the nutters went for a play. If you look on the map you'll see it's 11km from the top to the roundabout at Gex. it's also REALLY windy with a number of serious hairpins. I nearly didn't get time to finish my coffee before the boys were backin just over 15 minutes! I only just managed to leap up & grab the camera, warned by the howling exhaust noise coming up the valley so I wasn't very well placed, but here they are:
J.C. - Fjr1300, hot on his heels is Pierre (his son) on the bandit 1200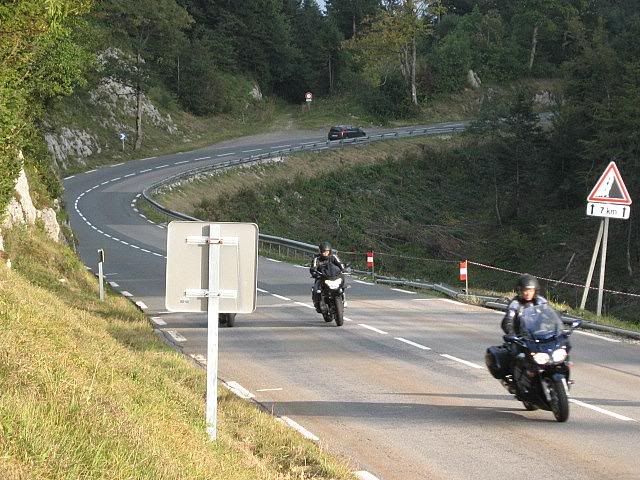 Alain, on the 'blade had, unfortunately chosen this precise moment to hide behind the road sign
they were followed seconds later by Thierry (fj1300) & Patrick (fazer 1000)
Jean Michel (fazer 1000) nearly brought up the rear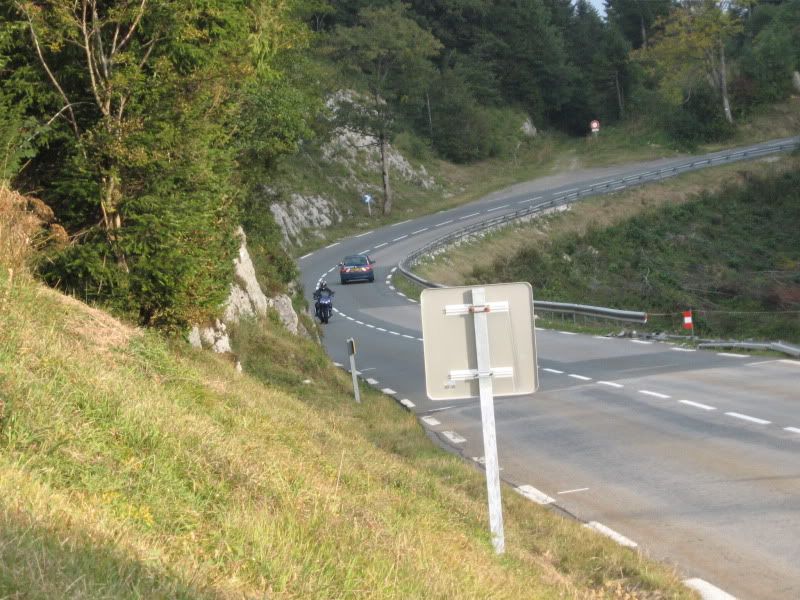 but I'd forgotten about Manu on his old fj1200 who was so far behind that I'd put the camera away before he hove into sight muttering something about the rear suspension...
.
From there we rode on up to the Gite at Lajoux, having despatched 2 outriders to buy supplies (nibbles & pastis for apérétifs
).
this was the gite.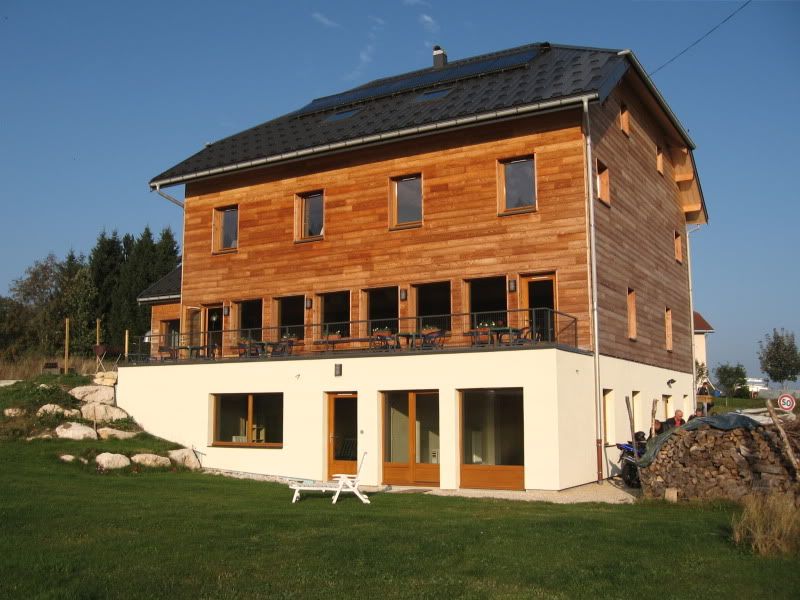 it an eco whatsit using less than 1/2 the energy of a "normal" gite (allegedly...)
apérétif!
Dinner!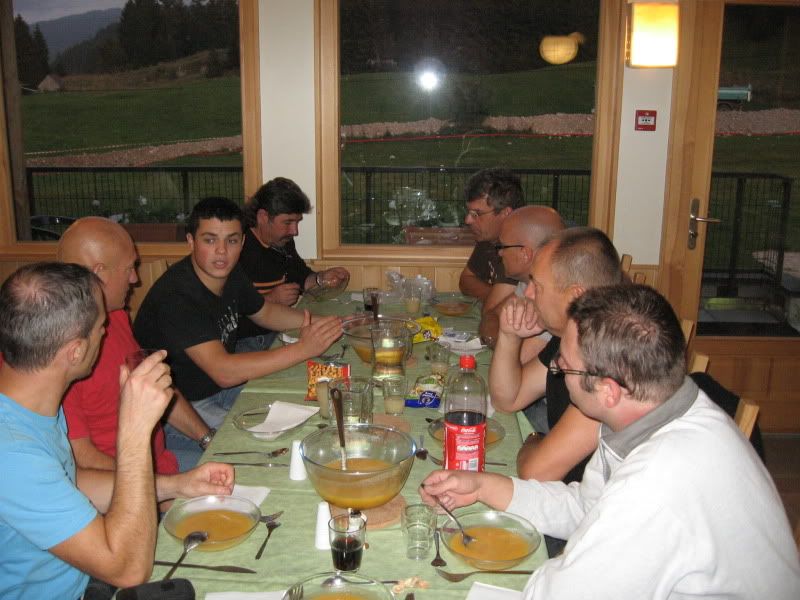 following dinner a bit of a damper was put on the evening as at 11pm they refused to serve us anymore alcahol suggesting that we had drunk enough & that it was time to go to bed...
9 people, ok then 8 cos one doesn't drink, 1.5litres pastis, 3 bottles red wine, 8 x 0.75l beer.
LAST time we did this we paid a bar bill for 8 people of over 180€
So having exhausted the possibilities of intelligent discussion (well that took nearly 10 minutes!
) we traipsed upstairs to bed where despite being in twin rooms rather than a dormitory a free for all pillowfight soon develloped, much to the discust of the group of ramblers sharing the gite...
the next morning we were up early, bright eyed & bushy tailed (a novelty for some of us...).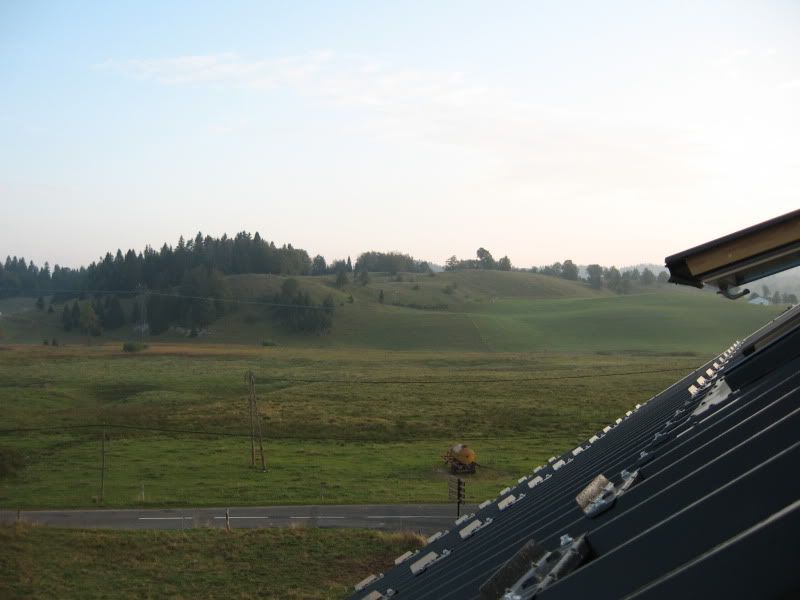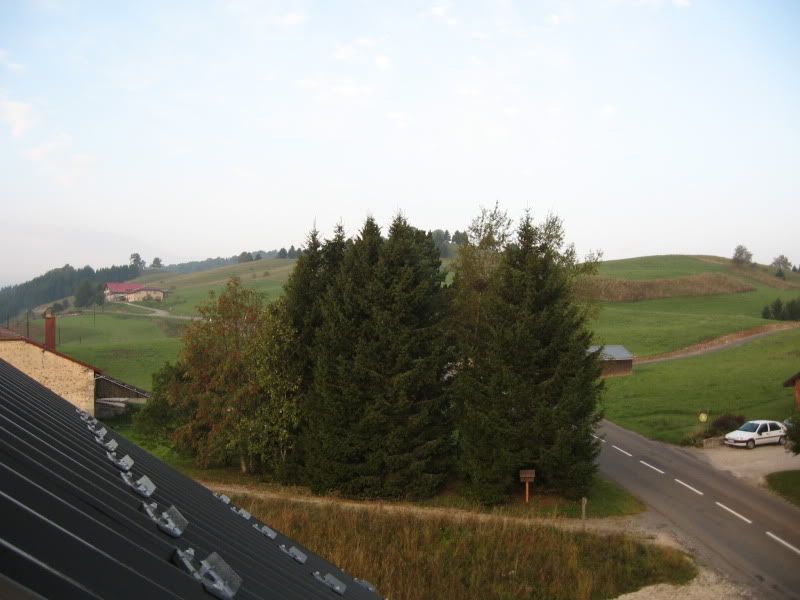 The bill was paid amongst much muttering about not booking into a convent next year, & they should warn about being puritan...
preparations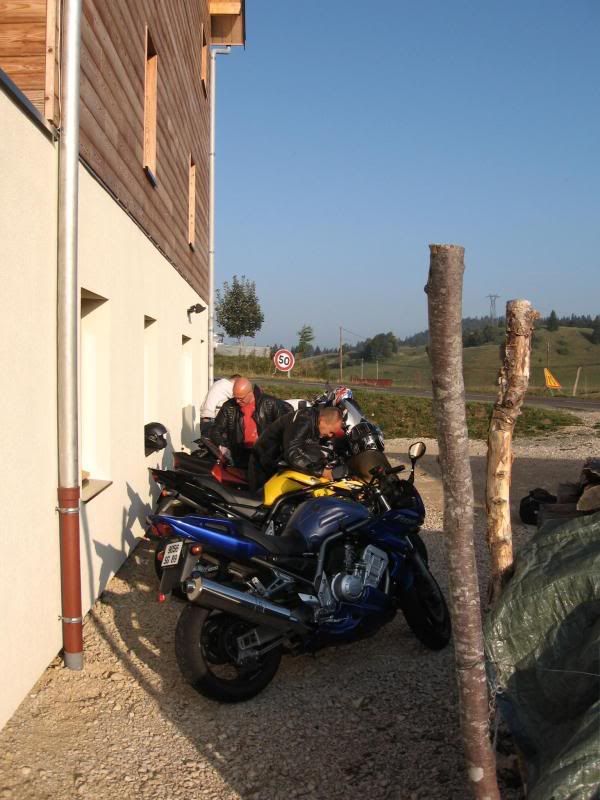 it wasn't me leading today so some of the route info, especially the swiss bit where we got a bit lost
, may be a bit vague.
We rode up the valley to Les Rousses, where we crossed into Switzerland. up & down a couple of swiss valley's, along the edge of the Lac de Joux & back over the ridge into france for coffee at Joung. From Joung we rode on to Pontarlier for fuel & thence to the Loue valley which was probably one of the best rides I've ever done. I was just behind J.C. who was leading at the time & we managed to slip past a couple of campers which the others got stuck behind (it's a REALLY windy vally road with cliff to the right & a big hole to the left with little or no barrier...
there was no traffic in front of us & having ridden a lot with JC we're used to each others style & pace, the whole way down it was just like being in a state of grace, I could do no wrong, everything came together as it does so rarely, the bike running perfectly, just reacting perfectly to every commande & inspiring confidence not really pushing speed wise but really pushing the limits of what
I
was capable of. a 15 minute down hill rollercoaster that could have been designed for translps & a ride that I will not foget in a hurry
.
We stopped in Ornans for lunch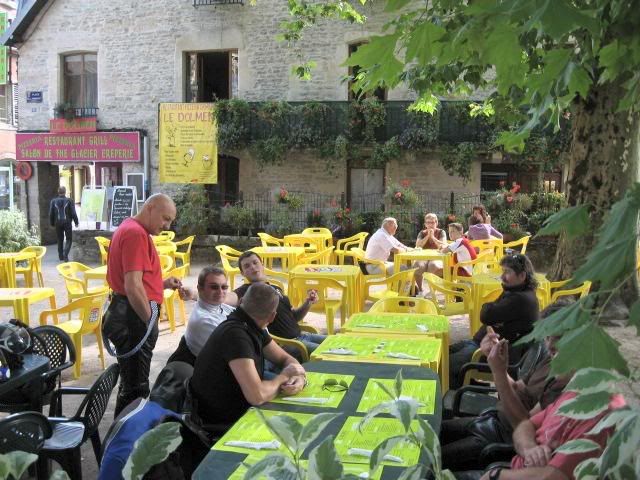 some of us wanted a wee sieste...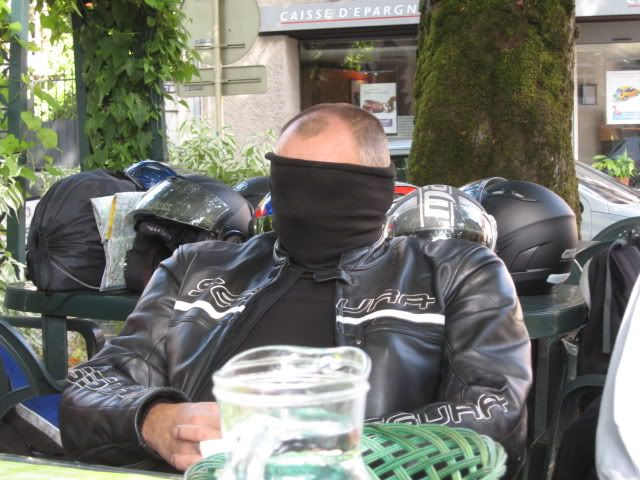 the 3 hour ride home from here saw only 2 stops, once in the centre of Dijon for coffee / beer & once at Avallon for aperetifs just before Jacky left us for home.
got home at 18:30 sunday. excellent week end, so much so that it is set to become an annual fixture, though not at the same gite...
for those who are interested in the route, it's all on the Michelin map N°243 Bourgogne franche-comté.
the route was basically as follows
Day 1:
N6
Auxerre - Saulieu - Arnay Le Duc - Chalon sur Saone.
D978
Epervans - Ouroux - Montret - Louhans.
N78
Louhans - Lons le Saunier - Conliége - Clairvaux les Lacs.
D118
Clairvaux - Chatel de Joux - Les Crozets - St Lupicin.
D463
St Claude
D124
Belleydoux - St Germain de Joux
N84
D14
Chezery Forens - Lelex - Mijoux.
D 936
N5
Col de la Faucille - Gex - Col de la faucille
D963
Lajoux.
day 2
D936
N5
Lajoux - Les Rousses -
Switzerland -
St Cergue - Arziet - Marchissy - col de marchairuz - Valorbe - France N57 - Jougne.
D9
metabief- Bonnevaux - frasne
D471 - pontarlier
N57
St Gorgon main
D67 les gorges de la loue
Mouthier - Lods - Ornans -
D 101 - Quingey
D13 - Oselle - St Vit
N73 - Dole
N5 - Dijon
A38 - Sombernon
D905 - Vitteaux
D70 - Precey sous Thil
N6 - Avallon - Auxerre





​