I am in the process of finalising a UK wide charity ride ( in aid of Motorcycle Outreach) . The XRV forum has the privilege of advanced notice before the official launch at the end of the month. If you like the sound of it, or have ideas to add , then please feel free to express your interest either here or by PM.
The basic idea is this...
Motorcycle Outreach has joined forces with SMNET (the worlds largest group of student midwives) to send a scroll around the world collecting as many signatures as possible .
The first leg of the journey will be the UK and the scroll will follow a route that links 55 hospitals in England, Scotland and Wales. (the hospitals tend to be close to the universities where the students are based).
The fun bit is that scroll will be transported from hospital to hospital and city to city by bikers
up and down the country.

Any bikers that take part will also be invited to sign the scroll.
The Student midwives will organise fund-raising events and donations will be made via a donations website.
The scroll will have its borders decorated along its length by children who are in hospital being treated for serious illnesses/conditions.
Once the UK leg has been completed , the same process will be replicated in at least 40 other countries around the world.
An application has been made to Guinness World Records for a record attempt at the most signatures on a single document
The UK leg will commence from Hampton Court Palace, London at the beginning of September 2013. The tour will visit most major regions of the UK and is expected to take up to 2 months to complete.
We will be inviting bikers around the country to transport the scroll between the hospitals in their region to ensure its safe passage. (Dates and times to be published soon but transfers will be every 24 hours to ensure the UK tour is completed in 60 days) .
The project name is " Precious Cargo"
The benefit of this charity run is that riders can join in when it is in their region - plus there will be a warm welcome from some nurses on arrival (Always a pleasure
)
Its going to be fun, and we may even create a world record in the process
Here's a map of the likely places the scroll will visit.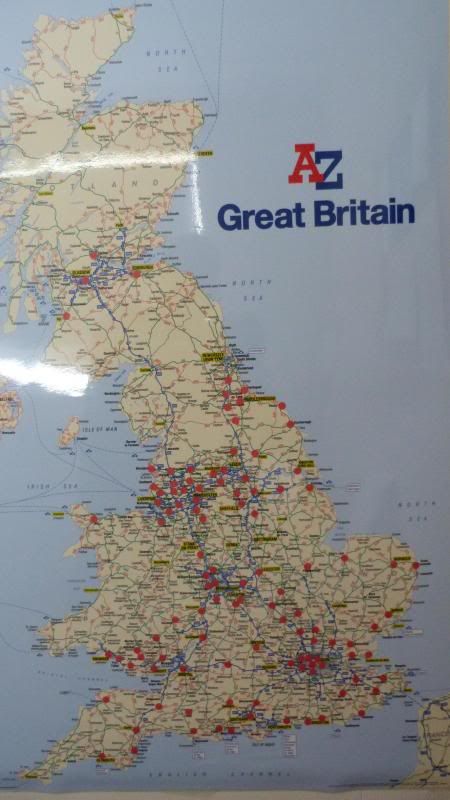 Here's a photo of a previous scroll that went around the world. It raised £15,000. Ours will be wider to allow for the pictures drawn by the kids in the UK Children's hospitals.
Its going to be a mega event. Ride magazine and Motorcycle News are interested.
If you would like to participate , please let me know.