Discussion Starter
•
#1
•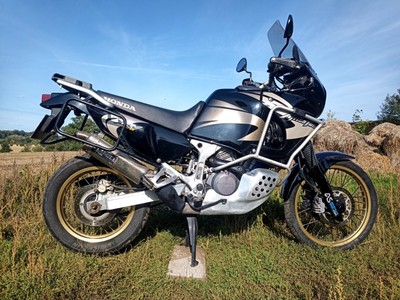 Honda Africa Twin xrv 750 RD07a. Fat handle bars. The electronic trip counter has an odd finish, one of the previous owners must of had a go with changing the finish in the surrounding face. See photo.
2000 model
it says 13,000 miles on the clock
are the gold wheels standard on this year?
MOT in 2009 says (see below).....the following. hence from brand new in 2000 to 2009 it only did 1,300 miles? And it wore the tyre out?
i would be interested to hear if people here think the 13,000 miles is genuine
---------------
14 May 2009 - FAIL - Mileage 1,338 miles
Reason(s) for failure
Direction indicators not working (1.5.1c)
Rear Registration plate deteriorated (6.3.1d)
Rear Tyre tread depth is below minimum requirements of 1.0mm (4.1.3(ii))
Front Roller brake test indicates a binding brake (3.3.A1a)
Rear reflector on motorcycle missing (1.4.1)
Advisory notice item(s)
Rear Brake disc(s) slightly pitted (3.2.A1l)
r/h bodywork loose