Discussion Starter
•
#1
•
Bought a kit from Polo in Germany, and finally got round to fitting it today...
The first question was where to fit it, and then how to wire it through from the battery.
On the RD07 it's possible to run the wires along the frame under the tank and up to the 'cockpit' area.
Undo the bolts under the seat, and the front fairing bolts. Place something under the back of the tank(in my case a large socket) to lift it slightly;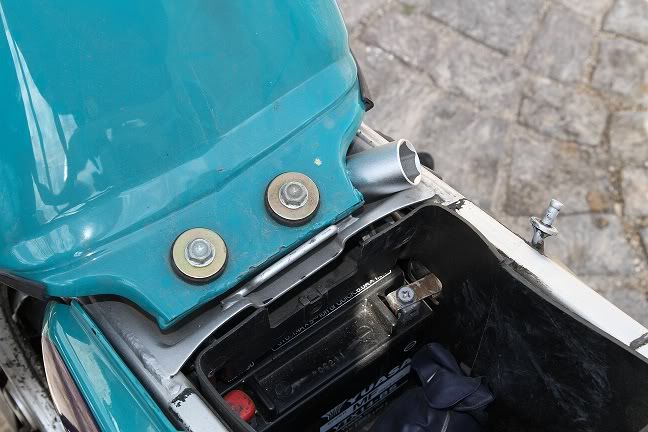 You'll then need something long and thin(someone suggested a welding rod elsewhere on here), I used a metre rule. Tape the ends of the wire to the end of the rule and thread it through from the handlebar end. I threaded them individually at first, but due to having to reroute them after fitting the socket I discovered that both will fit
Note that the live wire has a fuse jobby on it.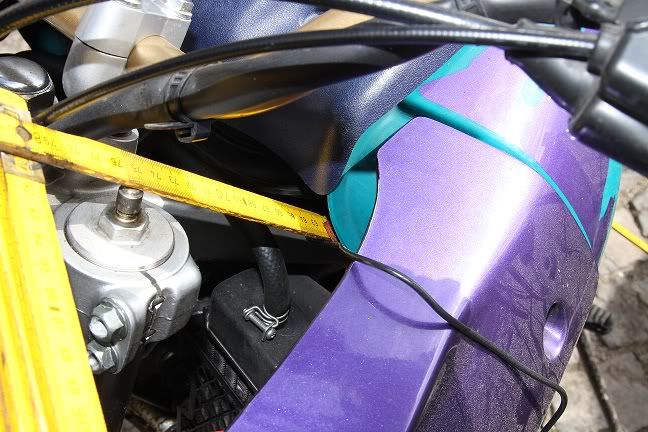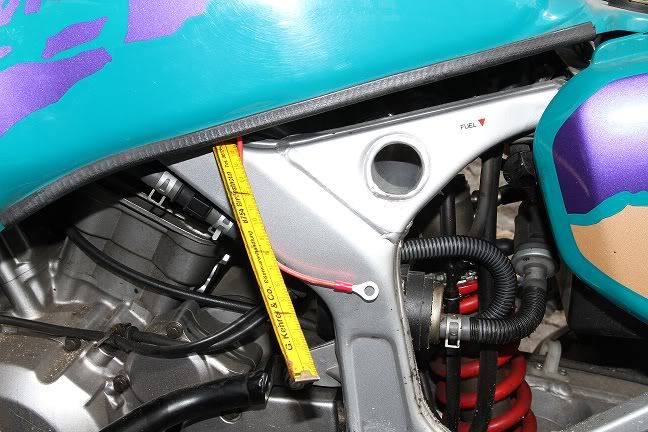 I ummed and ahhed about where to put the socket, due to it having an odd type of vertical mounting backplate. I thought about a couple of self tappers through the idiot light box, but decided not to do any physical damage to the bike:angel1: I ended up cable tying it to the fairing frame next to the left indicator;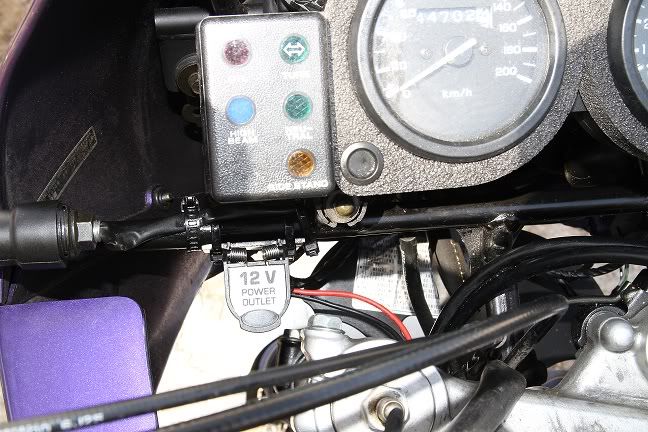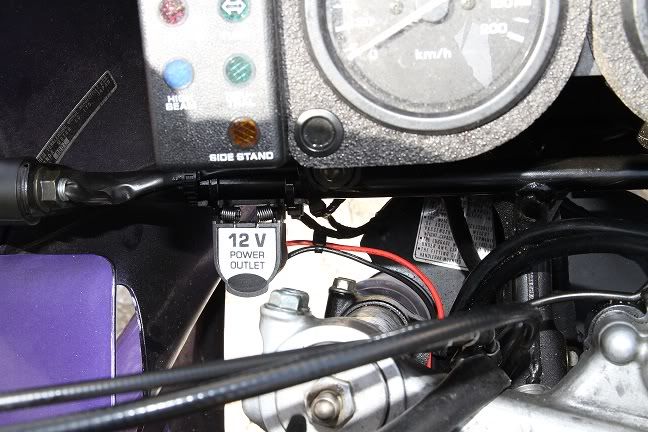 The wires run down the frame alongside existing wiring. I had to build in some slack to allow for full lock. The two wires were cable tied together to keep it all tidy( a legacy of my time wiring German Frigates in a shipyard
)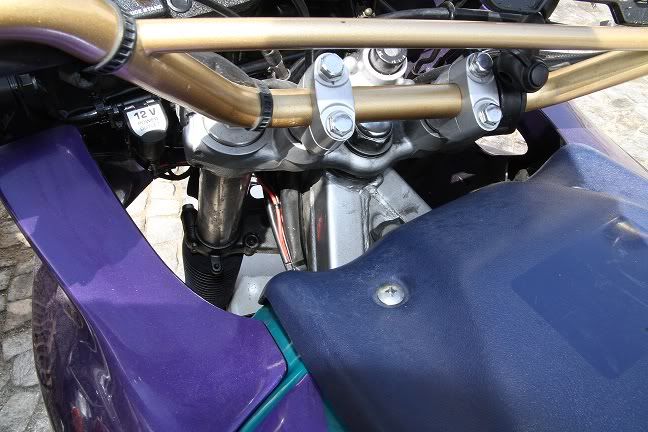 Where the wires run out from underneath the tank, I protected them with several layers of heatshrink; I'm sure insulation tape would've done the job but my roll got ruined last week when an oil container leaked into my tool box
and I haven't got round to replacing it.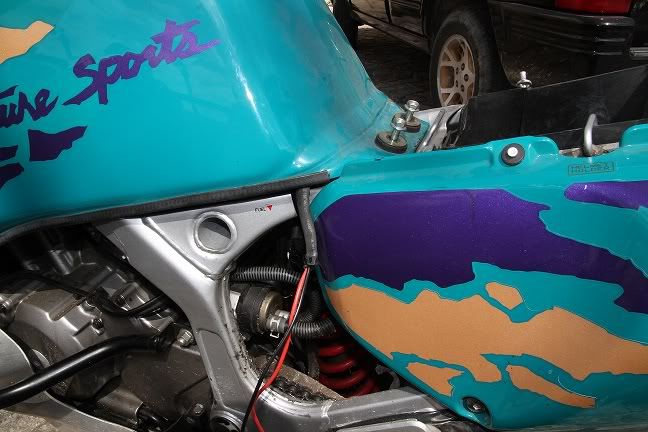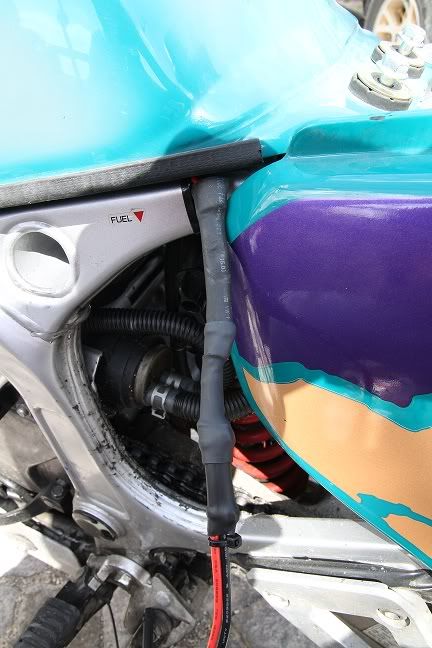 The only problem then was trying to stuff the too-long rest of the cable into the battery compartment...I could have shortened it(and may indeed have to if it gets too hot), but didn't want to mess around soldering wires and new connectors. The compartment cover fits where it touches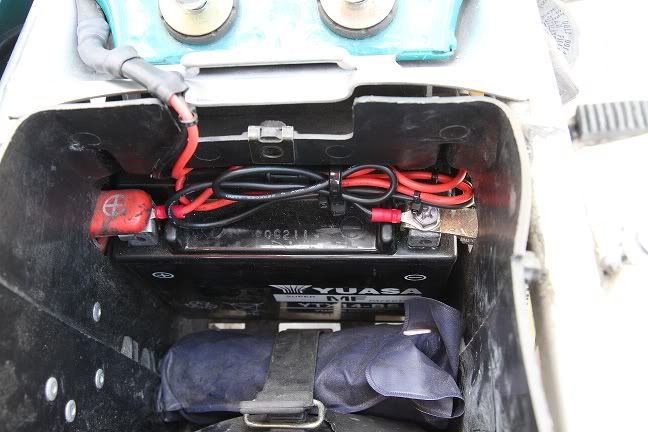 Ideally I'd have liked a switch in the system so that it wasn't live full time, but that'll have to wait for another day! I'll keep an eye on the wire in the battery compartment to see if it gets hot, but it should be OK as it'll just be running my GPS and if neccessary, my tyre compressor...
I'll post the pics of the ensuing fire as and when