Hi chaps,
Ive just returned from a 13 month holiday and the bank balance is looking very sad indeed.
This means that (unfortunately) im going to have to part with my baby.
What i would like from your well informed selvs is an opinion on the value.
Its a 2001 Model which i gave a serious overhaul to last year.
Its had about 20 hours use since lol
So as its an XR the next overhaul needs to be in about 2050
Heres what shes had done;
77mm piston giving 277cc (WEISCO)
intake and exhaust ports smoothed and matched to manifolds,
Stainless steel racing exhaust (CRD),
Duel type foam air filter (Twinair) and high flow airbox cage,
Extra wide foot pegs,
CRD Aluminium bash plate,
Renthal bars
Magnetic sump and oil reservoir plugs,
Shotblast and Powder coated frame (silver)
New valve springs
New intake valves OEM
Heavy duty clutch springs (ECB)
New cam chain (DID)
New cam chain tensioner
New cam chain guide,
New O ring chain and sprocket set Stock sizes (Izumi)
New chain slider (OEM)
Complete rewire.
Complete engine overhaul and refit including most bottom end bearings etc,
Removed
manual
decompressor and added aluminium insert to hole in cylinder head,
New front brake pads
New stainless steel brake pistons and new seals,
Removed (frontwheel) speedo assembly, and made up stainless steel spacer and insert to accomodate normal bearing seal.
New front wheel bearings and seals,
New rear wheel bearings and seals,
Complete rear suspension- linkage, swingarm and shock rebuild (new bushes and bearings),
Complete front Fork service including;
MXW Racing fork springs (stiffer)
new bushes, seals and fork oil
I also removed 3 of the 7 shims in the compression stack for lighter high speed compression damping (this works well)
Wrap around hand guards, Homemade Bar risers and long reachers
Homemade numberplate bracket and LED numberplate light
Also its currently in day MOT kit - no lights, white CRF rear mudguard and front numberboard (where the lights should be)
Acerbis neoprene fork gaiters
of course all the lighting gear would be included
Its currently got the 34mm keihin pumper carb from an xlx350 fitted (that makes good power) but i never quite got the jetting perfect so il sell the bike with the standard item
Heres a few pics (i didnt bother to clean it yet as this isnt an advert)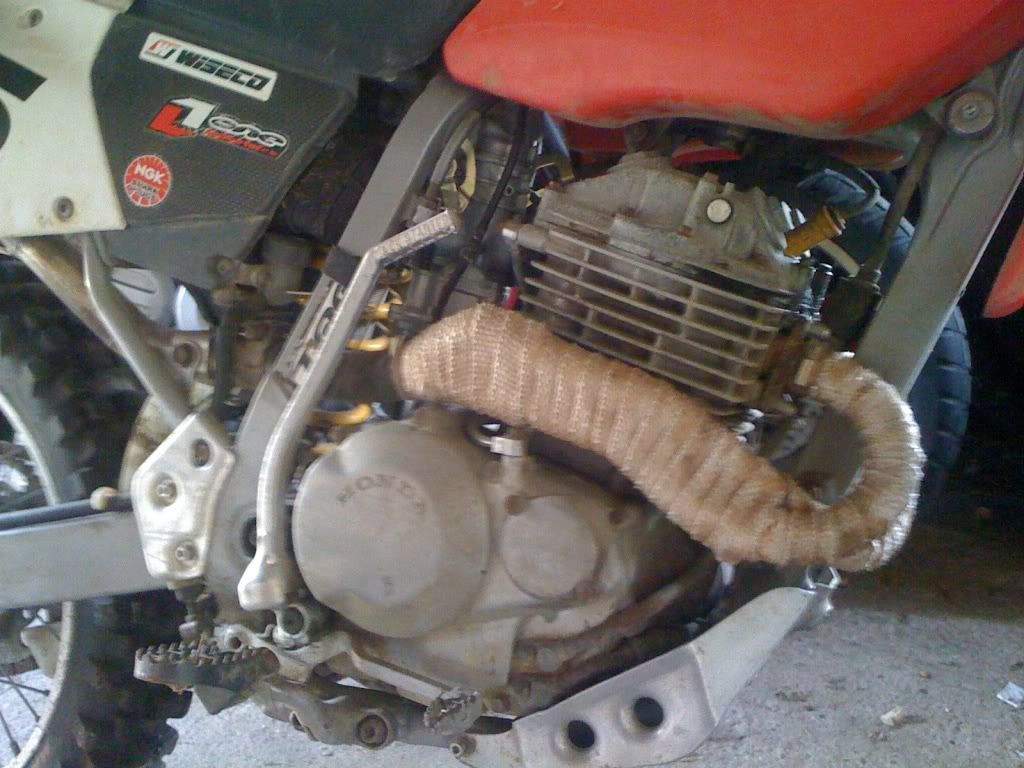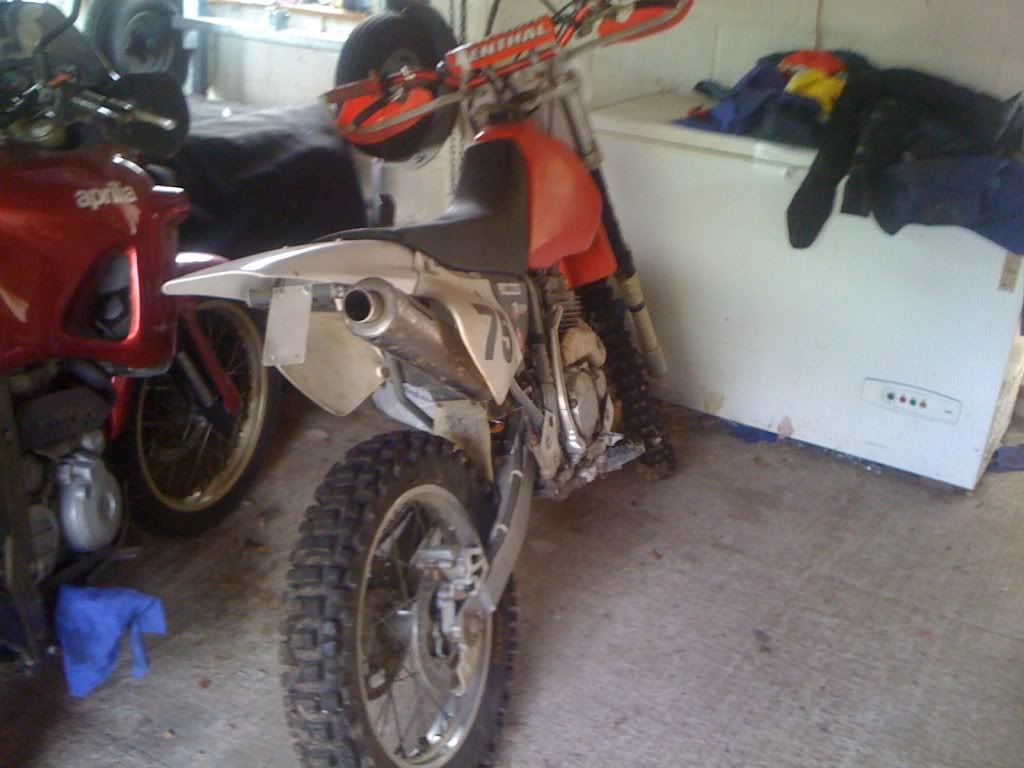 I also have to sell the spares ive accumulated including;
Original cylinder (surface still feels well honed) + the old piston
Original standard fork springs
Various brake pads (new)
2x 45 tooth steel sprockets HONDA (new)
front brake master cylinder HONDA (new)
Front brake lever HONDA (new)
Fuel petcock (universal, leftside, accerbis, new)
Rear brake pedal (HONDA, new)
Rear bake disc from an xr650 Honda, new (bought by accident lol)