Discussion Starter
•
#1
•
OK been,and now back...didn't go smoothly at all! Here goes.
Due to catch the ferry from Rosyth on the Tuesday at 3pm,had the bike all loaded and was happy with the way everything was strapped on,messed around for a bit in the morning and had a shower and stuff getting myself prepared for the off.about 2pm I went out to the garage and got myself dressed in my bike gear,made a last check of everything,wheeled the bike out the garage,shut the door and jumped on.Pressed the button and the Barstard wouldn't fire!! Never EVER done that before....
kept pressing the button in disbelief,but no,nothing happening.Pulled off the tailpack,my tent,tank bag and everything else and checked and double checked everything,decided to pull the plug out (which is a bit of hassle) and had a look,it looked fine,but I had a spare,so I chucked it in,and it started..thank F**K!!
Got to Rosyth no probs,and had a reasonably good crossing.Didn't bother with the aircraft seats,and found an exhaust vent at the back of the boat,right at the top,so settled down there for a kip,outside in the warm air.Woke up early,had a coffee or 3 by the time we docked in Belgium.Bikes were all OK on the ship,so I set off on my way to Germany.
Finally made it to Rosyth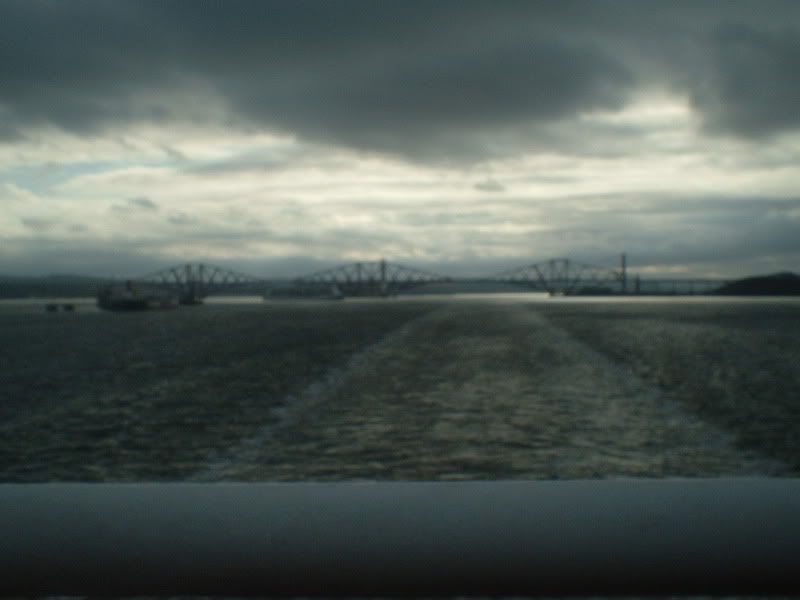 On holiday at last,seeing the bridges getting smaller,pint in hand..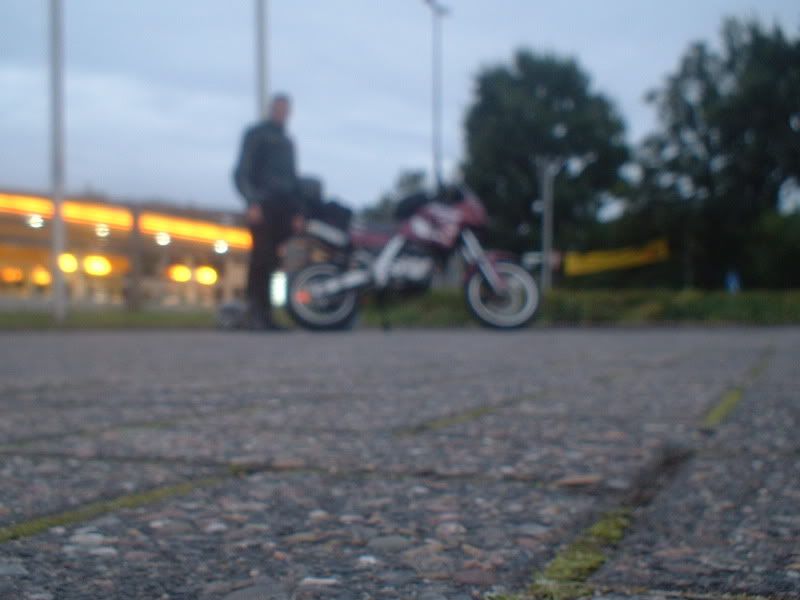 Stop for fuel a stretch and coffee.Been on the road for 7 hours.
Got out of Zebrugge and hit the Autobahn,where I was to be for the next 8 hours..pretty uneventful,apart from fuel stops every hour and a half,bike was always at 95%+ throttle,and was going great,but everytime it was started after a stop,it was blowing out smoke....I tried to ignore this for now...
Finally made it to my aunties at about 9..haven't heard from her in years,and she's 86, so no idea if she was OK,or even still alive..rang the bell but no answer....feck...what do I do now? Too late to pitch the tent,and everywhere in the village was closed.
I needed sleep now,so I rode around the village I know so well from when I was young,then looked for somewhere to kip for a bit.Found a reasonable looking bench on the outskirts of the village,next to a wood,and settled down.I must have slept for an hour or 2,the woke up with a jump,my helmet was moving.....I grabbed it and found a hedgehog tryng it on for size.... didn't sleep much after that!
about 3 am I decided to push on to Wolfsburg,to see the Autostadt ,another few hours on the autobahn and I was there,but too early to get in,I was absolutely shattered by this time,so said "Fu*k it" turned round and headed back to Visselhovede.... In that 24 hours I had covered over 700 miles,on a 650 single...which was getting harder and harder to start,and caused a smokescreen every time...
When I got there my auntie was in! She's deaf as a post now,but otherwise in rude health
so I got a good feed,and a nice comfy bed.Brilliant! The next couple of days I just wandered around sightseeing,but finally came to the conclusion my bike was ill...temp was going well up,losing water,pipes going solid after running..we all know what that means....GRRRR The head gaskets gone. The guy who rents the shopmy auntie owns was kind enough to take me to the local Aprilia dealer,where I was told it would take 7 WEEKS to get a gasket
So we drove in his Vw T25 double cab syncro!!!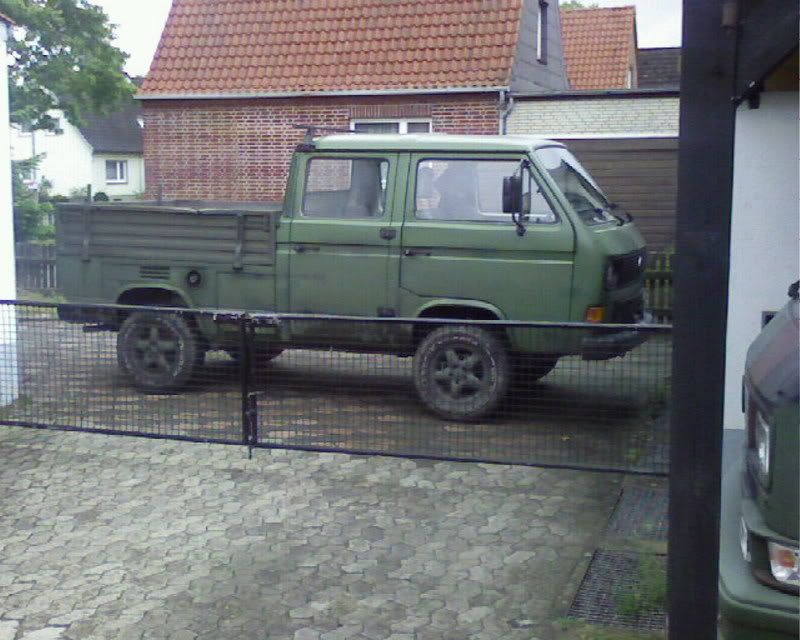 to his mates,who knows a bit about bikes,did some phoning around and found a dealer in Garbsen (Ital Moto- AMAZING PLACE- Dukes,MV's, Aprillias everywhere!) He very kindly drove me the 80 miles to collect a gasket from them- the man's a hero! Anyway, started ripping the bike down with the few tools I had brought,and his socket set, then found the engine has to come out to do the head gasket....yep right out.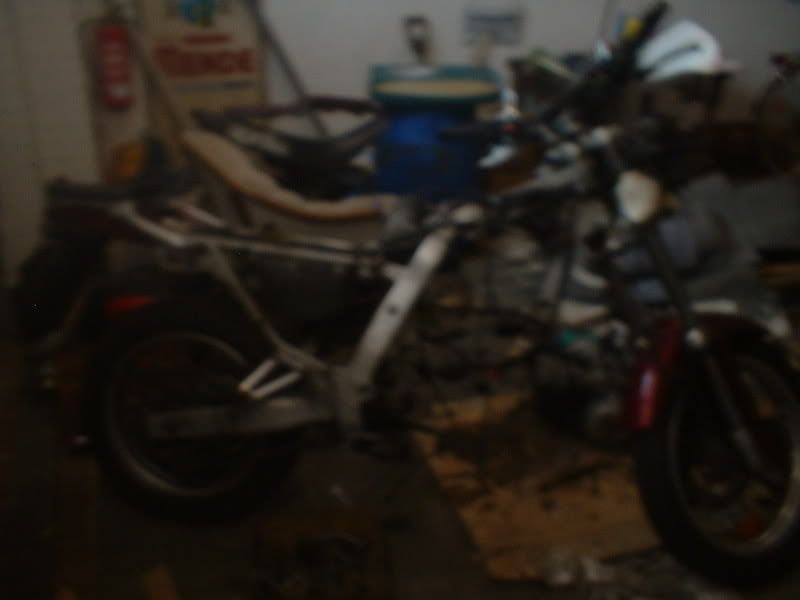 Engine coming out
Engine out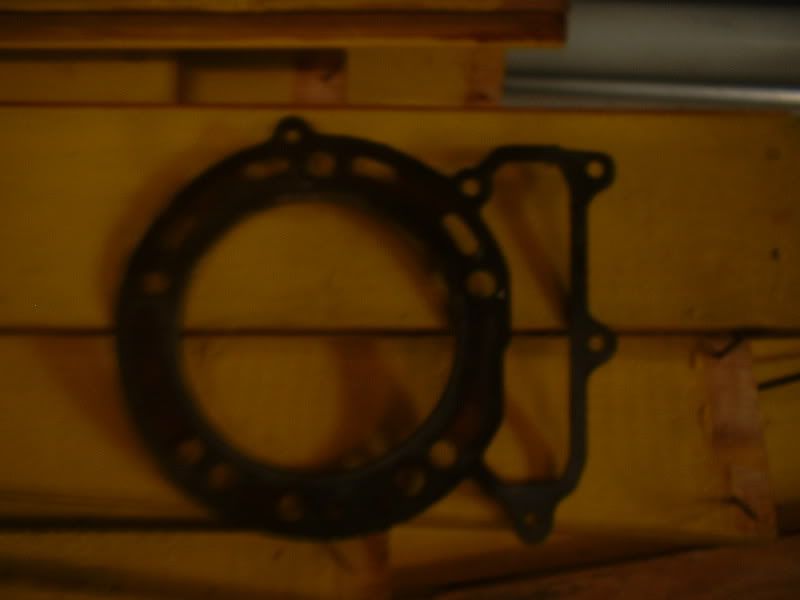 The problem....AARRGGHH
Sorry about the crap photos...camera was playing up too!
Anyway,I'm off to bed for now,more to come...and it gets WORSE.....then better..