Discussion Starter
·
#1
·
thought i would just add a few picks of what i did luggage wise and lessons if learnt on my last coast to coast trip. the trip itself was not seriously hard-core, but dealing with weight solo on and especially ofroad is always a challenge and of coarse a serious handicap. all im busy doing is experimenting for longer and longer trips, aiming for South america and maybe more. Everyone travel differently and have different objectives and means. what is important for me is complete and utter independance.
if you have a buddy, so much better to share the load, but i have learned that very seldom 2 people can actually share the same time and objectives.
i dont like staying in accomodation, prefer to camp (not even in campsite if i can help it) want to cook for myself, have my own power, fix my own bike, and if a trout becons, i want to cast a line and land my own dinner. coming from an outdoors and mountaineering environment, i have a fair idea of what minimum needs are. for a seriously independant expedition you cary up to 40kgs on your back, just equipment for basic survival. thats without bike spares, tools, spare fuel, tubes, tyres etc. so where are we? looking at passenger included 150kgs on the back of your loved one? likely! if not more.
so to start with i looked at pannier frames available. dissapointing fare to say the least. nothing i looked at seemed to be able to handle even mild topples with 350kgs following (bike + kitt). also, i dont like paying silly money for things i can bodge myself. my criterium for a frame was:
cheap
bush fixable
strong
secure
quick release panniers
waterproof
low CG
and simple enough for a numnut like me to make!
by now means have i re-invented the wheel, but i am happy with what i did so far. work in progress though!
luckily i had a mate in town that strip quad-bikes of extra framing, so i had acess to lots of pre-bent carriers that i could use. so i did not have to bend anything, just select bits and bobs and add them together in a way that made sense.
firstly i wanted a larger and more robust back carrier than the pissy plastic thing the RD07 comes out with. this was the result: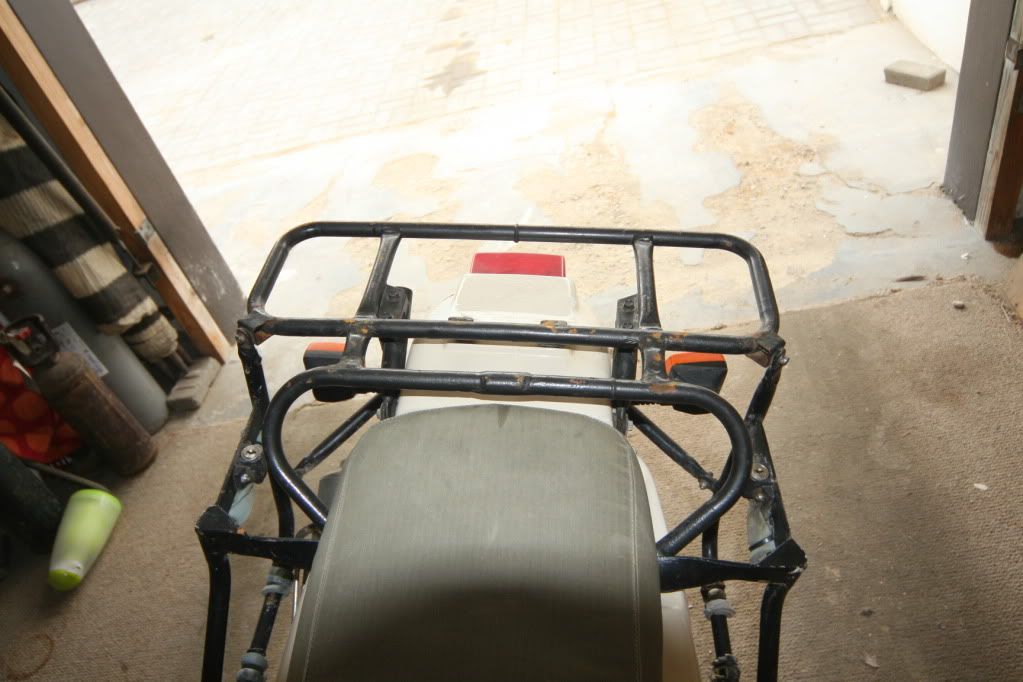 using the available fittings and canti-levering it back, it worked a treat. followed the original curves of the handholds worked well when my GF got a lift back from Dar.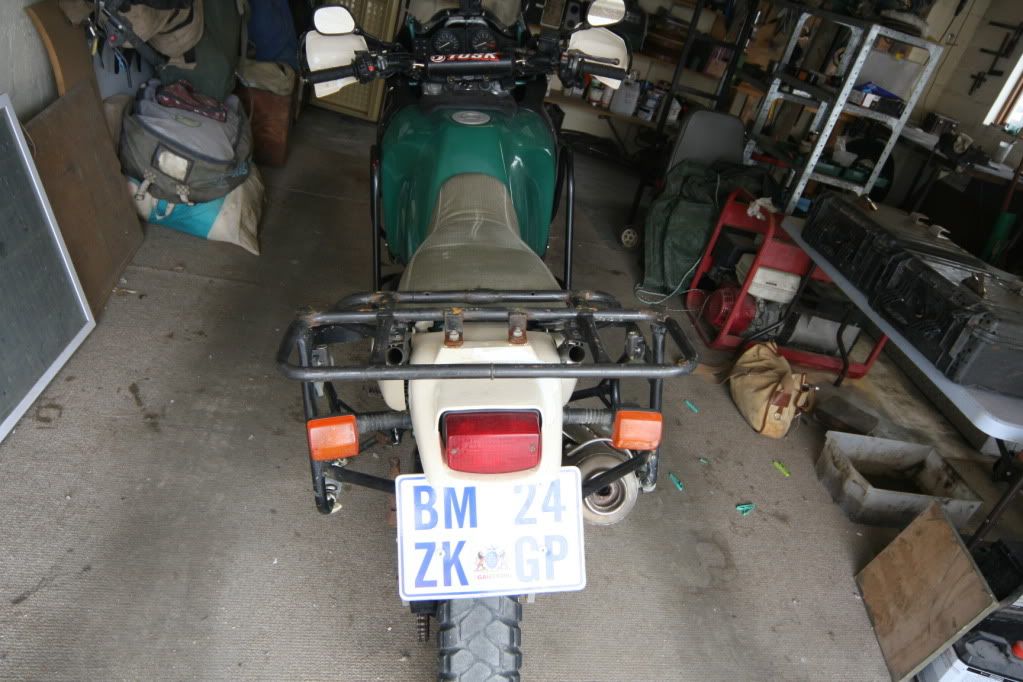 if you do happen to luck upon some roadkill, like a small cow, im sure shell handle it!
from ther i had to figure out the pannier rails with locking system. i decided to use two peli-cases 550, as i use them for all sorts and know just how strong they are. made the rail strong but light as possible, then built some connection points into the attachment that would shear in case of a hard fall without stuffing my subframe. so the idea is: if fall, first to break must be shear points on box attachment (not box itself!). then the frame would go before subframe is affected.
the way the pannier actually attach to the frame came to me one day as i left the back sliding door of my house on the way to my workshop. a push-pin lock mostly used in sliding doors! cheap and effective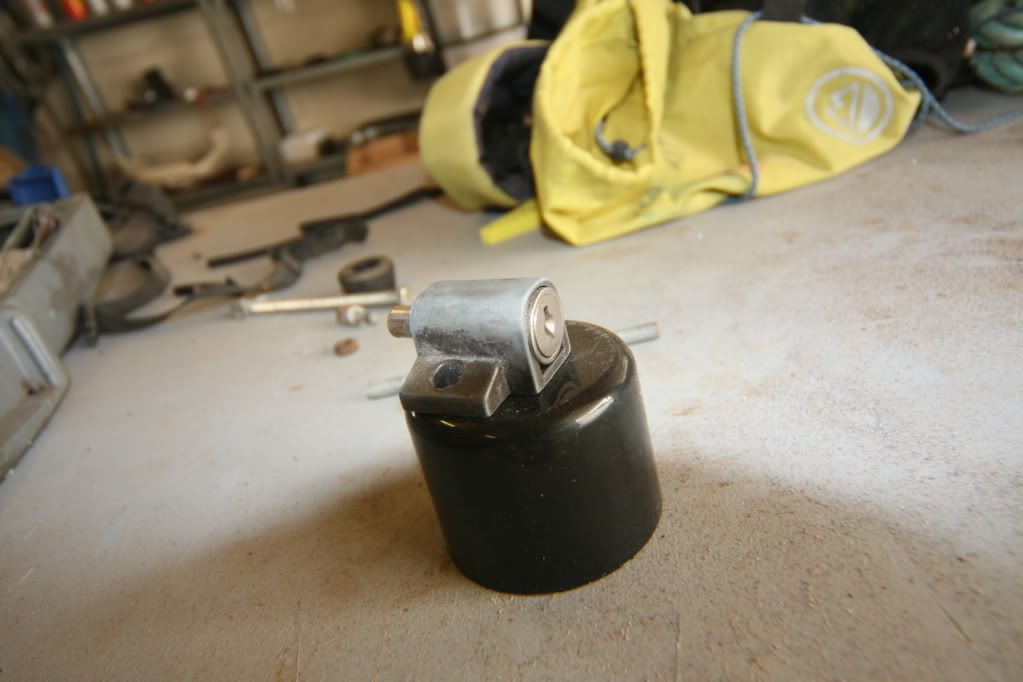 its made of some alloy and available at any hardware. and although securing the boxes agains theft, i recon they would break of long before the frame or boxes break in a hard fall. with that i reinforced the inside of the box with a steel plate, and added 4mm allu plate hooks at the bottom, that would also rather bend open in a fall, but prevents my boxes from redistribution in africa!
the top plate with hole slots into the frame and pin-lock push down to lock in place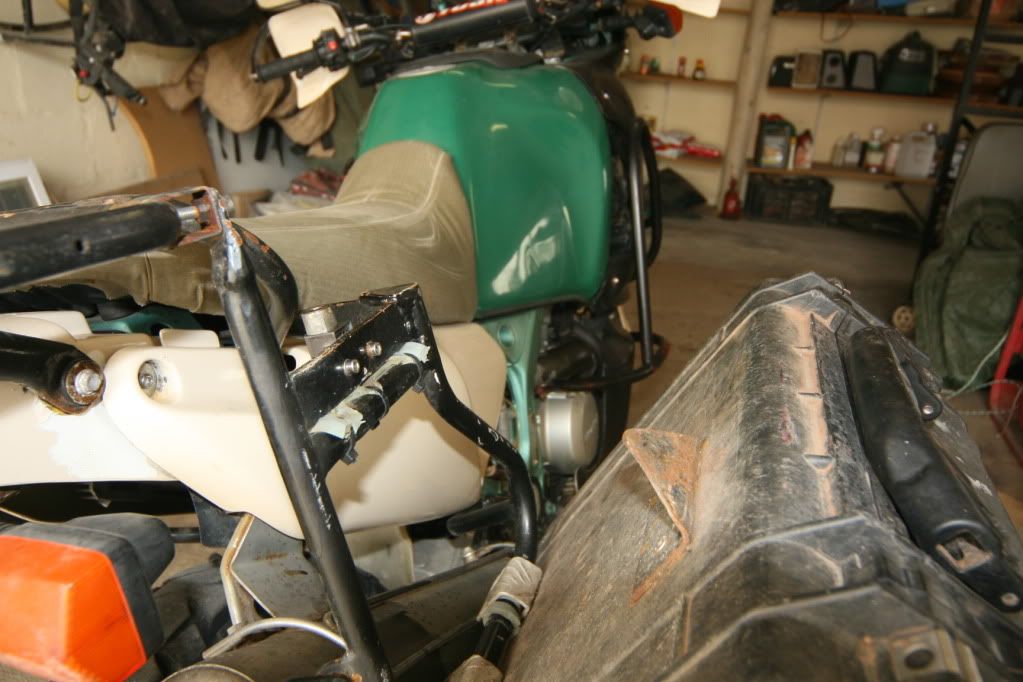 like such
i chose to mount my boxes the other way round than is what if seen from the chaps that use the peli boxes (forgot the name!) as it makes more sense to me in easy acess to the boxes. by mounting my kitchen box on the right i can use it as a kitchen box?
without taking it of, and, everything does not fall out upon opening. did do a bungee thing in the lid and will add one for the bottom bit now as well.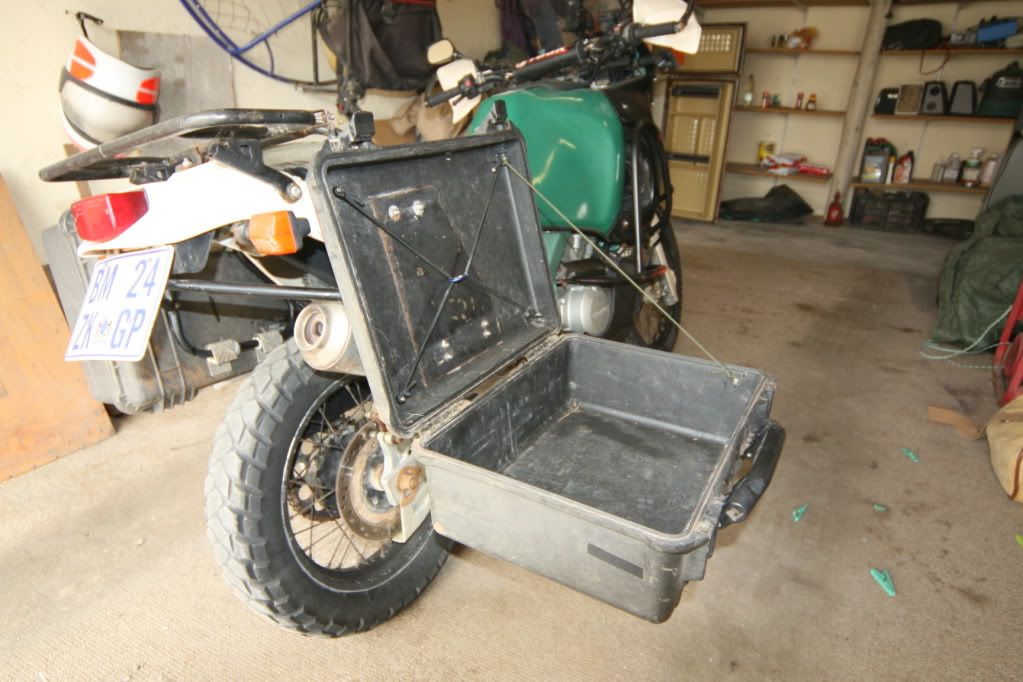 note backing plate inside lid.
must confess, after using it extensively, it boggles me mind why one would want to do it the other way round!? maybe to sell more extras, like inner bags?
i built the frame equi-distant apart, as the idea is to fill the gap under the left pannier wit an extra fuel tank.
for the crash bars i decided to make something a bit higher than the conventional, as in my humble experience this sort of configuration leads to to much weight in the back. i wanted to plant that wobbly from wheel down more firmly, so i made the frame high enough to hook up two british bergen side pouches with heavy stuff like water, oild and maybe spaer fuel.
i had them on clips so i can take them of easily, and convert into a backpack if need be.
notice the brandy stains?