One of my bulbs just was black inside, so I decide to replace both bulbs, but to something good and led
I decide NOT to buy some cheap china crap, and was ready to pay.
I make small issue, and found two companies Osram and Philips. Philips was better, but I didn't found this bulbs on ebay.
I want to show you difference before and after. It's just like day and night!
Old
Light test
One replaced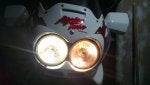 light test
both replaced
light test
package
I buy it
here
but you can find another place and another company of led.