Discussion Starter
•
#1
•
Went to bed at 00:30 last night. About 01:45 something woke me up but I couldn't figure out what it was. The wife's not snoring, baby's not crying, there's a beeping noise which doesn't sound like the fire a...
OMG
my bike!! Jumped out of bed, looked out the window and saw that my bike was already out of sight. Grabbed a pair of shorts, shouted at the wife to call the police and ran down the stairs, slipped on the 5th one from the bottom, smashed part of the railing and slightly sprained my ankle. Grabbed the pepper spray (don't even go there....) and ran outside. Bloody hell it's freezing when you're only wearing shorts! Saw that my bike was lying on it's side, about 20 yards from my drive but couldn't see anyone else. Thought for a moment to go chasing into some dark alleys and beat the
[email protected]
out of anyone who crossed my path but fortunately extreme cold temperatures works wonders in diluting adrenaline.
So I went back to the house and got dressed proper. Thought about leaving the bike lying on it's side so as not to ruin any evidence but it was leaking petrol so I thought I'd better pick it up at least. Around 2:10 a cop car drives past but doesn't stop. Eventually I get a call from the cops around 2:45 saying that they could either come right now to take my statement or later today. Since I was still high on adrenaline I told them to come straight away. Since my house is a 6 minute walk from the cop shop I figured I should be in bed by 3:30. They eventually arrived at 3:45 and to be fair they both looked shattered. Apparently it has been a busy night. So back in bed by 4:30 but couldn't sleep until right before I had to get up. Aarrggghhhh!!!
Damage:
1 chain busted (to be honest it's a rubbish chain anyway)
1 Hand guard busted (Fortunately these only cost about £12 and they worked!)
Ignition completely stuffed. I can't get my key in to see if the steering lock has been broken too.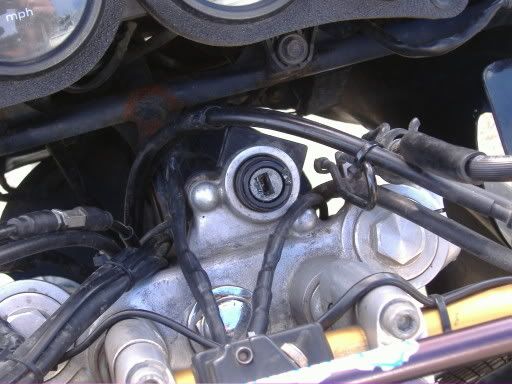 Fortunately my Motod crash bars took the impact of being dumped on the pavement, only suffering a couple of scratches. If you don't have crash bars get them now! If you're not going to drop the bike someone else will probably do it for you.
At least I still got the bike, but I'm definitely getting the biggest mother of a f... off chain I can lay my hands on. Any suggestions regarding the chain?