Discussion Starter
·
#1
·
I've been organising & talking about this for so long that I hardly know where to start as most of it has already been explained before.
"Start at the beginning & work through 'till the end" they say, so I will. I will try & be brief with the preamble:
For those of you that haven't been paying attention then; Glitch_Oz from austouring.com is a member over on maxbikes & in the past has provided some inspirational ride reports from around the globe, not least of which have been his "tornanti" adventures, riding around the european alps. Following his ride reports led me onto his site where they seem like a good bunch &, like here, don't take themselves too seriously. A year or so ago, when he announced that he was to re-iterate the exploit with "Tornanti 3" & that they would be here in late september I was determined to organise a meet up, if only to say hi & drink some beer.
I managed to organise to meet them at the northernmost point of their trip. My preparations were obviously derisory compared to the logistics involved in flying 4 Aussies, 1 new zealander & a tasmanian halfway round the world with all their kit, organise 6 bikes for them & a 3 week route plan & agenda involving the maximum possible hairpins & stunning scenery... I can tell you now, the bloke can organise a ride!


I worked saturday the 28th sept but, the season beginning to wind down, we weren't too busy & I managed to get away a bit early. The
animals
children were out at some theme park with madame Moon & some friends all day so i got home to an empty house wich was great ( quite apart from the rarity value) as it allowed me to prepare bike & gear in an orderly fashion & be ready to roll the next morning without fuss.
I even updated the GPS
Resized to 80% (was 800 x 600) - Click image to enlarge
& loaded the waypoints into the gps "rider interface"
Sunday morning, i didn't need to be away early as I planned to ride down as far as Madame Moon's cousins in Morestel which is only 340km or 3 & a bit hrs as a direct blast down the autoroute. As I had the whole day ahead of me & , lets face it, the transalp is not really at it's best on the autoroute, I'd planned a slightly different itinerary. I played a little with the route I originally planned & came up with this one which was a compromise between new routes, scenic roads & actually making progress.
http://goo.gl/maps/M6TFZ
ready to ride
Resized to 80% (was 800 x 600) - Click image to enlarge
The first part of the route was my usual route nationale 6 southbound (now the D606) as far as Saulieu & the only thing of note was that it started to rain , drizzle really, at Avallon (50km into the ride) when I stopped for fuel
Resized to 80% (was 800 x 497) - Click image to enlarge
& the rain didn't let up, getting progressively heavier & then lighter again untill I got 20k's from the days destination so unfortunately no more pics for the day as I had to put the camera away & didn't dare get it out again.
The route from Saulieu to Macon through Autun & Cluny was a hoo,t despite the wet & the sometimes apalling road surface & I will have to come back & do some of it again in the dry sometime...
I looked for Lunch in Cluny but was dissapointed. I had hoped to spend a couple of hours here as Cluny was the birthplace of the reformation in europe in the middle ages, was the HQ for the benedictine order & the monastary here could be argued to be THE place from whence came the light that brought europe out of the dark ages... what I found was a fairly "smart" tourist trap aimed at well to do eurpean pseudo intellectuels or busloads of blue rinse pilgrims... I couldn't afford the restaurants & couldn't face the hordes of grannies in their pakamacs & plastic headscarves around what's left of the monastary. For info, one of the many things Napoleon should be reviled for is the systematic destruction of monastries such as Cluny... there's almost nothing left of the original buildings from 900 AD.
I am prepared to admit that Cluny is a VERY pretty medieval village & that the rest might be more appealing when it's not raining.
So I rode on to Macon & had lunch in a cafeteria there, whilst outside the heavens opened & it bounced down so hard a fast I began to wonder wether I should have brought a boat rather than a bike...
I strung my lunch out as long as I could & as the rain had eased a little I headed out again & slipped onto the A40 turning my bow so'thards for Bourg en Bresse.
it f'kin hammered down whilst I was on the autoroute & I get really wet feet. (mostly due to the bow wave, in which I believe I saw some dolphins playing at one point...) I slipped off at Bourg en bresse cos me bro in law has been temporarily moved up to a care centre there from the hospital in Lyon & I wanted to stop in & spend an hour or so with him, as I was going practically past the door... For those who don't know, my wife's little brother Pascal is suffering from
Locked In Syndrome
following a blood clot in the brain over a year & a half ago. I spent a couple of hours with pascal & then headed off again, slipping back onto the autoroute in more drizzle just as far as Amberieu en Bugey.
The road from lagnieu to Morestel is very pretty, alonside the Rhone with the hills of "Le Bugey" rising on the left over the clear blue water... when it's not raining... Sunday i couldn't see over the bleedin' water... The rain stopped at Arandon, so about 5 k from destination...
I arrived at the cousins, was welcomed with open arms as only family can & spent an agreeable evening dirtying their shower, emptying their fridge, winding up their cat & messing up the guest bed... I am, as usual, deeply indebted to them for their hospitality.


I was up early The next morning, partly because i wanted to get moving & partly because the family needed to be up & out before 8 for school & work etc & I didn't want to slow them down or be a pain.
So, up & out by 08h00, gloves, jacket & stuff had dried out overnight, but not the boots... I HATE putting on wet boots!
still, it was no longer raining, though still overcast & cooler than the day before. Again I adjusted the planned route a little to account for time available & my dislike of autoroutes. The rendez vous with Glitch & co. was 11 - 11h30 at the brasserie in Pontaix. I stayed on the route nationale as far as Voiron, hopped on the autoroute south to Romans sur Isere & then back on the secondary roads to crest & then Pontaix, where I arrived at 10h57
http://goo.gl/maps/qSRrf
The D1075 at Monferrat I think. looking North
Resized to 98% (was 658 x 800) - Click image to enlarge
a little further along, the views improve as the sun begins to appear between the clouds
Resized to 80% (was 800 x 481) - Click image to enlarge
then, cresting the rise before the drop down into Voiron
Looking south over Voiron down to the Isère valley
Resized to 80% (was 800 x 503) - Click image to enlarge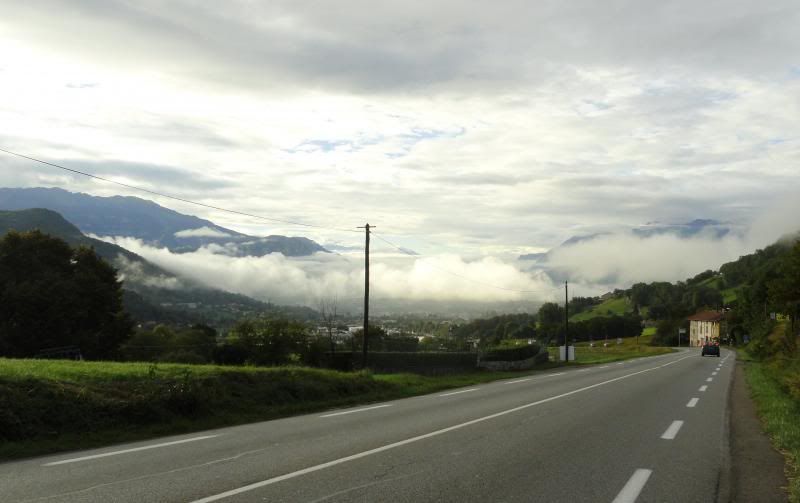 Resized to 80% (was 800 x 487) - Click image to enlarge
south of Voiron I slipped onto the autoroute A48 & then switched to the A49, still moving south & ran it down as far as Romans sur Isère which, as the name suggests has nothing to do with the Romans...
except inso much as the influence of the Roman occupation is omnipresent in the Rhone Valley, from Lyon south. ( the town is named after Saint Romain, to whom the original settlements Abbey was dedicated to in 838.)
I managed to get off the A49 one exit too soon which led to some confusion. I eventually got back on as far as the next exit & the world was the right way up again
a quick blat southwards across the valley floor & then eastwards heading up the Drôme valley (from where the Drôme departement takes it's name) as far as Pontaix.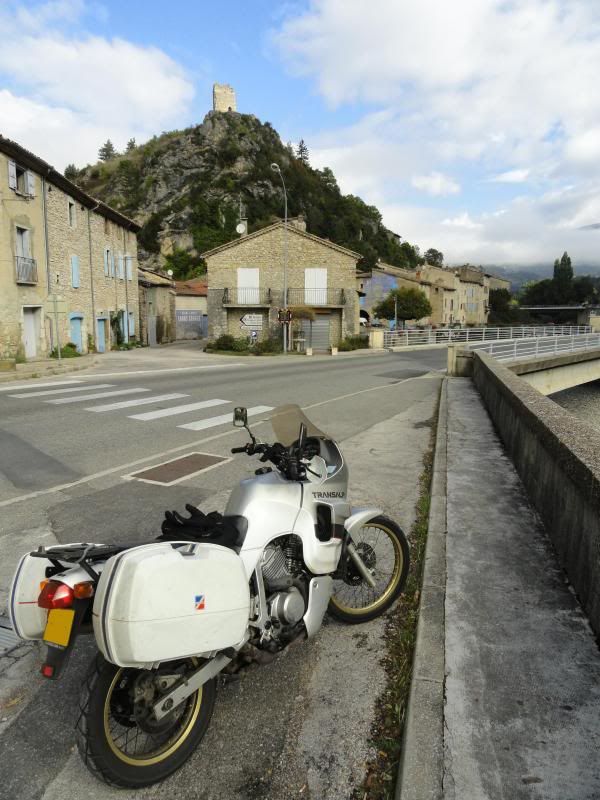 I actually rode into the village but rapidly understood that to actually get anywhere within the walls it had to be on foot. I never found the brewery, despite speaking the lingo, having their telephone number & asking 3 different locals...
Resized to 80% (was 800 x 600) - Click image to enlarge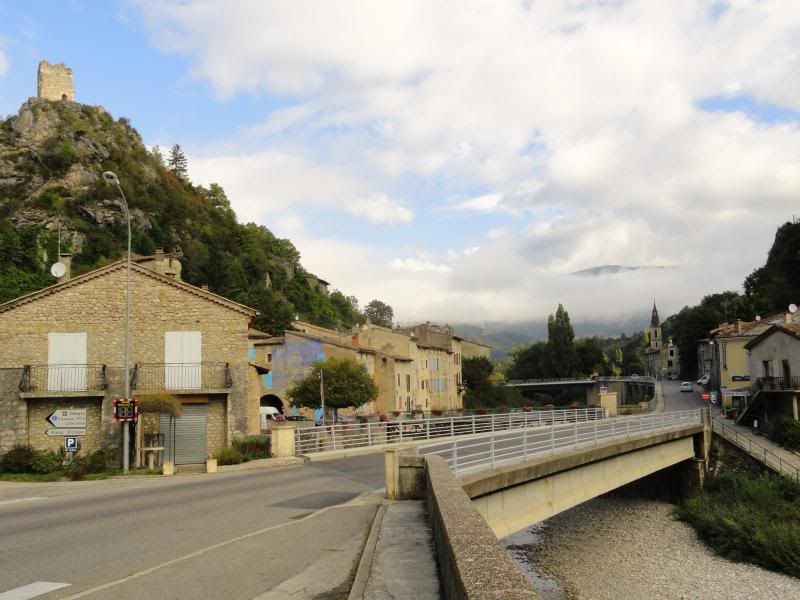 Resized to 80% (was 800 x 562) - Click image to enlarge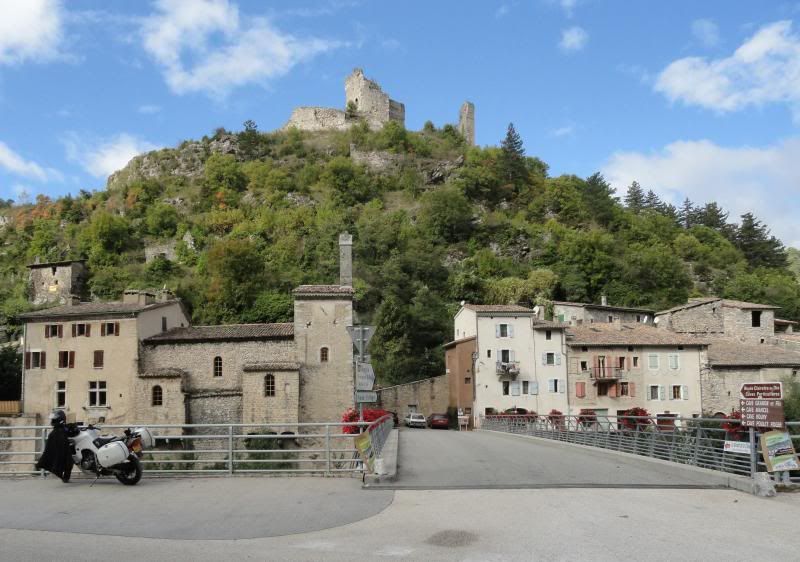 Resized to 80% (was 800 x 673) - Click image to enlarge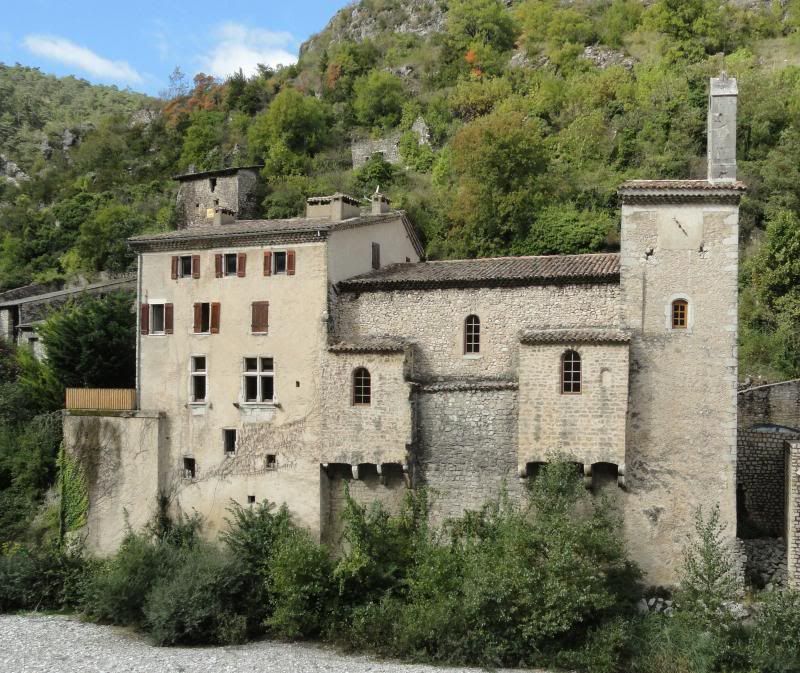 I waited 'till 11h45, then popped into Die to get some petrol. still no sign of the Tornanti team. The other possibility was that they'd reverted to the original plan & were expecting me to meet them up above Sainte Croix, somewhere up the col d'ane. It was now getting late & I had no way of knowing if they were running late or were ahead of me... I texted their aussi phone, just in case, then rode up Le col d'anes. Lovely ride up as far as St Etienne & from there on became a nightmare, rough off road track mostly stony with fist sized rocks, very steep in places but with the odd well gravelled section that made me think, " oh, ok, i'll keep going then. I made it to the top, but it became perfectly clear that no bikes had been up here for a while, the top was a slimey mudbath in both directions & there was NO sign of bike tyres in the mud... Bugger i'm going to have to turn around & go back down. It seemed like it would never end, though it was only 3km, down steep loose rocky track with a fully loaded transalp is NOT fun. I got well overheated, as the sun was now out & my knees & thighs were on fire by the time I got back to the road at St Etienne. I'm surprised Glitch's ears weren't burning cos at that point i was cursing the man, & NO i didn't take any pics!
So, what to do now? well I reckon i know their planned route for today, or at least the main points, so i'll drop back down to St Croix, just swing back to Pontaix to see if there's any sign of them there & then I guess i'll try & ride their planned route & see if I bump into them. At least i know where they're staying tonight, it's me that booked the hotel!
I dropped back down to St Croix & Lo & Behold a disreputable looking bunch of 7 bikes waiting at the junction.
We got quickly introduced & then went for some food.
Resized to 80% (was 800 x 499) - Click image to enlarge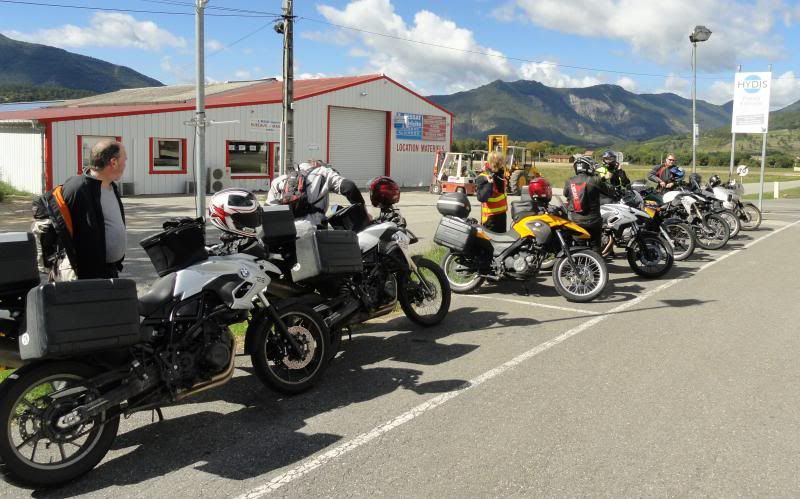 6 hired BMW's, 1 austrian DR & my transalp at Die (as in "feed me before I Die)