Discussion Starter
•
#1
•
ok so i swapped an old engine i had laying around for this very unloved honda cb900f with the intension of stripping it and selling the parts (these bikes break very well as parts are rare)
anway got it home n looked over it and its all pretty much there so thought sod i need a project thats where it started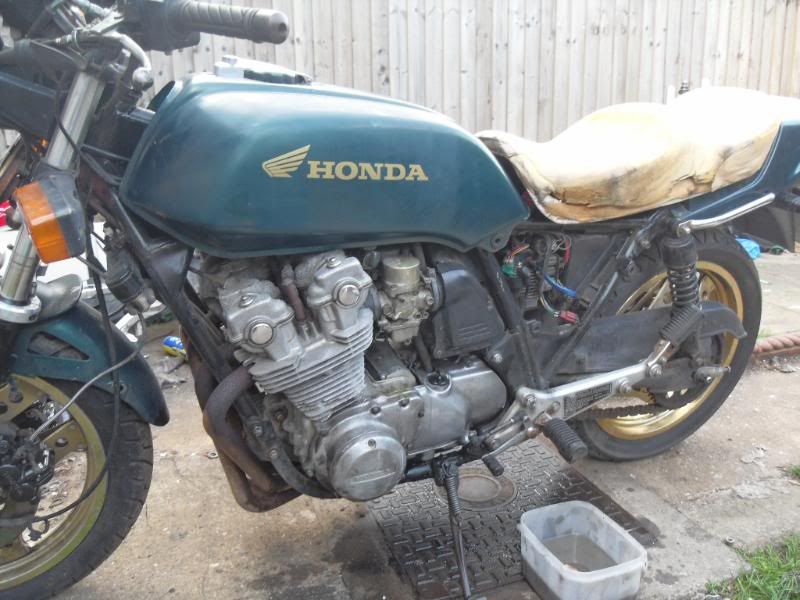 so first i connected up the battery to turn her over but the stater wizzes over but not turning engine somtimes it would catch for a sec or two but no more.
so i stripped off the starter clutch and found a worn ball bareing so i replaced that put it all back together now the engine turns over but very slowly.(im still not trying to start at this point)
so i dropped the oil out which was like clotted cream!! left it draining for an hour or so then filled engine with deasel and wizzed it over again to get more sludge out.drained and filled with cheap oil(going to have to dain this again so no point useing good oil)
spun the engine over now its spinning at a good speed good oh
so fekk it lets put some petrol in see what happens £5 of petrol in tank wizzing over but not firing cheak spark thats good compresion good try again this time with a squert of easy start wooohooo it fired up!!! 1st on 2 lumpy as hell then after a min or so all 4 sweet!!
thats where im up to now and only took pics after so no pics of progress so far but will update as i go from now on
oh i fitted the freashly rebuilt calipers too