Discussion Starter
•
#1
•
So, one of the rare occasions for me to get out & about on the tralp other than just ride to work or a quick flip round the block…
From Auxerre to Lohans, to visit wife & childers at the outlaws, 250(ish) k straight down the Nationale 6 from north to south. Stinking hot weather all week-end & it pisses it down for my two days off, f'kin typical.
Hey ho, off we go any way. I dug out the old digital camera cos Madame Moon has pinched the new one to take pics of the monsters on holiday.
One of a collection of silly place names around here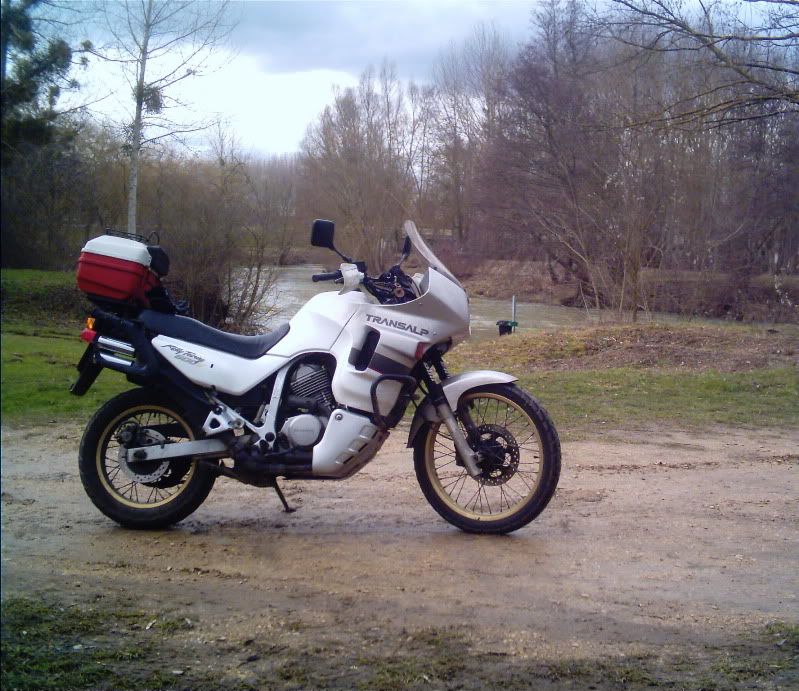 At Avallon, time to fill up cos about to cross what I call "the empty quarter". From Avallon, the N6 runs south across the top of Burgundy, crossing the Morvan plateau. The N6 used to be the great north road, until the Autoroute (A6) was installed nearby. The town & villages which thrived along the road dwindled, the petrol stations closed & folks moved away as the supply of clients dried up. There are now about 15 derelict petrol stations along the stretch from Avallon to Chalon sur saone & despite small town like Saulieu or Arnay le Duc having managed to survive, there are stretches of 50k or more without anything even remotely resembling a petrol station. No problem, sure but I ain't missing the chance to fill up, cos from here, if the station at Saulieu is closed (& in rural france they aren't all equipped for 24/7 card transactions) the next is another 30k…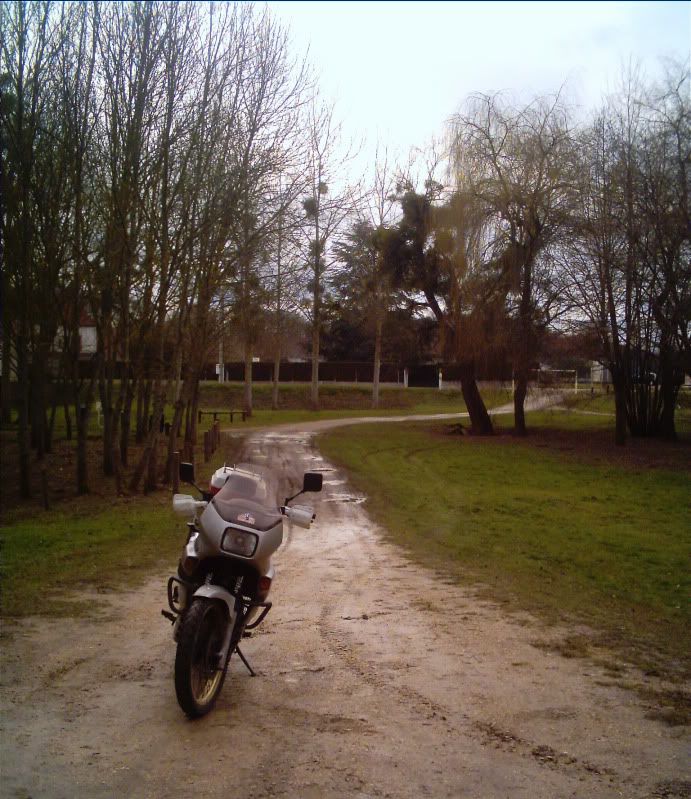 Anyway, about halfway, is Saulieu, a once fortified town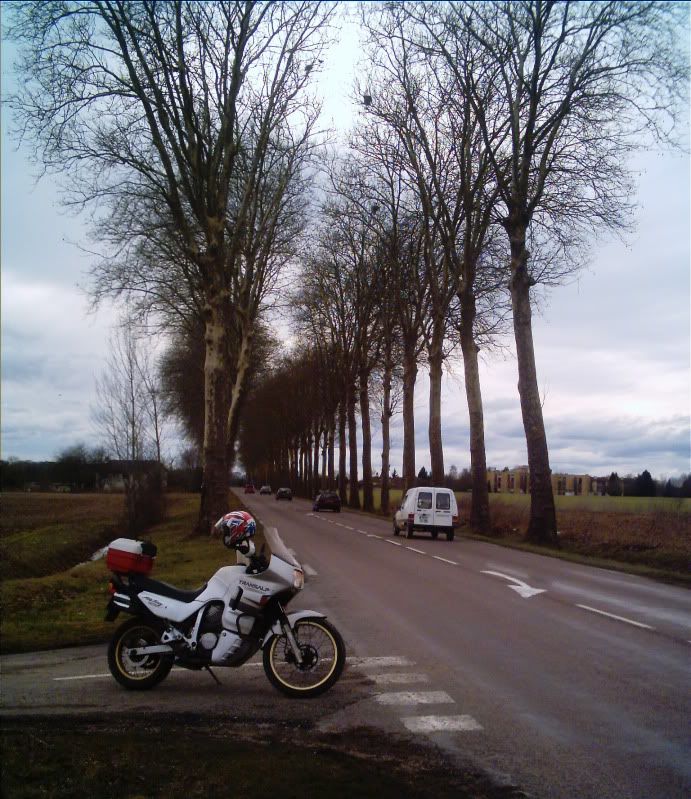 But now renowned for this restaurant
*** 3 michelin stars (which brings it into the status of "2nd mortgage on the house for the cheese course). In fact, although the restaurant, called "La Cote D'or" still has the name of Bernard l'Oiseau nailed to the front, he is no more, having committed suicide a couple of years ago whan the Michelin restaurant Guide removed one of his stars…
I was getting behind time & people were waiting for me to arrive before feeding time so no more pics until the ride home the next afternoon. I managed to stay dry until Chalon sur Saone which is only 30k from Louhans so was still more or les dry upon arrival.
Wednesday morning it pissed it down, a number of storms passed through & I was no more reassured after phoning a mate in Auxerre who said the weather was the same there too. Not wanting to get home too late I left at about 6:15 (pm) & rode towards Chalon to cross tha saone. This time, with no-one waiting for me I could take my time & live up to an old nickname "stormcrow". I had this in front of me (to the north)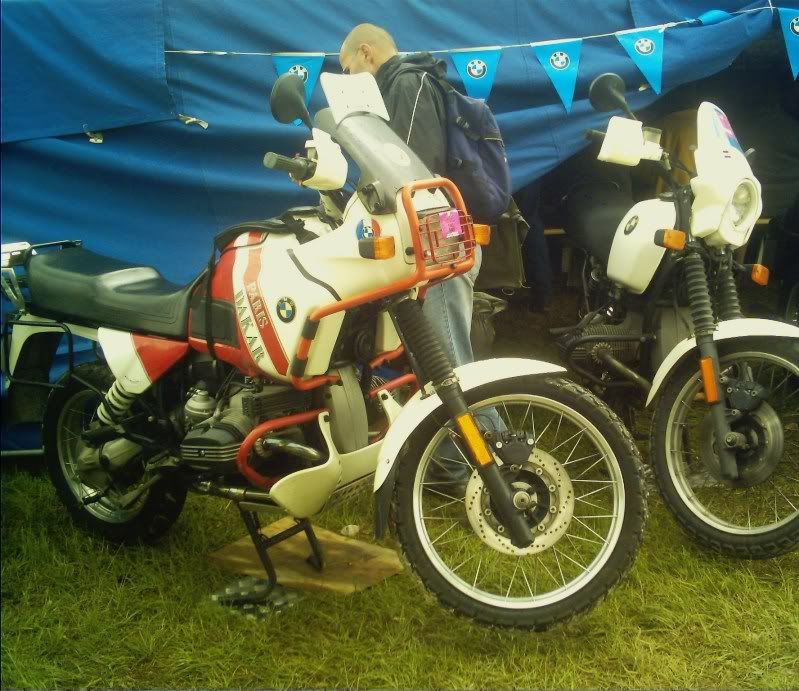 So I turned west. The storms were moving from west to east & I threaded my way between them, either boxing round the tail end or picking up the pace to get through in front of them.
Fueled up in Chalon before climbing back up onto the plateau, of which more later.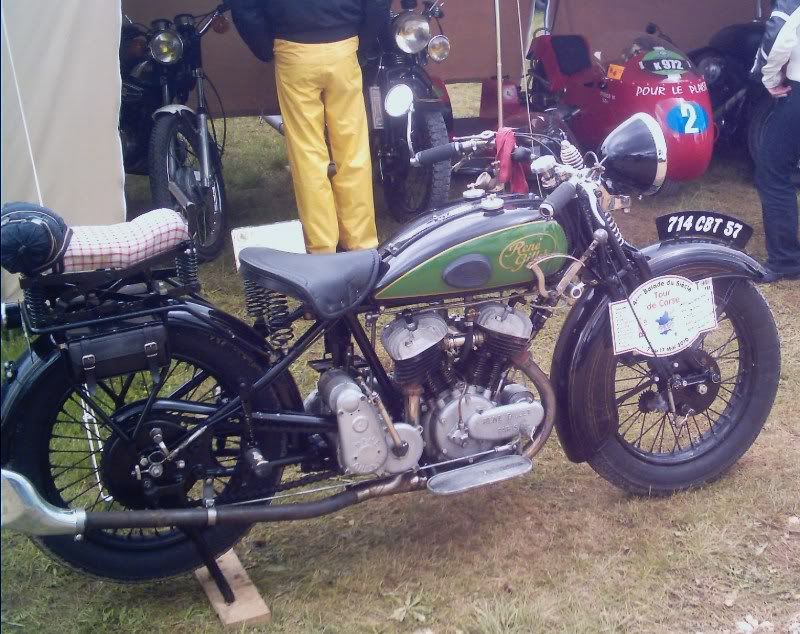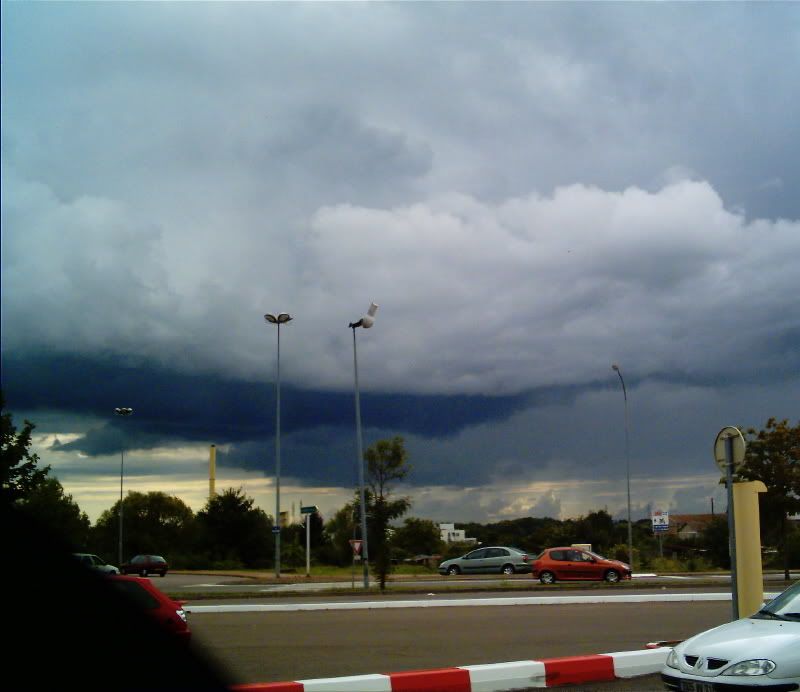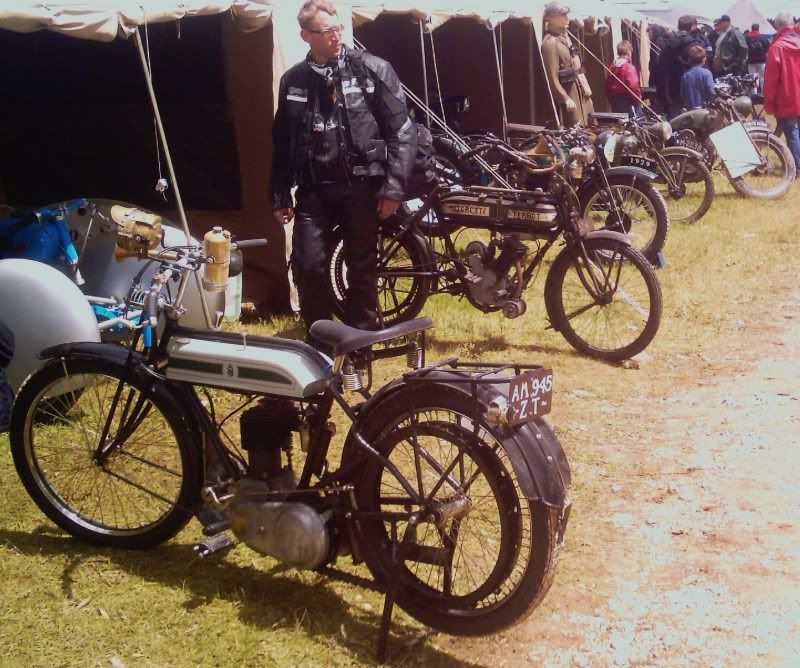 Wine connoisseurs amongst you (lol) will know that the saone plain is a great wine area & that Gamay is a "good" wine. Well here's where it comes from.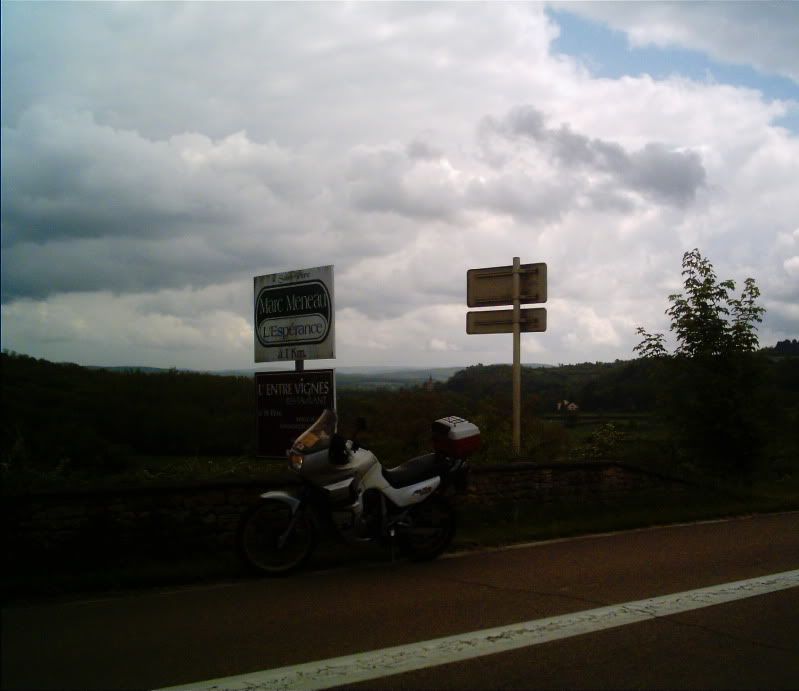 Fairytale turrets on the chateau at le rochepot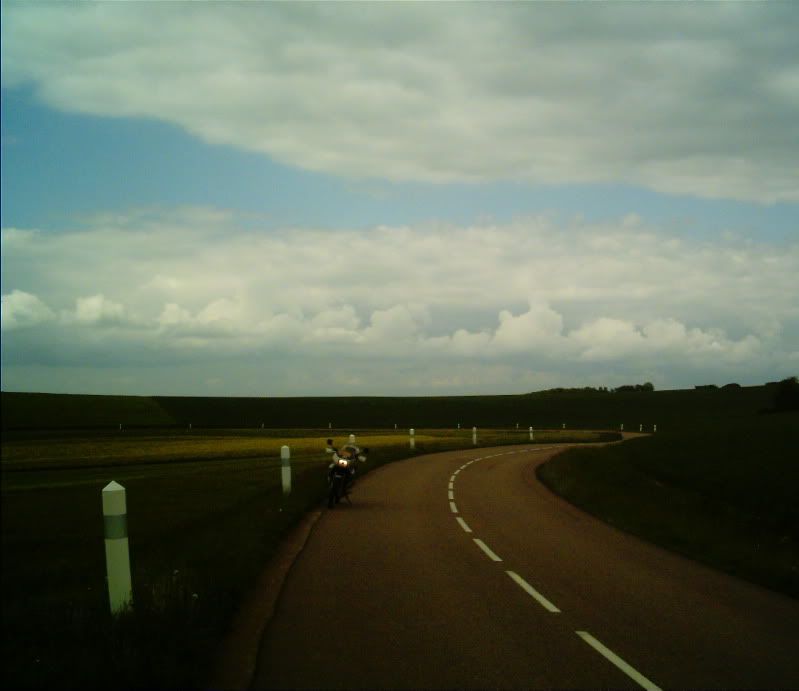 The next five images should be stitched together side by side, it's a real shame that mu lil' ol camera doesn't have stitch assist or wideangle, cos it just can't do justice either to storm clouds, or views like this one. The pics are taken looking east over the Saone valley. In the distance, if the weather wasn't so crap, you'd see the foothills of the Jura mountains.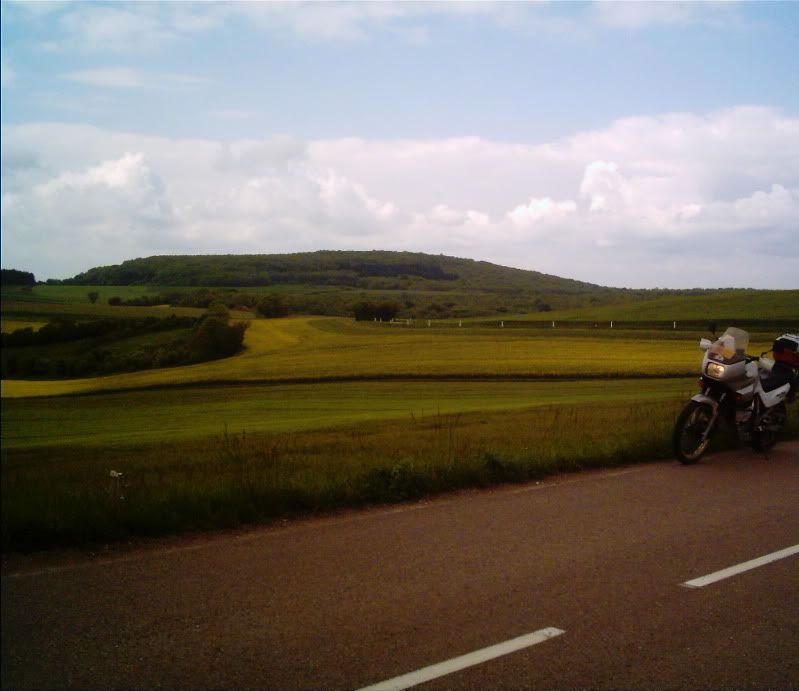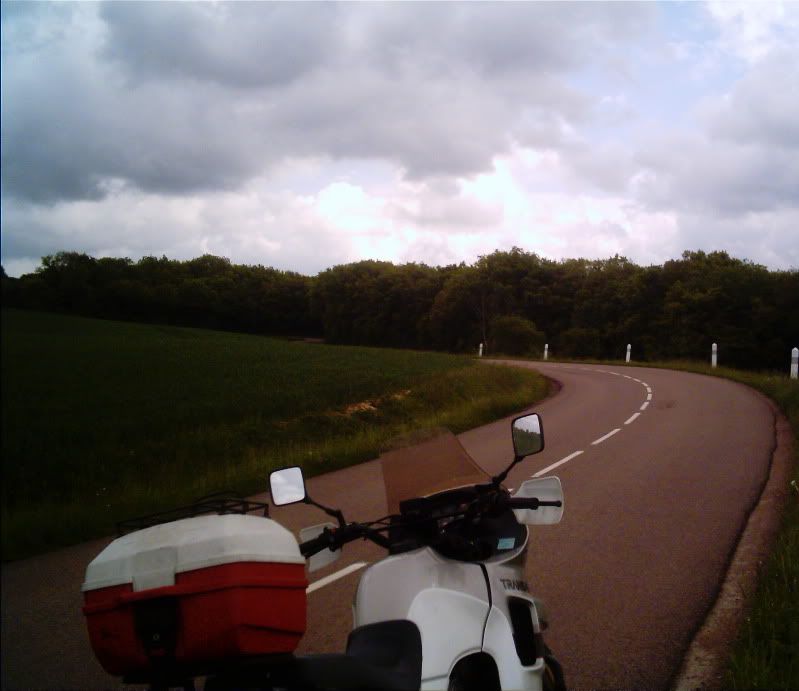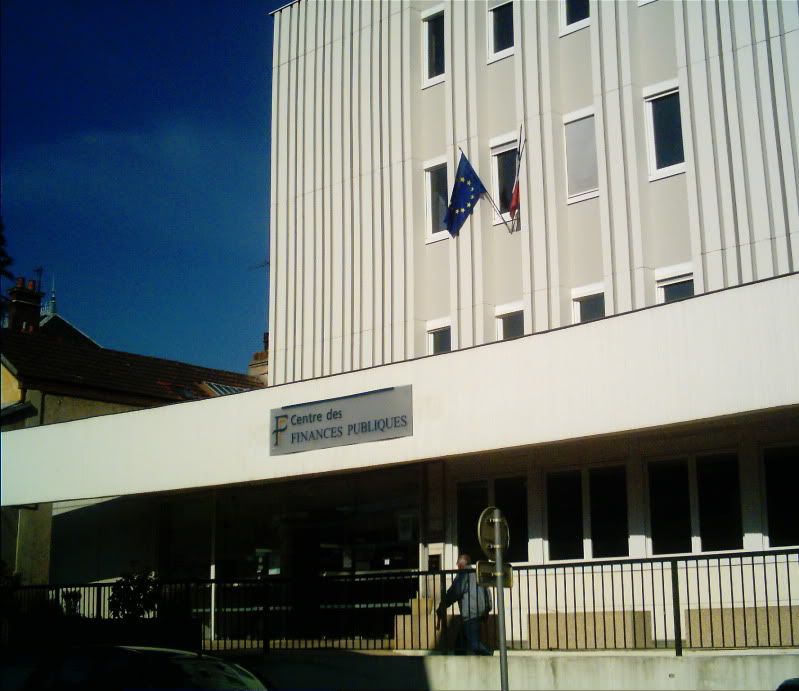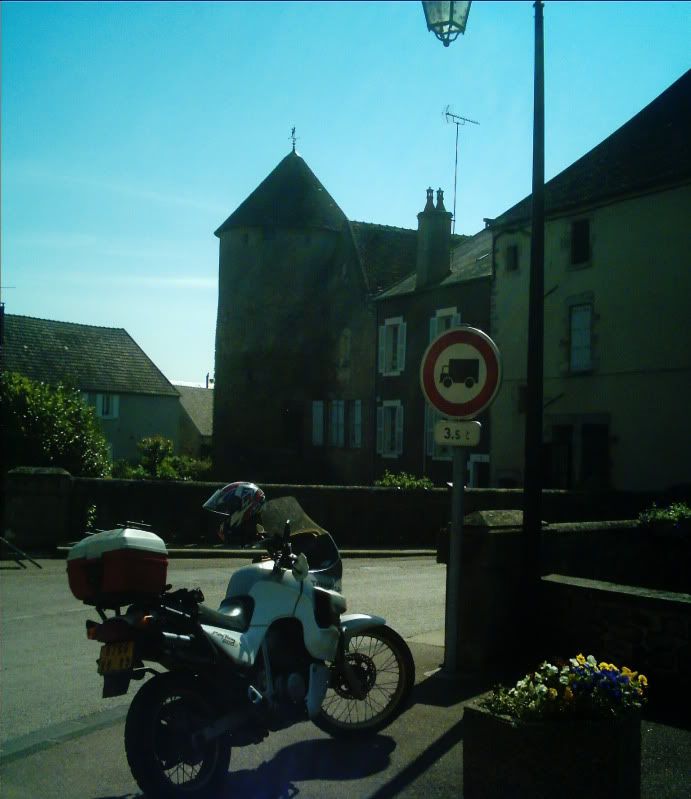 later on, at Arnay le Duc, I miscalculated the approach of a storm & had to take shelter under a beer tent, charitably set up alongside the village hall. Unfortunately, there was neither beer nor nubile young barmaids, it being, I imagine, a leftover from some local féte at the week-end. So I had to content myself with spending 15 minutes reading my book & smoking a *** whilst the strom blew through.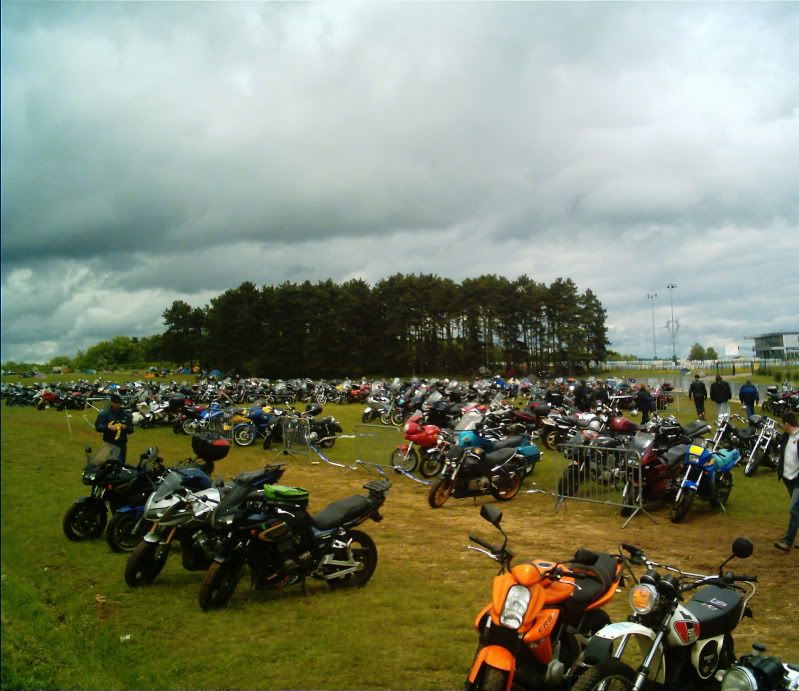 15 mins later, I was on the road again & it was now starting to get dark so I pressed on & only got a couple more pics of another shower I managed to avoid…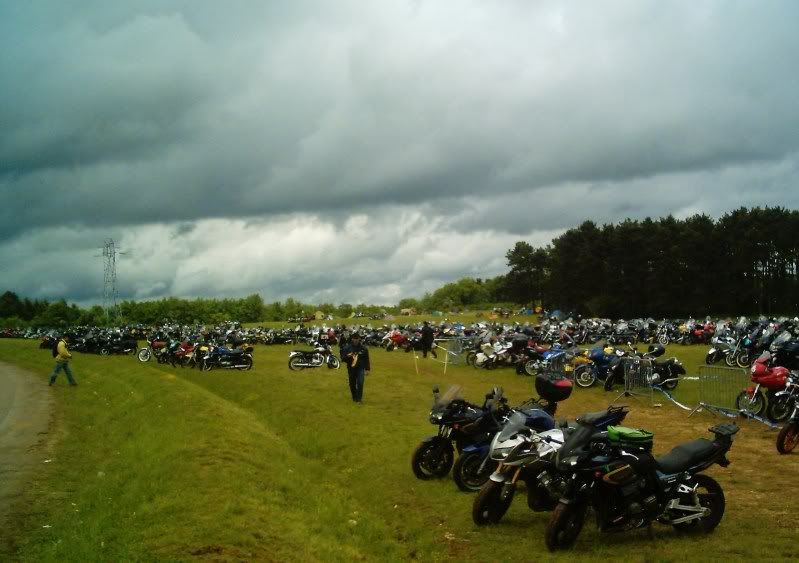 I got home about 9:15 having done more km than usual on that trip due to the storm dodging but finally, quite satisfied & having had a bloody good ride despite the weather.