Discussion Starter
•
#1
•
Last Friday was an 'off rota' day for me,and as I`d been busy in work up until then, I dedicated all Friday as a 'Me Day'.....purely for whatever I felt like doing.
I had a lazy and slow morning then went for a blast on my Uly .. and ended up calling to see a friend,Phil,who owns a bike paintshop. He`s had to surrender his license due to a sleep disorder (should be back on the road in a week or two) and after an coffee and a gab he looked up at the clear blue sky and said that he`d be out riding on a day like that.
I confirmed that`s exactly what I was about to do and went off hooning again on my Barricade Orange,Remus equipped, beast.
After a while I decided to pop into my local Harley dealer as the XR1200 was due to be in the showrooms.
Not only was there one in the showroom,there was one outside all fuelled up,registered,taxed and ready to rock and roll on a demo ride.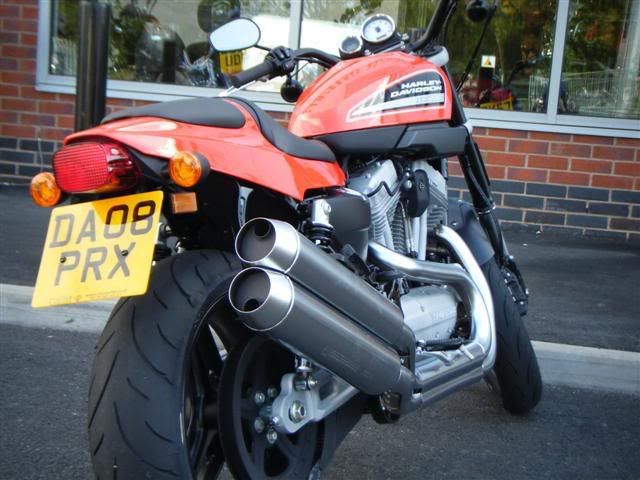 After a quick chat and a few formalities (personal details,2 forms of ID, declaration of agreement to £500 excess on a damge claim) I was being shown the bike prior to takeoff.
Key on right side of headstock rather than left...easier to use.
No wait for an engine light to go out like on my Uly.
Request to stay below 4000 rpm due to only EIGHTY FIVE MILES on the engine.
WTF are they doing having a demo bike that isn`t run in ???
Anyway...start her up.
The sales guy had stressed how the XR1200 is more Buell than Harley and was gagging to know my reaction to how it sounds on startup.
I was laughing when it fired up.
He looked aghast...and asked why I was laughing.
IT SOUNDS EXACTLY LIKE MY 750 URAL !!! :rofl
It really does!!!
Aftermarket pipes will obviously sort this issue.
Climb aboard..not as high as my Uly but higher than my GL1100.
Bars felt just right.
Check the clutch bite...it was right at the bottom,just as the lever starts to be let out,instead of at the top,near the lever return point to the pivot mounting on my Uly.
I liked the instrument layout...there are tiny 'idiot lights' under the tacho.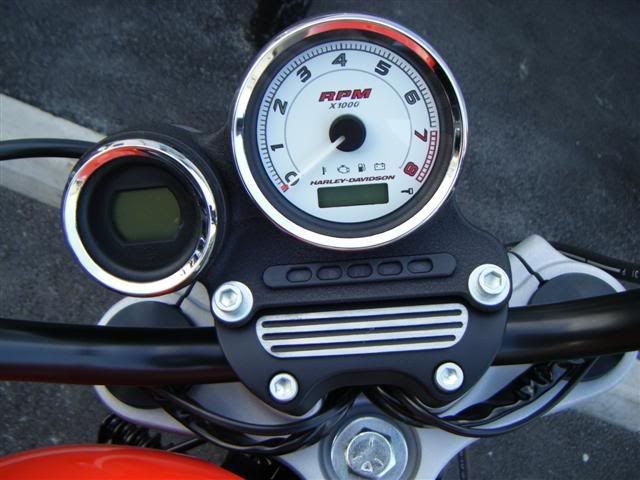 Tickover vibration was noticeably more agricultural than on my Uly,although that calmed down as the miles increased and the XR will likely do the same.
Moving away it all felt fine...bars a little low and ever so slightly forward.
Engine response was instant and I imagine when run in it will be wonderful.
Onto a roundabout and the handling was impeccable...no dodgy habits from the Dunlop Qualifier tyres and the whole bike felt very taught and precise although without the 'let`s attack the bend' aggressiveness and precision of the Uly.
Joining a motorway on a bike needing running in wasn`t a thing to relish but 4000rpm equated to 73mph on the digital speedo and there was no feeling of vulnerabilty despite much 80/90mph traffic (illegal,by the way..the limit is 70mph).
There was no feeling of being about to be blown off the bike...unlike on a normal Sportster ..due to there being no airbox or carb hanging off the right hand side. It was possible and easy to grip the tank sides with both thighs.
There was no noticeable vibration at this speed and the mirrors were clear (although stupidly small,and the pleasant shape really limits the useable view).
There`s a very small amount of forward lean in the riding position and that helps against strong headwinds.
I detoured into town to visit Phil and demonstrate that I was indeed out riding on a 'day like today'
.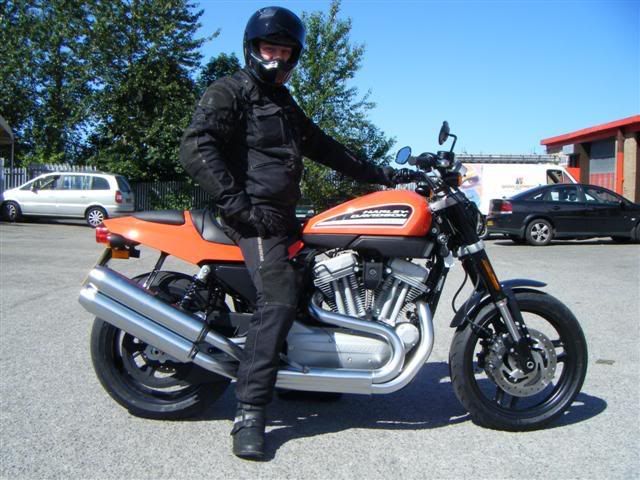 You`ve gotta go into full pose on a bike like this..and on a day like this,haven`t you?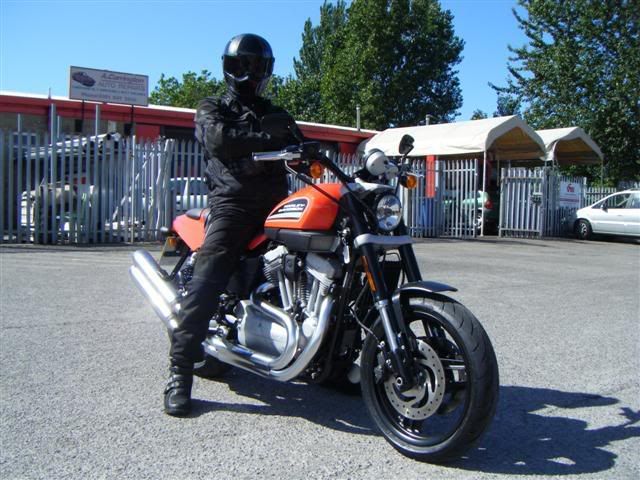 I reckon it suits my custom painted Bandit lid and black gear as well as my Uly does............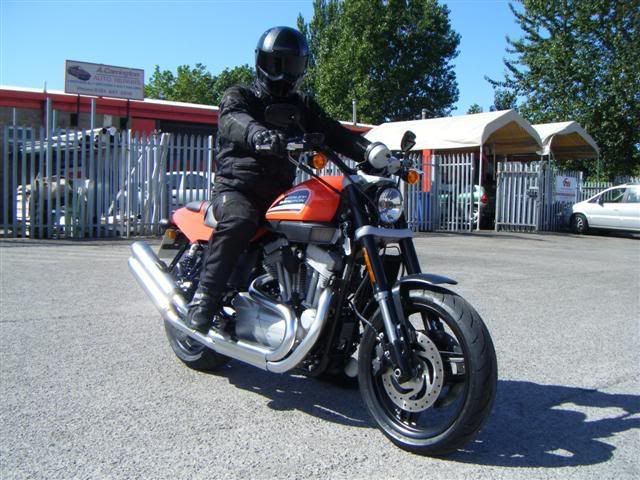 Quite the urban terrorist :huh .
Turning off the motorway and joining twisty rural lanes showed a solidity under braking thanks to the twin disc and inverted fork front end.
I don`t think there`s any more braking power than my Uly but the XR was certainly more 'together' due to not having one massive disc on one side.
Although the handlebars look flat and easy, there`s a bit of wrist and forearm ache at town speeds.
There is a very chunky vibration at about 1000rpm that fades away and is replaced at 2500rpm upwards by the most horny and addictive induction roar I`ve ever heard...WOW.
The noise is incredible and with some rorty/naughty pipes would be justification alone for buying an XR.
I think the stock seat may only have a couple of hours duration on a constant run,as I could feel the front edges with my thighs,but if you`re out playing in some decent twisties I don`t think you`ll be bothered too much.
It`s not really a two up bike...oh yeah,it`s capable of taking a pillion but a short pleasure ride looks just about the limit.
I didn`t exceed the 4000rpm requested but the XR has plenty of urge up until then...and no snatchiness or lugging was apparant at any point.
As stated,4000rpm was 73/74mph in top.
3000rpm was 55mph.
3500 was 65mph.
The controls were the usual HD and I had no bother apart from the left indicator and horn button being in each other`s best position...I`d swap them about.
The front brakes,as mentioned earlier,were plenty up to the job and the twin discs kept the bike in shape even under heavy braking....although perhaps not quite as powerful as my Uly 'rim disc'.
Saying that,the back brake actually funtioned,assisting retardation and slow speed feet up balance...unlike the Uly effort.
I really liked the swinging arm......
In fact,I really liked the roughcast finish all over the alloy parts,even though they`ll be a bitch to keep clean.
I didn`t like the tacky headshield/dressup covers on the header pipes though.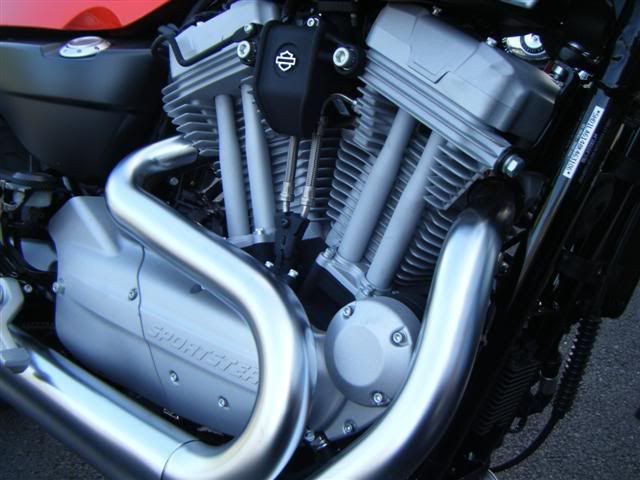 I returned along my favourite local 'Uly Blast Lane' and had no bother with the XR`s handling although the Uly is like running on rails with no effort whereas the XR felt like it needed a bit of setting up for the bends and a bit of mid bend 'checking'.
Overall it`s a lovely bike and everything the Sportster really should have been.
The schoolkids making their way home through a local village gave the XR a resounding 'NICE BIKE MATE' and the thumbs up,so it`s obviously 'street cool'.
And how can you go wrong in that beautiful slightly metallic orange?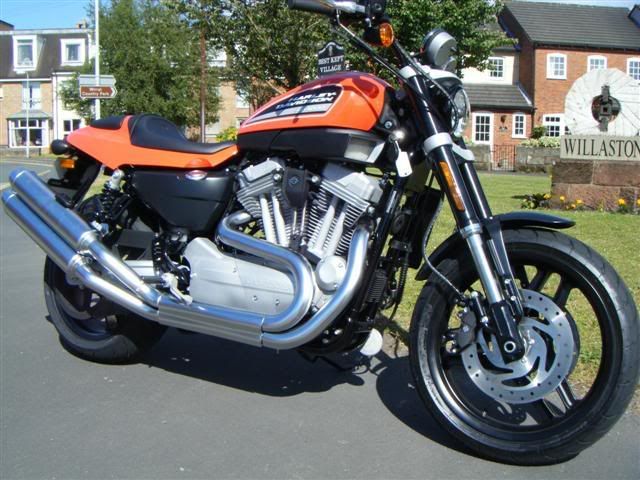 The XR does everything well enough for me for it to be considered as a bike for when I`m not feeling like 'going for it' at 100%.....but I must admit that my Uly felt far more precise and powerful when I got on it to ride home and the Uly is far more practical too......it is sublime two up and has good luggage carrying capacity.
Actually,bollox to practical and luggage carrying capacity...JUST LOOK AT THE XR AGAIN.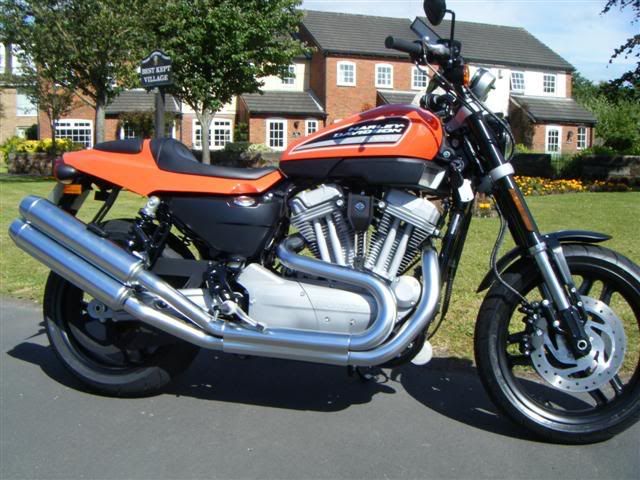 Yes...I`ll have one please.
Thanks to Chester Harley Davidson for the test ride.