Discussion Starter
•
#1
•
Don't know if anyone can help but if anyone can you lot can.
The bike came to me 8 years ago missing the stripes & decals on the right side I have tried since off and on to obtain some.
The decals I need are right side "type 1" the bike is i believe turquoise/pacific blue
They don't even have an image of type 1 so I've added type 2 for illustration purposes only.
I managed to locate some on MSP -
Motorcycle Parts From Europe's Number 1 - MSP
they were showing in stock so I ordered them, then nothing for a fortnight & when I chased them up they said they hadn't any in stock but had ordered them, then a week later I received an e-mail saying they were no longer available and the order was cancelled. Not great service.
I tried my local decal place who can't replicate the specific transalp stripes for my model although I could get a set of generic transalp stripes quite easily, these are similar to these on ebay;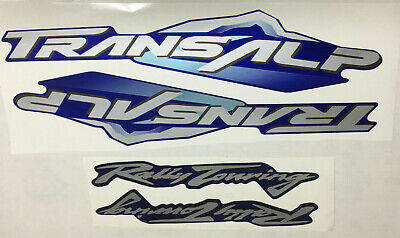 Honda Transalp 2003 stickers made of plasticized pvc for greater resistance to scratches and atmospheric agents. The kit includes: n. 2 Transalp stickers front fairings n. 2 Rally Touring stickers CONTACT US WE WILL PROVIDE YOU WITH ALL THE DIRECTIONS TO APPLY THE ADHESIVES YOU PURCHASED TO...
I've tried CMSNL (managed to get the side panel decal off them) & David Silver without any success. I'd really like to return the bike to original condition and these are the final pieces I need so if anyone can point me in the right direction I'd really appreciate it.